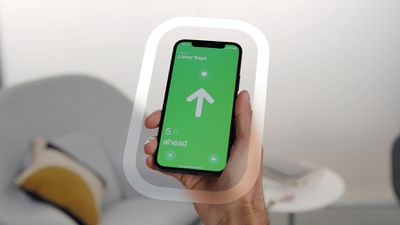 iOS 16 Introduces New Capabilities for Accessories With U1 Chip Integration
As part of WWDC last month, Apple announced that iOS 16 will allow third-party accessories with U1 chip integration to interact with iPhone apps even when the app is running in the background, enabling new "hands-free user experiences."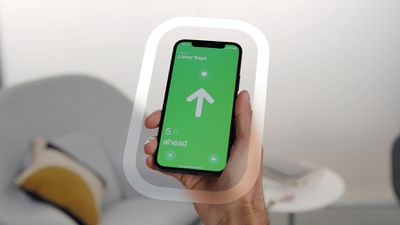 In a press release today, chipmaker Qorvo said this new functionality will allow U1-enabled accessories to work in tandem with iOS 16 apps to trigger real-time actions based on your precise location, such as turning on lights or playing music when you enter a room, even if you aren't actively using the apps at the time.
Qorvo also announced that its Ultra Wideband chips are now certified by Apple's MFi Program, which should pave the way for MFi-certified U1-enabled accessories from third-party brands. Accessory makers can use Qorvo's chips to create accessories that are compatible with U1-equipped iPhone and Apple Watch models.
Apple's own accessories also offer precise, directionally-aware experiences. For example, users can hold a U1-equipped iPhone near a HomePod mini to "hand off" music playback, complete with visual, audible, and haptic effects. U1-enabled iPhones can also take advantage of the Precision Finding feature that makes it easier to locate an AirTag.
Built into iPhone 11 models and newer, Apple Watch Series 6 models and newer, the HomePod mini, and the AirTag, Apple's U1 chip uses Ultra Wideband technology for ultra-precise spatial awareness within close distances.
More details are available on the Nearby Interactions with U1 page on Apple's developer website.
Related Stories
HomePod and HomePod Mini Gain Support for Swedish and Norwegian
Apple on Wednesday released software version 15.6 for the HomePod and HomePod mini. While not mentioned in the release notes, the update adds support for Siri in Swedish and Norwegian on the HomePod and HomePod mini. The addition of Swedish and Norwegian support likely means the HomePod mini will be released in Sweden and Norway over the coming months. Apple released the HomePod mini in…
Apple Watch SE 2 to Bring Top-Tier Chip to Budget Model for First Time
The Apple Watch SE could gain the same chip as the flagship Apple Watch for the first time later this year, according to a recent report from Bloomberg's Mark Gurman. The first-generation Apple Watch SE's S5 chip. When the first-generation Apple Watch SE launched alongside the Apple Watch Series 6, it featured the S5 chip from the Apple Watch Series 5, while the Series 6 offered the S6 chip….
New Version of Original HomePod to Return Next Year
Apple is likely to release a successor to the original HomePod next year that will feature a new display on top supporting new touch interactions, according to Mark Gurman. Writing in the latest edition of his Power On newsletter, the Bloomberg journalist says the smart speaker will have a similar size and boast comparable audio quality as the original, now discontinued HomePod, and will be …
Apple Watch Edition Begins Selling Out Ahead of Series 8 Launch
Apple Watch Edition models are beginning to sell out just weeks before the Apple Watch Series 8 lineup is expected to be announced. Several of the high-end Apple Watch Series 7 models with titanium casings are listed as "currently unavailable" on Apple's online store in the United States, Canada, the United Kingdom, and select other countries. In the United States, availability of 41mm…
HomePod 2 Could Feature All-New Touch Interactions
Apple is reportedly considering adding multi-touch functionality to a new version of the HomePod set to launch as soon as next year, hinting at all-new ways to interact with the device. In a recent newsletter, Bloomberg's Mark Gurman explained that Apple is likely to release a successor to the original HomePod next year that could feature multi-touch functionality:The HomePod, code-named…
Deals: Rare Sale Arrives for HomePod Mini, Get the Blue Model for $89.95
B&H Photo is discounting Apple's blue HomePod mini to $89.95 this week, down from $99.00. Only the blue color option is on sale at this price, and it's in stock with free expedited shipping and delivery estimates beginning around August 3 for most locations in the United States. Note: MacRumors is an affiliate partner with some of these vendors. When you click a link and make a purchase, we…
Popular Stories
iPhone 14 Still to Boast Performance Improvement Despite Sticking With A15 Chip
The standard iPhone 14 models will still have better performance than the iPhone 13, despite containing the same A15 Bionic chip, according to leaker "ShrimpApplePro." In March, Apple analyst Ming-Chi Kuo claimed that only the iPhone 14 Pro models will feature the A16 chip, with the standard iPhone 14 and iPhone 14 Max models to be equipped with the A15 chip like the iPhone 13. In an April…
Apple Adds Eight More Macs to Vintage Products List
As expected, Apple today updated its vintage products list with eight more MacBook, MacBook Air, MacBook Pro, and iMac models released in 2015 and 2016. Notably, the first MacBook Pro models with the Touch Bar are now classified as vintage. Apple introduced the Touch Bar in October 2016 as part of a complete redesign of the MacBook Pro. Apple has since removed the Touch Bar from higher-end…
Intel to Introduce Wi-Fi 7 in 2024 as Apple Plans Imminent Move to Wi-Fi 6E
Intel is planning to install its next-generation Wi-Fi 7 (802.11be) technology in devices by 2024, ETNews reports. Wi-Fi 7 is the successor to Wi-Fi 6E (802.11ax), bringing two times faster data processing speeds of 5.8 Gbps and more stable 6 GHz bandwidth stability, as well as support for up to 36 Gbps when working with data. Intel plans to expand its Wi-Fi 7 development efforts ahead of…
Apple's Online Store is Currently Down in Some Countries [Updated]
Apple's online store is currently down in some countries, including the United States, Canada, Australia, France, Germany, Italy, Spain, the United Kingdom, and more. The downtime is not worldwide, with the store still operational in some other countries. "We're making updates to the Apple Store," the store page says, as usual when there is downtime. Apple advises customers to "check back…
Apple Watch Edition Begins Selling Out Ahead of Series 8 Launch
Apple Watch Edition models are beginning to sell out just weeks before the Apple Watch Series 8 lineup is expected to be announced. Several of the high-end Apple Watch Series 7 models with titanium casings are listed as "currently unavailable" on Apple's online store in the United States, Canada, the United Kingdom, and select other countries. In the United States, availability of 41mm…
Apple Expands Apple TV Gift Card Offer to More Countries
Apple has expanded a previously U.S. exclusive Apple TV gift card offer to more countries worldwide, offering customers a gift card alongside the purchase of an Apple TV 4K or Apple TV HD. The original offer was launched for U.S. customers last month, giving buyers a $50 gift card with the purchase of an Apple TV. Following the Apple Store going down in several countries, Apple has…
Deals: Apple Watch Series 7 Returns to All-Time Low Price of $279.99 ($119 Off)
Amazon has the 41mm GPS Apple Watch Series 7 down to $279.99, from an original price of $399.00. The only color available at this price is the Green Aluminum Case with Clover Sport Band. Note: MacRumors is an affiliate partner with Amazon. When you click a link and make a purchase, we may receive a small payment, which helps us keep the site running. At $119 off, today's sale on Amazon is a …