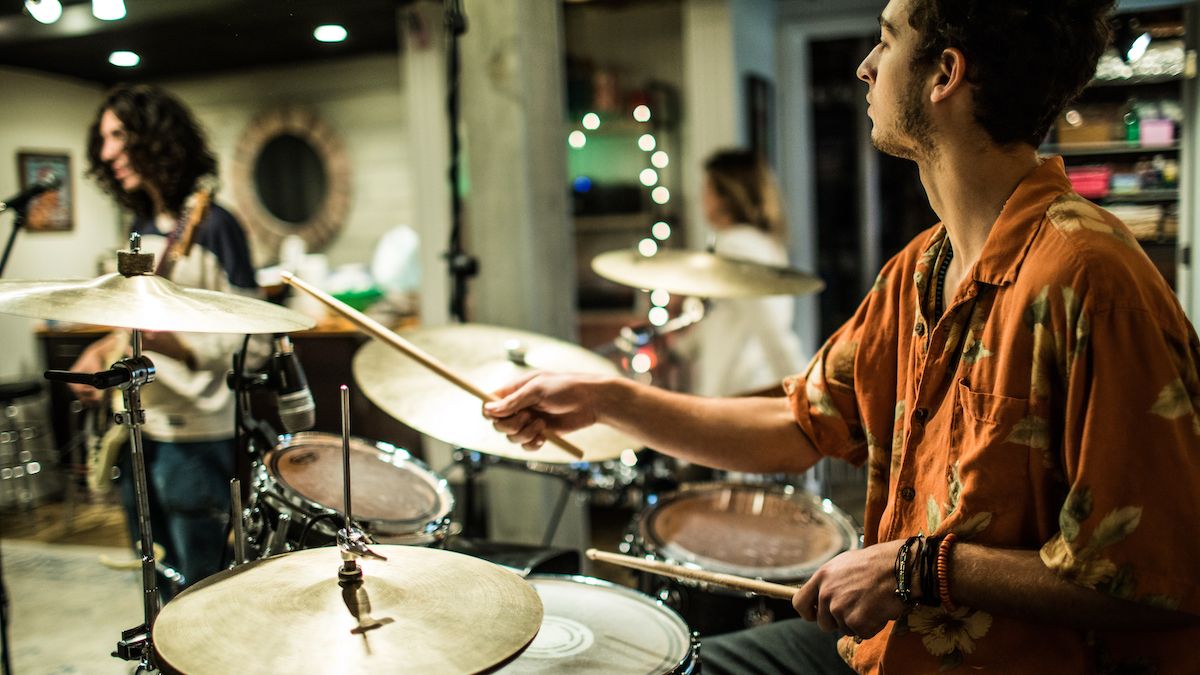 12 essential drum accessories every player needs
There's a whole world of drum accessories out there designed to separate a drummer from their cash, but not all of them can be deemed 'essential'. For this guide we're only focusing on the genuinely useful tools we feel every drummer should carry with them, not just the latest fads – many of our choices were inspired by not having them on a session or gig and realising we sorely needed them.
So what can be classed as an essential drum accessory? We're talking about items that will help you troubleshoot your gear in a fix, ensure you can practise long after the neighbours have gone to bed and keep all your must-have drum accessories organised. We've included some hearing protection here too, because a good pair of ears is more essential to a drummer than their sticks.
We're going to assume you have a drum kit, a stool, sticks and spare heads already. These are prerequisites to being a drummer and we'd class them as personal preference items that you need to explore yourself. If you're in the market or you're upgrading any of these, you can check out our buyer's guides linked in the box.
So, let's get into it. Whether you play acoustic drums or spend most of your time behind an electronic drum set, these are the essentials that should accompany you to every session, gig or rehearsal, and will help you get the best from you and your drums.
It doesn't matter if you're playing at home, or you're out on a gig, things can go wrong with gear and quickly stop your playing in its tracks. But most of these issues – we're talking loose lugs, a rattling bass drum pedal or an out of tune drum – can usually be fixed on the fly if you have the right tools handy.
Drummer multi-tools are effectively a Swiss Army Knives made specifically for drummers, with everything you need in one pocket-friendly unit to be your own drum tech. On most models you'll find a range of screwdrivers and hex keys, a drum key, wing-nut loosener and possibly even a bottle opener for post-gig refreshments.
Our favourite right now is the Pearl PTT13 TechTool which houses 13 useful tools in one to tackle most on-the-fly jobs. It's lightweight and made from tough heat-treated S2 alloy. The tools themselves feature a stealthy black anodized finish which cuts a dash next to the metallic orange body.
2. Earplugs
If you hadn't gathered already, acoustic drums and cymbals are loud, and the long-term damage that extended exposure to these volumes can do to your hearing shouldn't be underestimated. It doesn't matter if you're at the start of your drumming journey, or you're a seasoned player with some established hearing loss, investing in a pair of earplugs is one of the wisest purchases you can make and will add years to your playing life.
A pack of the foam earplugs you get free at music venues is better than nothing, but we'd suggest you spend a little more on plugs with different-sized tip options for a snug fit and built-in filters to help tone down the harshest frequencies. Our recommendation would be Earasers, which top our list of the best earplugs for musicians. If you really value your hearing you can take it one step further with a pair of custom moulded earplugs, which are the best – but priciest – option.
3. Headphones/in-ear monitors
Most drummers will jam to music or work with a click track as part of their practice routine. For the best experience, a quality pair of headphones or in-ear monitors is a must – and don't forget you'll need a long enough cable to avoid getting tangled in your flailing arms. Headphones or in-ears help reduce the overall volume of acoustic drums and deliver a clean, isolated playback of your audio straight to your ears. This is a much better approach than playing your audio out into the room and trying to compete with the drums.
And, of course, if you're an electronic drum set player, unless you have a drum amp, a pair of headphones is a must-have.
For complete ear coverage and isolation, we like the Vic Firth Stereo Isolation V2 headphones which are made specifically for drummers. For more choices check out our guide to the best headphones for drummers. If you'd prefer to go down the in-ear route – ideal if you want a pair that will pull double duty at home and on-stage – the Shure SE215 Pros are affordable, sound great and there's also an option with a drummer-friendly 162 cm cable.
4. Drum dampening
Big, open ringing toms can sound great in the right situation, but sometimes a drum needs taming or tweaking to really hit the sweet spot. That's where drum dampening comes in. There are various products out there – and they all pretty much do the same job – but we'll start off by recommending RTOM's classic Moongel dampening pads. These blue or clear jelly-like blobs can be used on everything from heads to cymbals to effectively and quickly reduce overtones. A tub of Moongel is super cheap too, so you can do no wrong in chucking one in your stick bag.
Then you have one of our personal favourites, the Snareweight. These stylish sound-shapers come in a variety of weights depending on how much dampening you require, and attach via magnets to your drum's rim. You can then apply and remove the leather dampening strip as the music demands without leaving any permanent marks on your heads. It's the most expensive, but also the most stylish option here.
And finally you have the aptly-named Big Fat Snare Drum, a tone altering pad that simply sits over your standard head to help tame your sound. The range has expanded a lot over the years and there's a BFSD pad for every sound – and drum – you can imagine.
5. Stick bag
Over the years we guarantee you're going to accrue countless pairs of sticks, brushes and mallets – and if you use a variety of them you're going to need a way to keep them organised. A stick bag big with plenty of additional storage is a surefire way to store all your go-to sticks, plus any other essential drum accessories you want to keep close at hand. 
We like the Vic Firth Professional model stick bag. The waxed canvas shoulder bag is durable and abundantly spacious, with pockets to house your sticks and accessories, even a tablet. It has the facility to clip to your floor tom so you always have spare sticks to hand during a gig or rehearsal and the padded shoulder strap means it's easy to cart from A to B along with your other drum gear.
6. Practice pad
Unless you have your own studio or rehearsal space, it's not always possible to practise at full volume whenever you want, let alone if you're away from your drums on holiday or a work trip. A practice pad is the next best thing, enabling you to work on rudiments, build your chops and fine-tune your technique wherever you are. As we all know, you'll only be as good as the effort you put in, so being able to practise in an convenient, portable way is essential to progression. 
Most practice pads combine a solid base with a rubberised playing surface and many can be stand mounted or will sit comfortably on top of your snare drum. One of our favourites is the 12" Evans ReelFeel Practice Pad. It's a decent size and features dual playing surfaces top and bottom for different feel and tone.
7. Drum key
Added extras
Here's a few other essentials you might want to consider adding to your arsenal:
– Gaffa tape
– A towel
– Band Aids/first aid kit
– Torch
– Phone charger
– Sharpie
This might sound obvious, but the humble drum keys is a proper drum essential. If you can't tune your drums, tighten memory locks on stands or adjust your bass drum pedal, then your (and your audience's) experience simply won't be up to scratch. So, you do have at least one drum key on you at all times, right?
You might collect every drum key that comes with every new snare or kit and have them strategically placed between key fobs, lanyards and bags so you always have one handy. Or, you might never have a drum key available when you really need one. 
The best way to ensure you look after your drum key is to spend a bit of cash on one. The Remo QuickTech drum key is a burly option that would be difficult to lose. You'd certainly hear it if it hit the deck. Our favourite feature is the internal high-pull neodymium magnet that stops tension rods from rattling or falling once loosened. The key has nice big wings for more comfortable tightening and loosening, too. 
8. Drum tuner
Tuning is a critical skill for any drummer; learn to tune and you should be able to make almost any kit sound good. Learning to tune by ear is the preferred approach, but there's nothing wrong with a little helping hand as you train your ears. For this you have two options.
If you like gadgets then you should check out a trusty hardware tuner like the Tune-Bot Studio. This model clips to the hoop of each drum and gives you a Hz or note measurement at each tension rod, enabling you to get consistent tension at each one. You can store your ideal tunings for up to five kits on-board for quick recall. If you want true precision tuning this is the route to take. 
Alternatively you could drop just $9.99/£8.99 on the iDrumTune Pro app – available for iOS (opens in new tab) and Android (opens in new tab) devices – which uses your phone's microphone to do a similar job to the Tune-Bot. The app also includes a detailed user guide explaining the ins and outs of drum tuning if you're interested in further reading. 
9. Metronome
If you have an e-kit your module should already have a click function on-board, but for acoustic drummers who want to practise different tempos, a metronome is a must-have. Just like drum tuning, there are both hardware and app options to suit your needs. 
If you prefer something you can get hands on with, the battery-powered Tama RW30 Mini Rhythm Watch is a compact take on the classic Rhythm Watch. Get to grips with tempos from 30 to 250bpm with a choice of click sounds, a backlit LCD and a huge range of time signatures and subdivisions. Listen via the built-in speaker, or you can connect a pair of headphones; it's an ideal companion to a pair of sticks and a practice pad. 
You can do similar for zero outlay with the free Soundbrenner metronome app for iOS (opens in new tab) and Android (opens in new tab). In addition to the above functionality, you can also generate setlists for upcoming auditions or gigs with bespoke tempo maps for all the tracks you'll be playing.
10. Drum rug
Drums are heavy and often move when you play, unless they're well anchored. The last thing you want is your bass drum spurs gouging a hole in your carpet, or scratching a groove into your (or anyone else's) hard floors. The solution is simple: buy a rug. This can be as basic as an old rug from a charity shop or thrift store, or you can pick up a bespoke rubber-backed drum rug; either will do the job. 
Floor damage prevention aside, another bonus of setting your kit up on a rug is that you can mark all the positions of your stands and bass drum, ensuring you can set up exactly the same each time.
We particularly like Meinl's range of drum rugs which come in an array of finishes, from zebra print to skulls, and an assortment of sizes up to 2m x 2m. They also make one specifically for electronic kits which includes cable outlets for a neater setup.
Our only word of advice here would be to choose the right size for your kit and any potential additions to your rig that might come along in the near future. There's nothing worse than having the foot of one cymbal stand touching the floor because you didn't get your rug maths right. 
11. Spare parts
Have you ever been to a rehearsal room and discovered there are no cymbal felts on the in-house kit? Or had your cymbal sleeves pinched on a kit share? While these are frustrating issues that shouldn't be your problem to sort, they can really scupper a rehearsal or gig, so it pays dividends to carry at least a few spares to cover your butt. 
The main culprits are cymbal felts, sleeves and wing nuts, but snare wire strings, hi-hat felts and even tension rods can also go kaput when it's least convenient. A pack like the Zildjian Drummer's survival kit includes all the above and more in one handy package so you'll never be left in the lurch with underperforming gear.
12. Accessories table
Drummers love clutter. Whether it's a stick bag overflowing with sticks and brushes, or the contents of your pockets strewn across the floor around the kit, it's safe to say we're an untidy bunch.
One of our favourite solutions to this mess is a dedicated accessories table for all your stuff –  phone, wallet, car keys, drum key, in-ears, water bottle, you get the picture. A simple platform which usually clamps off a hi-hat or cymbal stand, it's the ideal place to organise all your worldly possessions in one place. It's a particularly useful addition to your rig if you regularly use your smartphone for jamming or practice and want quick access to skip tracks or set a new metronome tempo. 
We're big fans of Gibraltar gear, and the SC-MAT medium accessory table is an ideal solution. This 12"x18" deck also features a 1" lip around the edge to stop anything rolling off as you play, and it clamps to any cymbal stand so the placement is up to you.