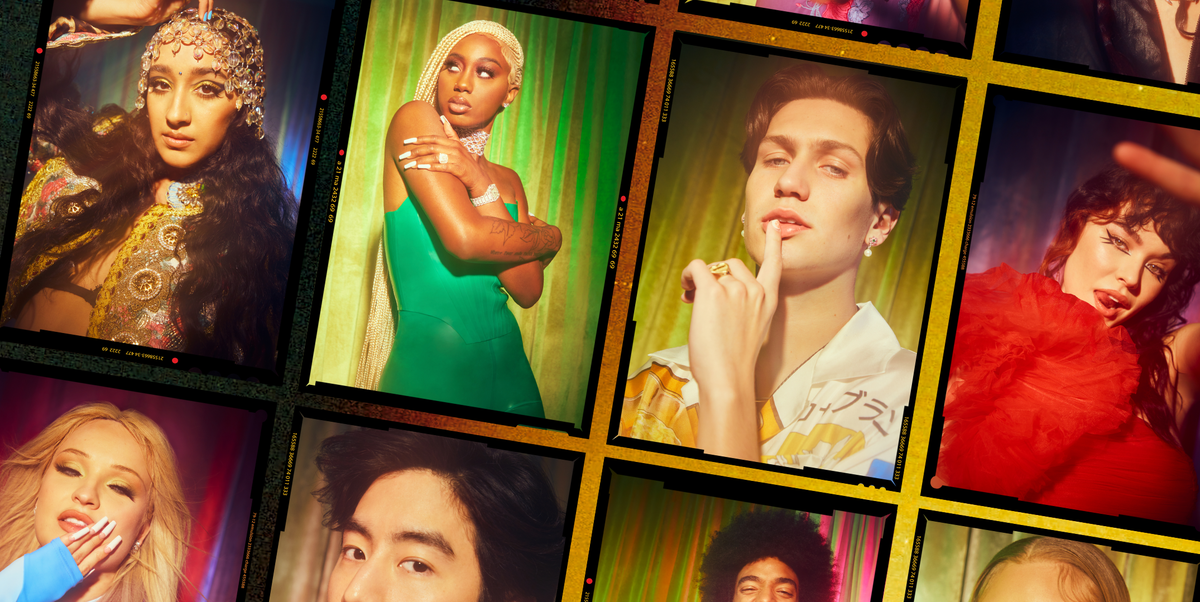 A fact about life: Music makes everything better. (Please see every single page of our Music Issue, out now, for evidence.) But the very best music—the kind that serves as the essential soundtrack to your favorite days and most epic nights—well, that kind of stuff is downright magical. Luckily, the past few years have brought an embarrassment of riches when it comes to totally addictive tunes. So we had to take this opportunity to round up some of the artists doing the coolest, most genre-bending, earworm-iest things now and ask them about everything from their favorite lyrics to their own personal icons. These are the talented folks you might've heard a viral song or two from but who are about to be absolutely-freaking-everywhere. As they damn well should be.
---
Age: 23
Hometown: Atlanta, Georgia
Why we're obsessed: She has 360+ million streams combined on both versions of her album Queen of da Souf. And oh, yeah, don't forget about that "WAP" cameo.
Most popular song: "Big Energy"
Her sound is: "Southern and raw with a catchy flow. I feel like you can hear Gucci Mane's Atlanta sound in me, then also Nicki Minaj's influence with the punch lines and confidence."
Her big "I've made it" moment: "Being the first solo female rapper from Atlanta to go gold and then platinum. I couldn't believe I actually made history in my city!"
---
Age: 22
Hometown: Manalapan, New Jersey
Why we're obsessed: She's on the Shang-Chi soundtrack, so she's basically a Marvel superhero.
Most popular song: "Damn Right"
Her sound is: "My diary against some weird beats."
Her favorite lyric: "'I'm down by the rocks / Life's a bank, try to pause it (deposit),' from 'Blossom.' It's a song about growing up."
If she weren't making music… "I'd be an astronaut, film director, lawyer, or teacher. I feel like I'd be the coolest teacher."
---
Age: 26
Hometown: Palos Verdes, California and Saint Charles, Illinois
Why we're obsessed: Two years ago, he was working at a Verizon store. Now he's turned one viral TikTok into an already iconic career.
Most popular song: "All of them." [Editor's note: "A-O-K" is a must-listen.]
His sound is: "Just what feels good. Or any emotion, really, but it has to make you feel something."
His big "I've made it" moment: "My first time performing was at Lollapalooza to 35,000 fans. But big is relative. None of it matters and we're all gonna die. I'm just doing shit I like."
---
Age: 29
Hometown: Cologne, Germany
Why we're obsessed: She counts lowkey bop queen Paris Hilton as one of her biggest fans and collaborators.
Most popular song: "Hillside Boys"
Her sound is: "I have a lot of rave and techno influence in my music, even if it's slight. But then I got super into pop, so I kind of fuse the two. That's my formula."
What's next for her: "Right now? Going to a hot yoga class. In life, my focus is on Coachella and making that show great. So probably yoga and then thinking about the millions of things that need to be done for that."
---
Age: 19
Hometown: Stockton, California
Why we're obsessed: It's not (just) the 32.3 million TikTok followers—it's the way his songs transport you right back to teendom.
Most popular song: "21st Century Vampire"
His sound is: "A meltdown in songwriting form. High school, my relationships, my friends, and the L.A. lifestyle have inspired a lot of it."
His favorite lyric: "'You're the gift the devil sent me,' from 'Headlock,' because it means that I love you and you love me but we hurt each other sometimes."
People would be surprised to know… "That I'm insecure as fuck."
---
Age: 27
Hometown: Queens, New York and Stamford, Connecticut
Why we're obsessed: Just watch her NPR Tiny Desk Concert, you'll get it.
Most popular song: "If Only"
Her sound is: "Ethereal, warm, and sensual. I take pop and R&B and mix them with sounds from other genres, including my cultural background of Indian music."
If she weren't making music… "I'd probably be a Reiki healer or a meditation teacher. Or an art director for music videos or films."
---
Age: 22
Hometown: Mobile, Alabama
Why we're obsessed: She's been writing music since she was a literal child, even forming an all-girl rap group.
Most popular song: "In the Party"
Her sound is: "Fun, charismatic, mischievous, and bratty."
Her big "I've made it" moment: "When my mixtape made it on the Billboard 200. I bought myself a car to celebrate."
Her favorite lyric: "'It took me a while to come up out my shell / At least I could say I did it with no help,' from 'Beef FloMix.' It's true."
---
Age: 23
Hometown: Phoenix, Arizona
Why we're obsessed: She's a classically trained musician who's not afraid to go full punk.
Most popular song: "Drugs"
Her sound is: "Music that makes you feel like a badass."
Her favorite lyric: "'If you don't pass the vibe check / Sorry but you don't get the sushi,' from 'Last Supper.'"
The icons who inspire her: "I listened to a lot of No Doubt, Weezer, and Outkast. I still watch Gwen Stefani's live shows on YouTube when I'm getting ready to perform. The ultimate pre-game."
---
Age: 28
Hometown: Los Angeles, California
Why we're obsessed: Before breaking out on his own, he was already crushing it in South Korean boy group Got7.
Most popular song: "My Life"
His sound is: "Still in the process of being found, but I would say I'm in the pop genre. I've never really gotten to express myself in the past as part of my band, but with this album, I wanted to show fans my vulnerable side."
If he weren't making music… "I think I would probably be streaming because I enjoy playing games and interacting with others."
---
P.S. We rounded up all of these tunes and made you a playlist. Feel free to play it off as your own for instant aux cord privileges with your friends.

This content is imported from Third party. You may be able to find the same content in another format, or you may be able to find more information, at their web site.
Props: Cate Kalus. Production: Crawford & Co Productions. (Latto) Hair: Ashhanti Lation. Makeup: David Rodriguez. (Audrey Nuna, Tai Verdes, Raveena, Huddy) Hair: Lisa-Marie Powell for Art Department using Oribe. Makeup: Dana Delaney at The Wall Group using Pat McGrath Labs. Manicure: Carla Kay for Cloutier Remix. (Huddy) Manicure: Gel Nail Stickers by Glamnetic. (Flo Milli) Hair: Khalea Belle. Makeup: Christopher Dixon. (Kim Petras) Hair: Melissa Dominguez. Makeup: Gilbert Soliz.