WiiM Pro audio streamer review
At a glance
Expert's Rating
Pros
Polished software
Outstanding audio quality
Easy to use
Cons
Serious listeners will want to add an external DAC
No support for DSD audio
Build quality is just OK
Our Verdict
The WiiM Pro is the best way for most people to stream audio to their home audio systems and can be a solid foundation for a multi-room audio system.
Price When Reviewed
$159.00
Best Prices Today: WiiM Pro
$149.00
Linkplay Technology, Inc.
$159.00
The WiiM Pro is an outstanding device for adding streaming capabilities to a home audio system or even just a set of powered speakers, delivering musical performances comparable to units that cost at least four times as much. The $149 box takes care of streaming with assistance from a polished mobile app, and it features an integrated DAC that allows a user to plug directly into an amp or powered speakers.
This music streamer now has a higher-end stablemate: Read our first take on the Wiim Pro Plus.
As we'll discuss in this review, there are two ways to consider the WiiM Pro: You can buy it as an all-in-one solution that processes streaming music to deliver analog audio to your system, or you can buy it as an interface that captures streaming audio and outputs a digital bit stream for processing using your own gear.
I'll explain why the WiiM Pro is such a great all-in-one solution for most users first, and then I'll dig into into the reasons why audiophiles are so excited by this device.
Design and build quality
James Barber/Foundry
The WiiM Pro is a 5.5-inch square box that's 1.8 inches high and weighs just under 12 ounces. That makes it both larger and lighter than an Apple TV 4K set-top box. If you're looking for a flaw in its device, you might decide that the plastic used for the case feels a bit thin and doesn't have the luxury feel that you get from competing products from Bluesound or Cambridge Audio. Said competitors, of course, cost hundreds more, and the only time you'll look closely at the WiiM Pro is while you're setting it up. Once you've done that, the box won't look out of place in a stack of high-end audio equipment.
There are multiple ways to get music into the WiiM Pro. You can connect it to Wi-Fi or use its ethernet port to hardwire it to your home network. I went the ethernet route when I connected it to an audio system that lives in a corner of my house that suffers from dodgy Wi-Fi; I've also used ethernet with an Apple TV and a Bluesound Node X in that location. The WiiM Pro worked great with Wi-Fi in another room of home that enjoys a solid signal.
The WiiM Pro is also outfitted with RCA analog and optical digital inputs. If you're looking to create a stripped-down system with a WiiM Pro and a pair of powered speakers, these extra inputs allow you to connect a turntable, CD player, or cassette deck, and use the WiiM as a basic preamp. If you have more than one WiiM Pro in your home, you can stream music from that device to the second WiiM unit in another room; yes, it can operate as a multi-room audio system.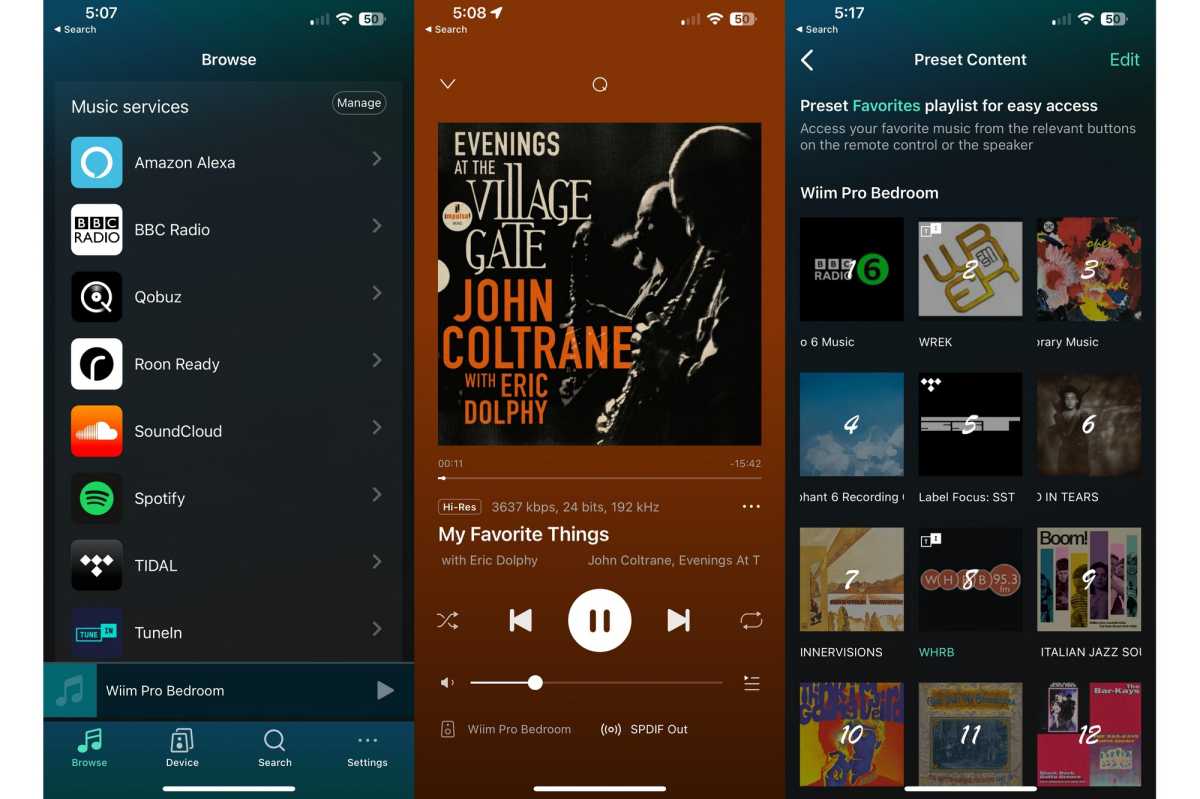 James Barber/Foundry
WiiM has an integrated Texas Instruments PCM5121 DAC to convert an incoming digital signal to analog. The unit will support PCM and MQA audio up to 24-bit/192kHz resolution, but there is no DSD support.
The streamer works with Tidal Connect, Spotify Connect, Qobuz, and Amazon Music via its app. Recent software updates have rendered the WiiM Pro Roon Ready. BBC Radio, Calm Radio, Pandora, Deezer, TuneIn, Napster, and iHeart Radio are also supported via the app.
If you're using Apple Music, Audible, or something else that's not on that list, the WiiM Pro also supports AirPlay 2, Bluetooth 5.1, and Chromecast. Apple Music users should be aware that they'll be limited to CD quality via AirPlay, but that's an Apple restriction that exists no matter which streaming box you choose. The WiiM Pro's outputs include RCA analog, optical digital, and digital coax.
The best way to control the WiiM Pro is via your smartphone via the excellent app, but there's a $20 remote available for users who prefer physical buttons (you can save $10 by buying the two components as a bundle for $159).
Audio performance (for most listeners)
I set up the WiiM Pro via the iPhone app, first connecting it directly to a Fosi Audio TB10D power amp that does a surprisingly good job of driving a pair of Q Acoustics Concept 30 bookshelf speakers. I later added a Fiio K7 desktop DAC to the setup, inserting it between the WiiM Pro and the Fosi amp.
If you want to add streaming music to your home audio system or a pair of powered speakers, the WiiM Pro provides everything you need. Set up via the app, connect an RCA cable to the analog output, and you're ready to listen to music from virtually any online source you might choose.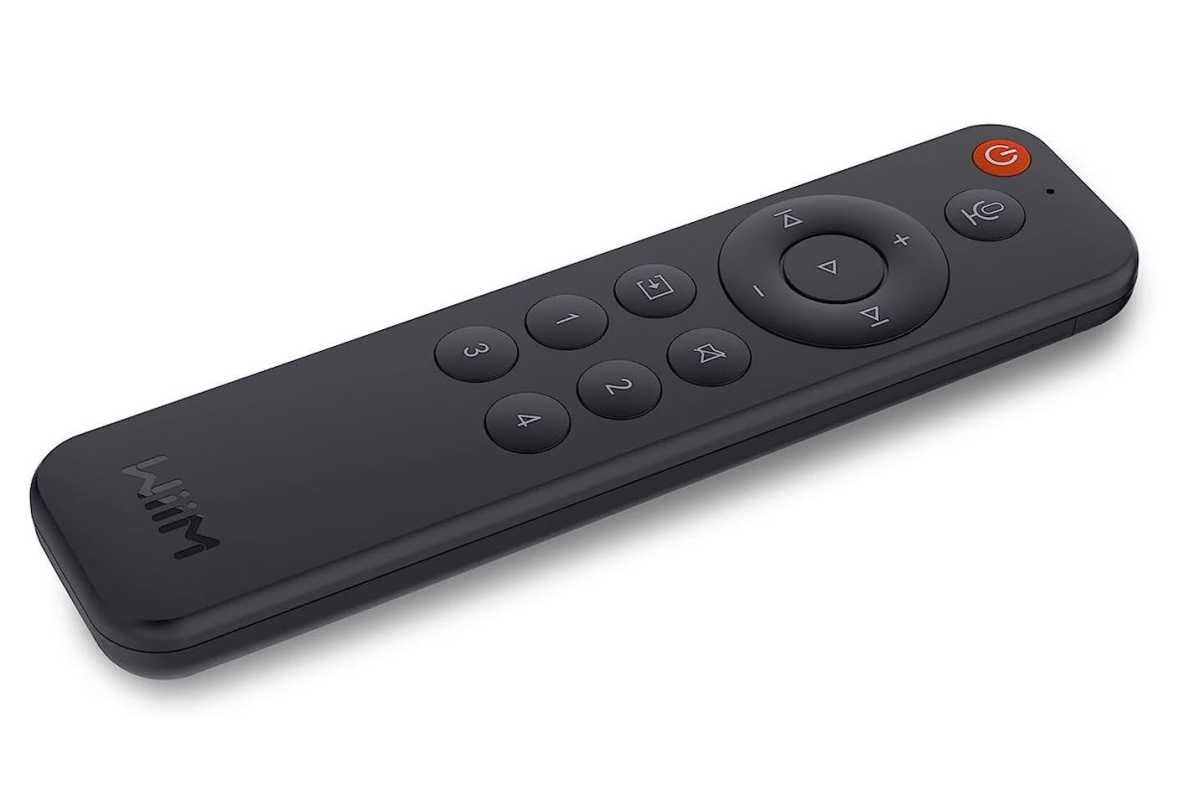 Linkplay Technology
There are plenty of inexpensive Bluetooth receivers that promise to get the job done, but Bluetooth technology is less reliable than Wi-Fi, and these usually include DAC chips that deliver less-than-acceptable quality.
The WiiM Pro delivers more reliable connections, especially with apps like Spotify, Qobuz, and Tidal that have native support in the app. Everything else will be as reliable as your home's Wi-Fi setup, and you won't have the same distance limitations you'd face with Bluetooth.
If you set up multiple units in different rooms, WiiM creates an inexpensive whole-home music network that's just as reliable as anything you'd get from Sonos. It's also much easier to use than Sonos competitors, such as Denon's HEOS, and you can connect the WiiM Pro to a system that will give you far better sound quality than what's on offer from Amazon Echo smart speakers or either of Apple's HomePod speakers.
For most users, this all-in-one solution will be the way to go.
Audio performance (for audiophiles)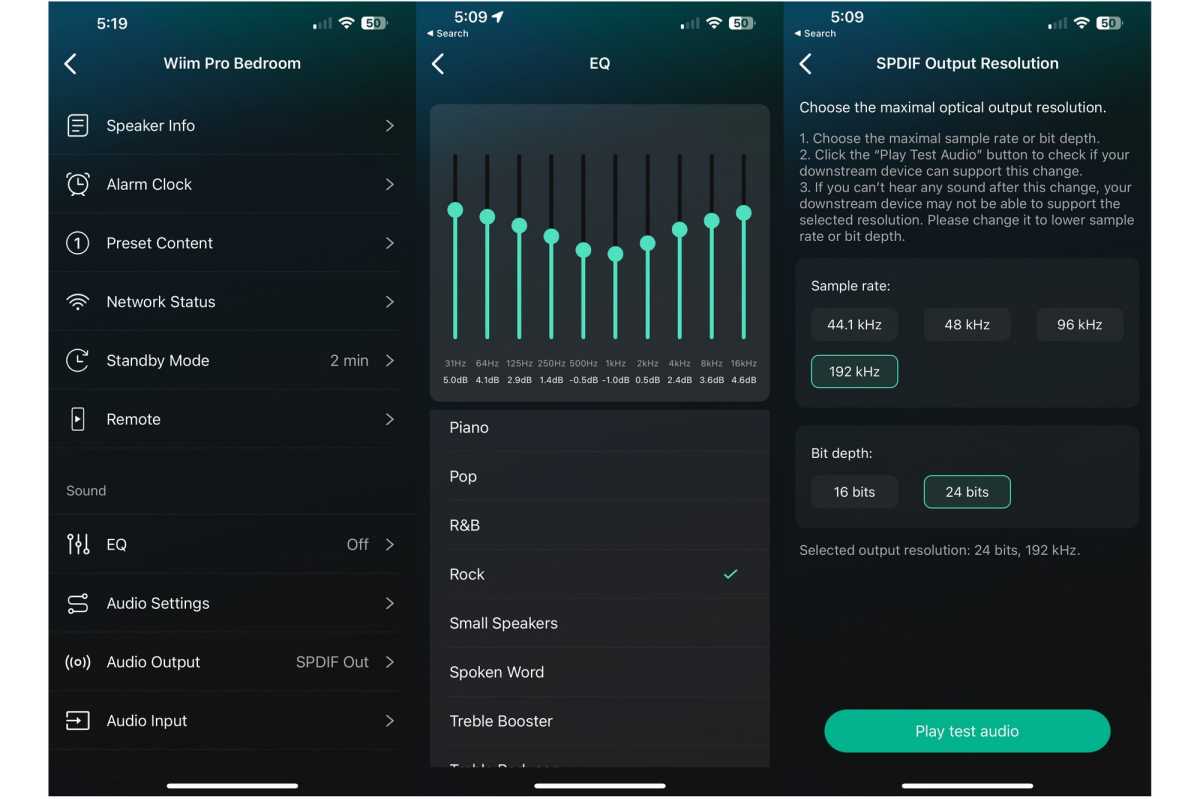 James Barber/Foundry
The high-end audiophile community has been celebrating the WiiM Pro, and for a very good reason: It's equipped with both optical and coaxial digital outputs. Use either of those instead of the WiiM Pro's RCA analog output and you can bypass the WiiM's built-in digital-to-analog conversion in favor of the DAC of your choice.
Said DAC can cost less than $100 or more than $10,000. Investigate the WiiM Pro in the dark recesses of online audio forums, and you'll find enthusiastic endorsements from users at almost every price point. Most think the WiiM Pro is just as good or better than any streaming device on the market, once a user bypasses its internal DAC.
That makes the WiiM Pro a device that can adapt as a user upgrades their audio setup. It's a great product out of the box, but it can be significantly improved with a modest investment in an external DAC, it will then fit nicely into even the most expensive home system.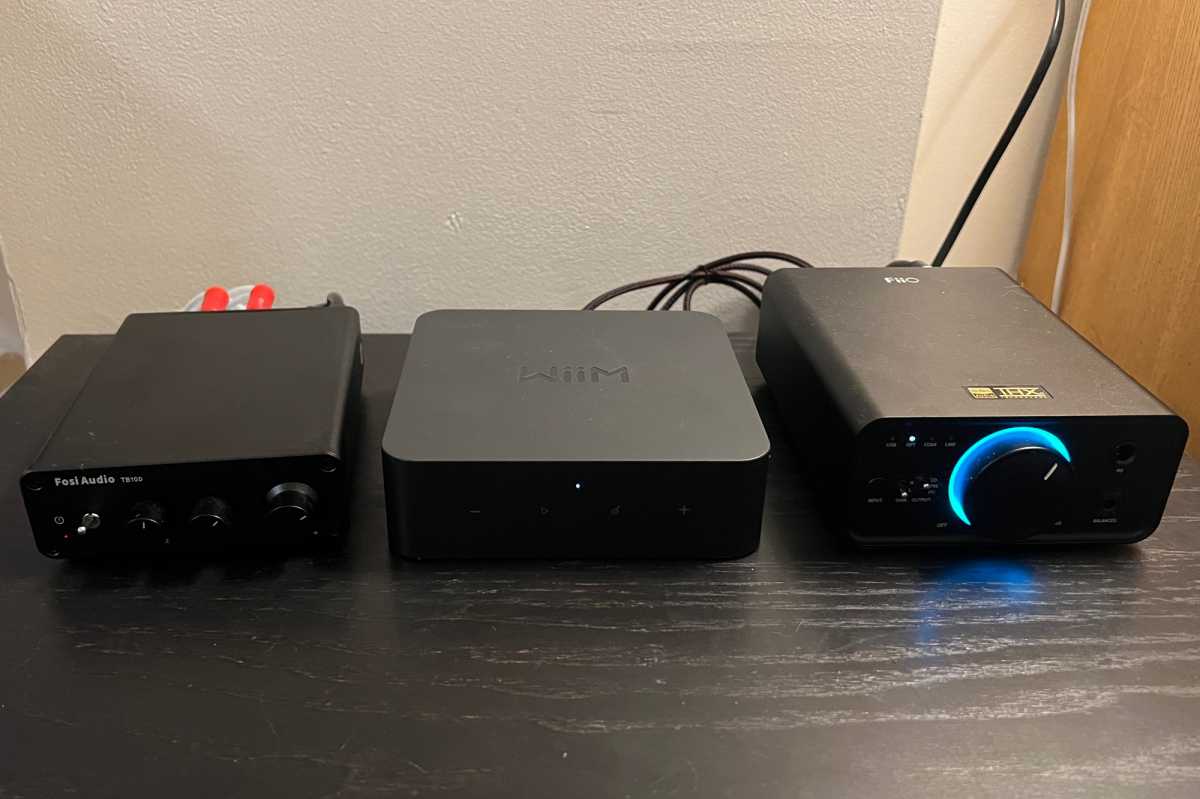 James Barber/Foundry
There's an  even less-expensive alternative
The WiiM Mini, which TechHive reviewed in July 2022, is a $99 puck that offers most of the same features as the WiiM Pro, but with some critical differences. If you intend to use an optical output and pair your WiiM with your favorite external DAC, the Mini offers identical performance to the Pro and will save you $50.
The WiiM Mini, however, doesn't have a more durable coax output if you prefer to use that for your digital connections. It also lacks the Pro's full-size RCA inputs and outputs, being outfitted with only a 3.5mm analog output. There's no ethernet port, either, so you won't have a hardwired connection option if your Wi-Fi network leaves something to be desired.
Personally, I'd opt for the WiiM Pro if I was using it as both a streaming box and a DAC.
Price and availability
The WiiM is priced at $159 and is widely available for purchase online, including at Amazon.
Should you buy the WiiM Pro?
If you're looking to add streaming capability to your home audio setup with a minimum of hassle, the WiiM Pro is a breakthrough. Sure, there are dozens of $40 Bluetooth receivers out there that promise to get the job done, but I've never tried one that didn't have glitchy reconnect issues and less-than-sparkling DAC performance.
The WiiM Pro delivered consistently reliable connections and a superior software experience. The built-in in DAC will impress most users who are taking their first steps into integrating streaming audio into a home audio system, and more discerning listeners can bring whatever DAC they want to the party.
Could WiiM have bumped up the price $50 or so and built in a more impressive DAC? I'd like to see that, but the company seems to realize that a huge segment of its market is audiophiles who won't be happy with anything except their favorite DAC, so why make everyone pay more?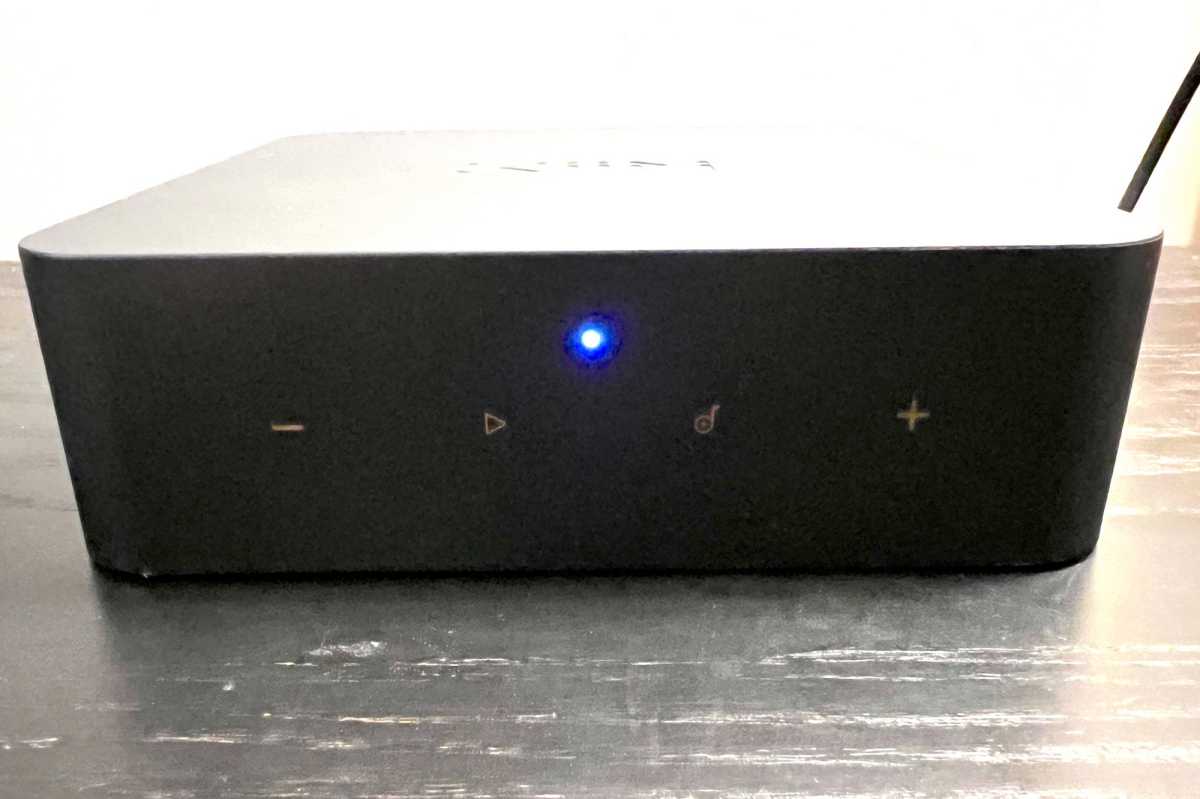 James Barber/Foundry
The real competition for the WiiM Pro might be the $599 Bluesound Node (or the limited-edition $749 Node X). I'm impressed with my Node X's built-in DAC and still consider its BluOS software to be the gold standard for streaming interfaces, but there are plenty of audiophiles who love their Bluesound devices and still insist on bypassing the unit's internal DAC to use using their own converter.
That's where WiiM hits the sweet spot. The WiiM apps are almost as good as the ones from Bluesound, so anyone who's using their own external DAC—and doesn't care about HDMI—can save more than $400 and go with a WiiM as their streaming interface.
If you're on a budget, the WiiM Pro is the best way to add Spotify, Tidal, or Qobuz to your home audio setup. Most users will be happy with its built-in DAC, but anyone who's yearning for something a bit better can find outstanding DACs from companies like Schiit, Topping, or Fiio for $200 or less.
The WiiM Pro or the WiiM Mini are the most cost-effective ways to add streaming music to an audio setup. I'll confess it took me a while to realize just how amazing the WiiM Pro is, since I'd had so much trouble with streaming devices over the years and I would have never believed that something costing $150 could be this good.
The more I've used the WiiM Pro, the more I've come to understand just how amazing and versatile this product can be. It's by far the best entry-level streaming device, and it's a compelling alternative to an amazing product like the Bluesound Node X. You can't go wrong with a WiiM Pro.
Specifications
CPU:  Quadcore A53
DRAM: 512MB
Flash: 512MB
Analog audio inputs: Stereo RCA, line level
Digital audio inputs: Optical (S/DIF)
Analog audio outputs: Stereo RCA, line level
Digital audio outputs: Coaxial, Optical (S/DIF)
Network connectivity: RJ-45 for hardwired ethernet; Wi-Fi
Multi-room audio capable? Yes, via AirPlay 2, Chromecast, Alexa Multi-Room Audio, Linkplay
Supported music-streaming services: Spotify Connect, Tidal Connect, Qobuz, Amazon Music
DLNA ready? Yes
Roon Ready? Yes