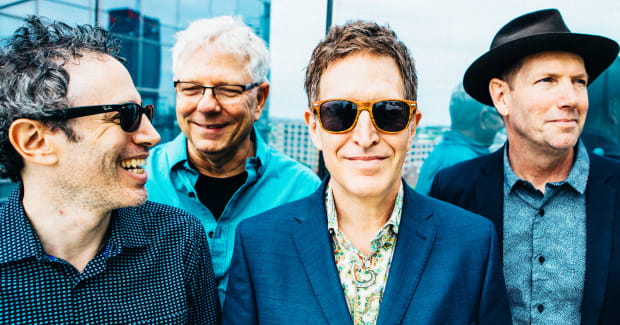 The Dream Syndicate's Steve Wynn on having a psychedelic sound with no creative restrictions
For more Alternative Rock vinyl and collectibles go to the Goldmine shop!
By Alan Brostoff
The Dream Syndicate have been making quality albums since the early 1980s, with 1984's Medicine Show becoming their standout release. Now, the band have released their latest album, Ultraviolet Battle Hymns and True Confessions (Fire Records), receiving similar critical praise. Steve Wynn, founding member, singer and guitarist, shared his current thoughts on the band, information on the new record and an upcoming tour.
GOLDMINE: Ultraviolet Battle Hymns and True Confessions recently came out, where did that title come from? 
STEVE WYNN: It's kind of a funny store. Sometimes when you have a new record, the title comes in instantly and there are no questions about it. Maybe it's one of the songs on the record or somebody says something or other times you're digging around and come up with something. For this album, nothing was sounding right and we were getting to that point where we had to have a title. Dennis Duck (drummer) wrote to me one day and gave me three titles, on was Ultraviolet, one was Battle Hymns and one was something else, and I just thought these might all sound good together. We just started there, and it came from that. I've always liked records that had long rambling titles. We had never done it that way and it seemed like the fun thing to do. We are all over the map on this record and maybe the title shows the same thing, although it was not the original intention or thought.
GM: I can see that in the new album, each song kind of stands on its own. 
SW: When we made this record it was July of 2021, deep in the thick of the pandemic and things were just starting to get a little opened up. As a band, we hadn't been together, let alone played together in a year and a half. So, I think we just wanted to do everything at once. It's what happens when you have been cooped up and suddenly your outside again or you're with other people. It's like a dog chasing its own tail. We just wanted to play everything and I don't think we had any kind of idea what this record was going to be like. The record we did a few years ago — These Times — we wanted to make a trippy, psychedelic, almost like a soundtrack kind of records for movies. We had a kind of high concept going into that one. This album we had no idea. We just played some music and we decided to not impose any restrictions. Additionally, we were coming off of an double album of five songs we really stretched out. We knew we could do another jam type album, but we kind of liked what we did the last time so we said let's go for more songs this time.
GM: For people who might not be familiar with Dream Syndicate, how do you describe the band? 
SW: That's funny because it comes up all of the time, with all the new things that are out there, like Bandcamp or Spotify, all kids of different places where you can get your music out to people. That is always a question that comes up. "What do you call this type of rock or that kind of rock?" I think the thing we always come up with is Psychedelic. It's funny because when we began back in '82, we were part of the Paisley Underground movement because we were this trippy, garage band. In reality, all of those bands started with being a kind of connected but quickly they went in different directions. The Bangles became a top-selling pop group, the Three O'Clock became more mainstream and we became a little more Americana and a little more of a rock band. We are now in the second version of the band, the 21st century, and we really are a psychedelic band. Some people might say prog but prog brings to mind, for certain people, a buzzword with a negative connotation, but that is where we come from. We are a trippy, inside your head, headphone music kind of band and that suits us very well.
GM: On your website it shows that the initial, special colored vinyl variant has already sold out. When you decide to release a new album, do you think about the collectors and offering something special? 
SW:As far as the colored vinyl, it's kind of automatic these days. In fact, we've been joking about that with our friend Pat Thomas who is a writer and musician in his own right, and he is the guy who actually hooked us up with Fire Records. He has a joke, where he says that the limited edition is the black vinyl because there are so many different colors out there. I think it's typical these days for labels because they do want to make something special for the collectors and we like that also. I have always liked the color vinyl and picture discs, but to be honest there's a certain thrill of seeing a black piece of vinyl in your hands. It brings back the first time I heard Marquis Moon, the first time I heard London Calling, the first time I heard Exile on Main St or Meet the Beatles. It was all on black vinyl and it is still magic.
GM: Talk about your record collection. 
SW: In a true confession, when I moved from Los Angeles to New York I had a lot of vinyl. I was looking at the typical New York experience and we were going to be moving into a much smaller home. I knew how much it would cost to ship all of my records and I did not want to just store them in L.A. for a rainy day. I could ship them at great cost and have them essentially be the furniture in my apartment or get rid of 90% of my vinyl. I did the dreaded thing and got rid of that 90%. In case you are out in L.A. there's was a store called Freakbeat Records; my friend opened the store right around that time and he said that if I was selling my vinyl he wanted it, so he got my collection. They gave me a good deal for it and I started to buy CDs. I do have over 3,000 CDs and I can't part with them. I love to look at them and they bring me great comfort. My wife Linda, who is also a drummer and plays me a lot of her vinyl has her collection. So, I guess all's well that ends well.
GM: Anything that you are looking for to add to your collection? 
SW: Ah, that's a good question. The funny things is that Linda's taste and my tastes are so close that she has a lot of the ones I got rid of so I almost got reacquainted when we got together. I did keep the things that will never get reissued and there were some things like Bongo Joe Coleman, and some of the freaky records and the really weird things I kept. I wish I could inspire the readers to give me some great Christmas gifts but I can't really think of anything. I know it's not the same but I have so much on CD. Moby Grape records. I love them and they are not on digital so some Moby Grape would be great.
GM: How have you been impacted by the recording plants taking so long to get a record out on vinyl? I know some bands are touring to support records that may not come out on vinyl for six months to a year into the tour. 
SW: Yeah, you nailed it. It's frustrating. A lot of bands putting out the vinyl for a record one year after the record came out in other platforms. We are lucky with our new album. We finished it in January and the new album started to come out in July on vinyl. Hats off to Fire (Records).
GM: The upcoming tour is a celebration of both the new album and the 40thanniversary of The Days of Wine and Roses. 
SW: I have known for a few years that we wanted to do some kind of 40-year event with The Days of Wine and Roses; what I did not know was that there was going to be a pandemic. I assumed we would have done a lot of tours to support the new albums, but we never got to do that. We are excited about this tour we are going to break the show into two different sets. The first set will be mostly new material from Ultraviolet Battle Hymns and The Universe Inside (2020), and then the second, BAM, it will be 1982 for about 45 minutes.
GM: Are you looking forward to the tour? 
SW: Very much so. We did one show in Brooklyn back in December and that was our first one since COVID began. We have done South by Southwest and a festival in Norway and we were really excited to play. These were all isolated things and my favorite thing is being on the road and playing every night because when you do, you get more and more into daring. You become more experimental and find the groove and I can't wait to get going. This band is about improvisation, and we need to play regularly to get that feel.
GM: Anything different about touring coming off the pandemic? 
SW: That's so tough to say. I've seen so may band's handling it in different ways. Some bands are saying we will stay backstage and we don't want anyone else backstage. There is not a right or wrong way to do this. I was doing a solo tour back in September and it was weird looking out at the entire audience and seeing them all wearing a mask. I think everyone knows the risks involved and hopefully everyone will take care of themselves. We don't want people getting sick and certainly don't want to have to cancel the tour.
GM: Any record stores out there you like to visit? 
SW: When I am on tour and going around the county, I like to go to record stores because it's like a second home for me partially because you see friends at the stores. Working at a record store was my main job before the Dream Syndicate back in 1982. I love Freakbeat and Amoeba in Los Angeles. I like Big Dipper in Oslo and I love Sounds of the Universe in London, that's my favorite store. I have a few favorites hear and there that I'm looking forward to getting back out to.