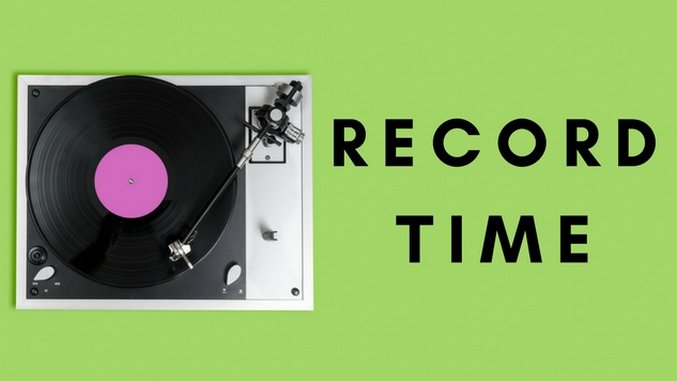 Record Time: New & Notable Vinyl Releases (November 2021)
Record Time is Paste's monthly column that takes a glimpse into the wide array of new vinyl releases currently flooding record stores around the world. Rather than run down every fresh bit of wax in the marketplace, we'll home in on special editions, reissues and unusual titles that come across our desk with an interest in discussing both the music and how it is pressed and presented. This month we help get you ready for RSD Black Friday by highlighting four exclusive releases out today and a bevy of other vinyl worth your time and money.
This lovingly crafted triple 10" collection spotlights the creatively rich but personally fraught period of Sam Cooke's career as a member of the Soul Stirrers, the gospel vocal group he was a part of from 1950-1956, and as he prepared to leave the group to pursue a secular pop career. Each record represents a different step of that journey. The first collects a dozen of the Soul Stirrers' best—rapturous music that hits the sweet spot where the spiritual purity of gospel and the bodily concerns of R&B consort. The second features three performances from the group's shudderingly great 1955 performance at L.A.'s Shrine Auditorium. The last disc finds Cooke exploring his options as a pop vocalist with demos of early singles like "I'll Come Running Back To You" and "Loveable." Matching the greatness of the music is the work David Gorman did to research and recreate ephemera from the era, including news clippings announcing the L.A. show, a glossy promo photo of the Soul Stirrers, and the correspondence between Art Rupe at Specialty Records, Cooke and his former group working out the details of his secular shift. It's a tremendous package that should be atop your "To Buy" list for this RSD Black Friday.
---
If your local record shop is out of copies of the Sam Cooke release mentioned above, ask for this other gospel gem from Chicago legends the Staple Singers. Originally released in 1962, it's a holiday album that doesn't feel like a holiday album as it does away with all the jingle bell trappings and treacly cheer. This is, in spirit, a down and dirty gospel record with the barest of instrumentation (guitar, organ and drums) and a spotlight on the heart-stopping harmonies of Pops, Mavis, Pervis and Yvonne Staples. This family group turns "Oh Little Town of Bethlehem" into a shadowy lament, and through their hands and voices, they find a smoldering sensuality beating at the heart of "Silent Night." If this isn't already in your regular holiday listening rotation, it's time to correct that major oversight.
---
As it has become apparent that The Wrens are never ever getting back together, us fans of the power pop group have to resign ourselves to what little joys we can still receive from the New York group. And luckily there's a lot to be excited about both with the forthcoming release by Aeon Station, the project that rescues Kevin Whelan's material from the Wrens' long delayed fourth album, and this re-pressing of the group's brilliant second full-length. Released in 1996, Secaucus is a damn great showcase for the Wrens' ungodly facility with hooky guitar rock with a hearty splash of psychedelia keeping the quartet's collective third eye engaged and on the lookout. This re-release corrects the previous error of squeezing its 54-minutes of music onto a single LP, stretching it out across two colored pieces of vinyl that sound impressively clear with only a hint of noise in the quieter passages. There is no love lost between the members of the Wrens right now, the success of this reissue may send a strong message that people still care about their music and it would be a damn shame if we've heard the last of the group.
---
The release of the third album by goth metal group Evanescence in 2011 was something of a minor miracle. Though they began work on the record in 2009, it limped and crawled to the finish line after aborted sessions with Steve Lillywhite, label interference and an exhausting stretch of recording in Nashville. The band was rewarded for their efforts with a #1 album and gold record sales. Re-released on "purple smoke" vinyl to celebrate its 10th anniversary, this self-titled album is an impressive mix of vintage industrial and darkwave elements with modern heavy rock with vocalist/songwriter Amy Lee digging deep to meet the music with lyrics that touch on broken relationships, spiritual longing and other sources of emotional unrest.
---
The psychedelic comedown was still lingering within the Beach Boys as the '60s drew to a close, and that soul shaken, bone deep exhaustion crept evermore into their work. But what came out of that period is some of the group's most fascinating and strange music. The two albums that closed that decade and began the next were recently treated to a multi-disc CD reissue that compiles copious amounts of studio outtakes, live tracks and unreleased goodies. This four LP vinyl issue is a condensed version of that set, and it is all the better and worse for it. Feel Flows is a great way to home in on the weird and wonderful material that made up 1969's Sunflower and 1971's Surf's Up, like Brian Wilson's achingly earnest "A Day In The Life of a Tree," Dennis' adorably awkward "Forever" and Mike Love's truly bizarre "Student Demonstration Time." The set also introduces some fantastic songs that didn't make the cut of these albums, including the majestic "(Wouldn't It Be Nice to) Live Again" and the heartbreaking Brian Wilson tune "Where Is She?" Where Feel Flows disappoints is in the mastering. It's unclear what the source was for these recordings, but it often sounds digital. And that leads to some ugly sibilant tones through some songs and a post-production loudness that does no favors to the more textural moments within. A great addition to the collection but one that should merely augment original pressings of these albums, which are plentiful in the used market.
---
Here's a rare case where the impact of the music being pressed to vinyl far outweighs the somewhat questionable sonics of the finished release. Discovered in the archives of the late musician Joe Brazil were tapes that featured a live recording of John Coltrane and an expanded backing band performing all of A Love Supreme at Seattle's The Penthouse in 1965. It is, to date, only the second known live recording of this monumental work of spiritual jazz. But unlike the many recent archival releases taken from live dates at the same venue, this wasn't recorded with broadcast quality in mind. Instead, the two microphones were set up close to McCoy Tyner's piano and Elvin Jones' drum kit. So the work of Coltrane, his fellow saxophonists Pharoah Sanders and Carlos Ward and bassists Jimmy Garrison and Donald Rafael Garrett is muted—discernible but entirely overpowered by the splashy attack of Jones and Tyner's percussive flair. Does that matter? Yes and no. The whole recording plays like the bootleg it was, which might turn off some less patient listeners. But there's no denying that the power and generosity of the moment comes through. With some audible coaxing, Coltrane pulls something deep from within his fellow musicians, sending Sanders into a frenzy of desperate groans on "Pursuance", giving Jones space for a six minute solo and parting the curtain for Ward, a young alto player early in his career, to shine.
---
Pay attention to the subtitle. This is not a strict re-pressing of the original 1987 album, but rather the first vinyl edition of the new version of Momentary overseen by David Gilmour and producer Bob Ezrin for 2019's Later Years boxed set. In addition to remixing the music, the pair brought Nick Mason in to record new drum parts and circled back on the late Richard Wright's original keyboard tracks—to, as the liner notes say, "restore the creative balance between the three Pink Floyd members." It's not a dramatic change from what was released nearly 35 years ago though the music feels cleaner and clearer and strikingly modern. And the band treated it well with this release by pressing the album at 45 RPM to give the low end room to breathe and Wright's work a chance to really shine. It's a fitting execution for yet another of Floyd's creative peaks on which the group proved able to survive and grow following the departure of founding member Roger Waters.
---
Few trends in the reissue market are as welcome as the number of recent big boxed sets that allow fans to immerse themselves fully in the work of certain artists or certain albums. They take up a lot of space on the record shelves but offer a bounty of material worth revisiting frequently. A great example is this 50th anniversary re-release of Cat Stevens' folk-pop masterpiece Teaser and the Firecat. In the pockets of one sleeve are a series of CDs and blu-ray discs featuring a remastered version of the original album, rehearsal tapes and studio outtakes and lots of live material. Accompanying them are two LPs: an alternate version of Teaser using demos and a new version of "The Wind" recorded in 2020, and a disc of choice live cuts that find Stevens in strong form as he performs songs from throughout his catalog. I was particularly delighted by the 7" included that featured the soundtrack, with narration by comedian Spike Milligan, for an animated Teaser film released in 1977, and the thick booklet that includes testimonials on Stevens' greatness by Carly Simon, Rick Wakeman, Bonnie "Prince" Billy and Melvins' Dale Crover. A testament to how Stevens' impact is still resonating far and wide, even after five decades.
---
One of the more exciting groups to emerge from London's roiling jazz community, Portico Quartet returns to our field of vision a mere six months after the release of their impressive album Terrain. On this go-round, the group—reduced now to a duo of multi-instrumentalists Duncan Bellamy and Jack Wyllie—are back in beat-heavy mode, producing work that feels more connected to the trip-hop scene of Bristol or the hip-hop productions of J Dilla than to any traditional jazz sounds. The key melodic force of these tracks remains Wyllie's saxophone and keyboards, but the grounding element remains Bellamy's molasses-thick grooves and some deep bass tones that rumble like an earth mover. Though the clear vinyl version is a tad on the noisy side, the 45 RPM pressing covers over some of the flaws with a big sound that, at the right volume, could be weaponized.
---
Take the title of Usher's fourth album at face value. This was the R&B artist's attempt to spill the tea on the affliction that befell his relationship with TLC's Rozonda "Chilli" Thomas mostly due to his failure to remain faithful while they were together. Even if he didn't have a hand in writing much of the material on Confessions, his choice of songs and the passion with which he attacked each song, no matter if it was a ballad or a dancefloor burner, told the story with surprising detail and honesty. It remains the peak of Usher's creative output, deserving of the deluxe treatment it is given on this Vinyl Me, Please Essentials reissue. The "gold nugget" vinyl is free of flaws, and manages to smooth over the digital creep of the production. The package also comes with a lovely lithograph of the man himself and some fantastic liner notes from Chicago Tribune critic Britt Julious. The complete package for one of the best R&B albums of the new millennium.
---
The boxed set containing the first three albums from ACID, a neo-psychedelic outfit made up of the multi-talented Imaad Wasif and Jeff Hassay, isn't just a box. Tucked into the side of each copy of this limited edition release is a 1/4" audio jack to plug a guitar cable into, turning this inanimate object into something of an instrument. Sure, all that comes out of it are the amplified thumps and scratches you make by thumping and scratching on the box, but I don't see the Beatles including an audio element in their re-release of Let It Be. In addition, the three albums—Science Fiction With Acid, Persona and Romance—are pressed on glow in the dark wax, which you can trigger in the day time by using the laser pen that comes in each copy as well. With another band, all the bells and whistles would exist to overcompensate for their crummy music. ACID brings the goods with three LPs worth of enveloping grooviness inspired by Krautrock, spacey soundtracks to '70s Westerns and vintage R&B.
---
The easy answer as to why beautifulgarbage, the 2001 LP by alt-rockers Garbage, didn't perform as well commercially and culturally as their preceding two albums is that the promotion efforts by the label fell by the wayside in the shadow of 9/11. Listened to 20 years later, the situation feels far more complicated. Nu-metal was still on the ascendant, emo was creeping in and R&B superstars like Destiny's Child and Aaliyah were pulling focus. As well, this album isn't rife with grabby, forward-facing singles. It's best appreciated as a full body of work, moving at a deliberate pace as the group siphoned off their interests in electronic dance music, shoegaze and art rock. This deluxe reissue could help correct the historical record. Even though the double LP format of this vinyl release forces multiple side flips, the band's complete artistic vision comes even clearer as vocalist Shirley Manson tried to make sense of the 24 hour news cycle, geopolitics, sexual fluidity and an air of anxiety already present before the terrorist attack. Included in this package is an LP of b-sides (including the marvelous "Use Me" and a live take on the Stones' "Wild Horses") and some neat inserts like reproductions of window art meant for record store promotion and a setlist from a 2002 gig in Milwaukee.
---
Never be afraid to (respectfully) tell the artists you love how much you love them. This is just what singer/songwriter Richard Dawson did with the Finnish band Circle, singing their praises on Twitter. Before he knew it, Dawson got an invite to perform with the band at a festival in Helsinki and the two artists began working together on what would become their collaborative album Henki, out this month. It's the perfect meeting of creative minds, with each bending their usual approaches to meet the needs and sound of the other. They emerged with a song cycle inspired by the diverse plants found around the world that wraps the green shoots of Dawson's dramatic songwriting around the sturdy trunk of Circle's prog-folk-metal hybrid. Each of the seven songs on Henki are mini-epics—a crossbreeding of sounds that, if one sonic element dared to try and dominate, would have resulted in something leaden and ugly. Dawson and Circle found the perfect balance and, by doing so, made one of the finest records of 2021.
---
A somewhat surprising entry into Acoustic Sounds' series of high end reissues of classic jazz recordings. Originally released in 1960, this likely needs no explanation but just in case… Ella Fitzgerald, backed by a jazz orchestra conducted by Frank DeVol and a quaint batch of background singers, applies her unmatched pipes to a hearty selection of holiday classics, with a couple of welcome curveballs—particularly the lovelorn "What Are You Doing New Year's Eve?" and Count Basie's ice cold "Good Morning Blues"—for good measure. There's also little point in reminding regular readers of this column just how great this sounds. Ryan Smith at Sterling Sound wrapped the original analog tapes up in bright colored paper and set the music carefully under the Christmas tree to give us listeners a jolly ol' thrill come December 25th. You may have heard "White Christmas" or "Winter Wonderland" a dozen times before, but there's no way those other renditions have the same bracing snap and yule log glow as Ella's.
---
Tucked into a handsomely designed, accordion-style book are 10 7" singles, each one featuring a different track from Lil Wayne's Tha Carter album series. It's the kind of deluxe package that has now become the norm for the holiday season as vinyl sales continue to climb to rates we haven't seen since the '80s. These also aren't the kind of collections that tend to be treated with much care, but credit to the mastering engineers and pressing plants that brought this to market because it sounds good. Maybe that's all to do with only having to place one song on each side of the 7", and cutting them at 45 RPM. Whatever the case, each track has the snap and boom that you want from a great hip-hop record. And while slightly annoying to have to keep swapping records out on the turntable, this does add up to a perfect compendium of Lil Wayne's best tunes like the Kanye West-produced "Comfortable," "She Will," "Shooter" and a fabulous new track "Ya Dig."
---
Sixpence None The Richer would finally crossover from the CCM world with "Kiss Me," but it's a wonder that the group didn't find footing in the mainstream a few years earlier with their second album This Beautiful Mess. The record had all the dreampop trappings—dynamic guitar work, the delicate yet potent vocals of Leigh Nash, the rhythm section's fluid yet firm foundation—to comfortably slip into alt-rock radio playlists alongside The Sundays, Mazzy Star and Lush. But at the time Beautiful was released in 1995, the lines separating genres were more firmly drawn and fiercely guarded. Meaning scores of secular fans missed out on a true pearl of the era. The double-edged sword of Sixpence being considered a one-hit wonder may harm the chances of this album getting its due, but real ones know and folks ready to take the leap with this album will be richly rewarded.
---
If Tricky Woo had just waited a few more years to release their music, this Quebecois quartet would have been feted alongside the Hives and the Strokes as part of the so-called "garage rock revival." As it was, the three albums of sweaty Detroit-style fuckery the quartet released in the '90s caused a splash in their native nation while they remained a cult item south of their border. That's the beauty of the reissue market. With the re-release of Tricky Woo's first three full-lengths, a fresh fanbase might be had. To get to the heart of the matter, set your controls straight for this 1999 gem. It's a nasty, fuzzy piece of work with perfectly boneheaded lyrics, intrusive volume levels and the kind of snotty, cocksure attitudes that young men and women in tight outfits have been tapping into since the mid-'60s. Now if you'll excuse me, I think this album made me soil myself.
---
As Blue Note continues its welcome archive dive, the venerable jazz label is further exploring its '70s output with these two re-releases from 1975. Both are emblematic of a period when many jazz artists were making peace with the rise of funk/soul/R&B and incorporating those sounds into their work. Flute player Bobbi Humphrey went right to the source with Fancy Dancer, working with producers Larry Mizell and Chuck Davis. With their instrumentation and songwriting help, Humphrey was able to gambol her solos atop disco-leaning grooves that are thick with clavinet trills and Chuck Rainey's succulent basswork. Mizell and Rainey are also key to the sound of Donald Byrd's sultry Places and Spaces. This is not quite as successful as the previous albums Mizell made with the trumpeter, as its heavy use of strings feels a little too heavily aimed at a disco market that was already overshadowing jazz legends like Byrd. That doesn't make it any less fun to listen to when it's time to get your family to do a Soul Train dance line during the holidays.
---
To get a taste of what trumpeter Donald Byrd was getting up to before he became a funk-jazz assassin, spend a little time with the reissue of pianist Horace Silver's 1956 album Six Pieces of Silver. Re-released this month along with a vital 1960 LP from Art Blakey's stalwart ensemble, Silver's album is pure, uncut bop that sets Byrd up for success as he tangles playfully with Hank Mobley's tenor sax and piano solos that burst and sparkle like a fireworks display. The album also presaged the embrace of bossa nova and samba in jazz with Silver's brilliant "Señor Blues." The 1960 iteration of the Jazz Messengers, meanwhile, was one of the strongest that Blakey had assembled with tenor saxophonist Wayne Shorter getting his first big showcase as a player and composer alongside seasoned musicians like trumpeter Lee Morgan and pianist Bobby Timmons. Shorter rises to the occasion with fantastic tunes like "The Chess Players" and "Lester Left Town" that the band absorbs and radiates like gamma rays.
---
Charles Mingus arrived at Impulse Records in 1963 with authority. The first of three albums the musician and composer recorded for the label was as bold and groundbreaking as the genre that he wanted The Black Saint and the Sinner Lady filed under: Ethnic Folk-Dance Music. Break that descriptor down and you get, well, jazz, but the music on this album—re-released this month in a stunning new vinyl pressing by Acoustic Sounds—goes well beyond anyone one genre heading. Mingus lets flamenco and African rhythms find their way into heaving, swerving compositions that feel as agile as the ballet dancers this suite was apparently written for. A wholly absorbing listen revivified by this spectacular remaster and a crystal clear vinyl pressing that should be part of any serious vinyl collector's library.
---
Halloween may be in the rearview, but don't let that dissuade you for enjoying the music of brothers Jad and David Fair all year round. Released 10 years apart—in 1998 and 2008—these LPs are packed with short odes to horror films, creatures of all shapes and sizes and all manner of topics important to the trick-or-treating set ("Full Sized Candy Bars," "Put The Pumpkin On The Table"). Between the two, it's hard to pick a favorite as they are both so delightfully different. On Halloween, David makes charming use of programmed drum beats and sequences to complement his grumbling voice and easy to swallow lyrics, but Monster Songs feels more akin to the Fairs' early work in Half Japanese with dashed off ideas and guitar lines that slither like eels. Snap these vinyl editions up and put them in the regular rotation with your kids. By next October 31st, you'll be ready to regale the neighborhood with your renditions of "Headless Horseman" and "Witches Round a Cauldron."