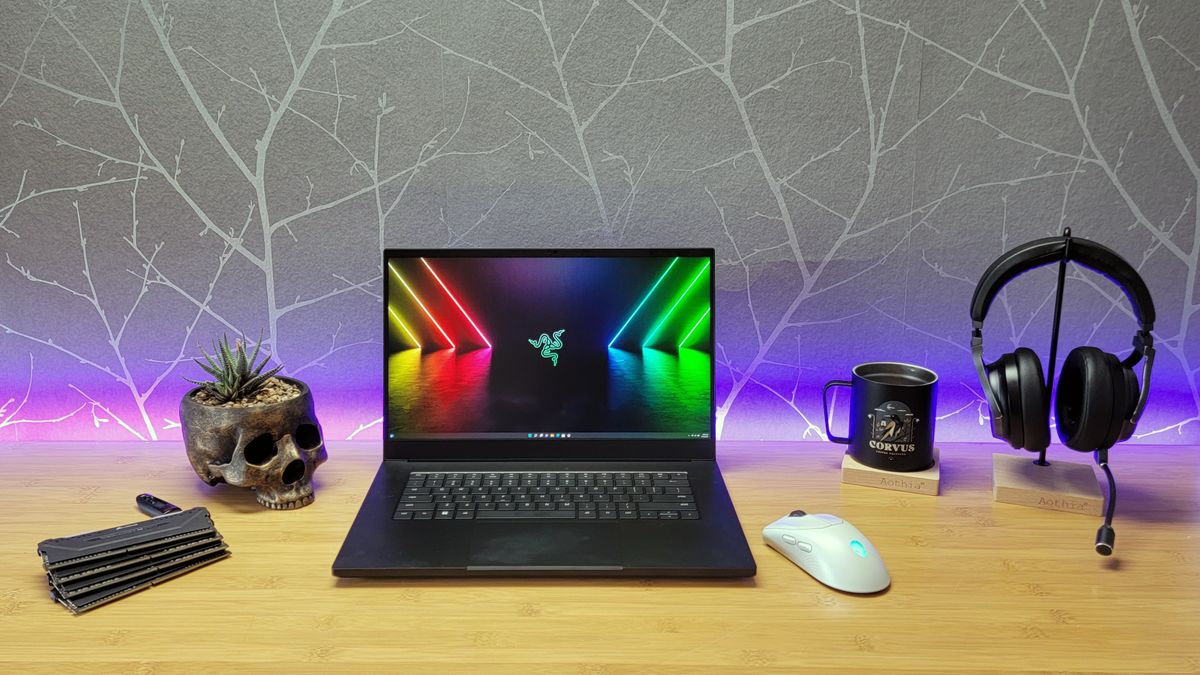 Razer Blade 15 (2022) Review: Premium Power
Razer's latest Blade 15 ditches the Advanced moniker of previous models, but it's still an appealing option for gamers and creators alike, thanks to a premium aluminum chassis and powerful components. Our $2,999 review unit ships with a 12th Gen Intel Core i7-12800H CPU paired with an Nvidia RTX 3070 Ti, along with a 240 Hz 1440p display–although if money isn't an issue, you can get an i9/3080 Ti for $3,999.
The changes to the chassis aren't drastic and include slightly larger keys, a power button that's now integrated into the keyboard and additional ventilation on the bottom. But given the Blade's design was already excellent, we're not complaining. The laptop's primary downsides are its high price (the base model starts at $2,499 with an RTX 3060) and the display, while colorful, doesn't get as bright as some of the competition. 
Design of the Razer Blade 15 
Not a whole lot has changed aesthetically with the Blade 15 compared to last year's Blade 15 Advanced, but that's fine because Razer's black aluminum chassis have long been considered one of the nicest in the gaming laptop game–especially if you like understated designs. Although, as always, the green three-headed Razer snake logo clashes pretty hard with the otherwise sleek design.
If you aren't familiar with Razer's laptop designs, they're similar to Apple's MacBooks in their rigid aluminum shells and rounded corners. But of course, since these are Razer gaming laptops, the shells are black. The company does sell similar silver laptops under the Razer Book brand, but they're 13-inch models with integrated graphics. You do, though, get an RGB-lit keyboard with Razer's laptops, which adds a bit of customizable gamer edginess.
One aspect of the Blade 15 design that's definitely not apple-like, though, is the bottom. Razer has tweaked the base and the hinge this time around to allow for better cooling, which largely involves removing metal from the chassis. But that hasn't changed the laptop's weight or dimensions. At 4.4 pounds (2.01 kg) and 3.98 x 9.25 x 0.67 inches (355 x 235 x 16.99 mm), the Blade 15 isn't the smallest or lightest laptop. But it isn't particularly bulky either. If you want something smaller and lighter (but not thinner), Asus' 14-inch Zephyrus G14 is 3.79 pounds and 12.28 x 8.94 x 0.76 inches.
Bezels around three sides of the 15.6-inch display are still slim, and once again Razer has stuck with a 16:9 aspect ratio. That's not surprising given it's likely difficult to source high-refresh, gaming-focused 16:10 or 3:2 displays. But those who do content creation as well as gaming, may wish for a taller screen.
One change from last year's model is that Razer has moved the power button from its previous spot within the right speaker grille to inside the keyboard panel itself, in the upper-right corner where the delete button usually lives (pushing that button one key to the left). I didn't find this to be a major issue, likely in part because I've owned an Asus laptop for years with the power button in that position. But for some, it may be an annoyance that takes some getting used to.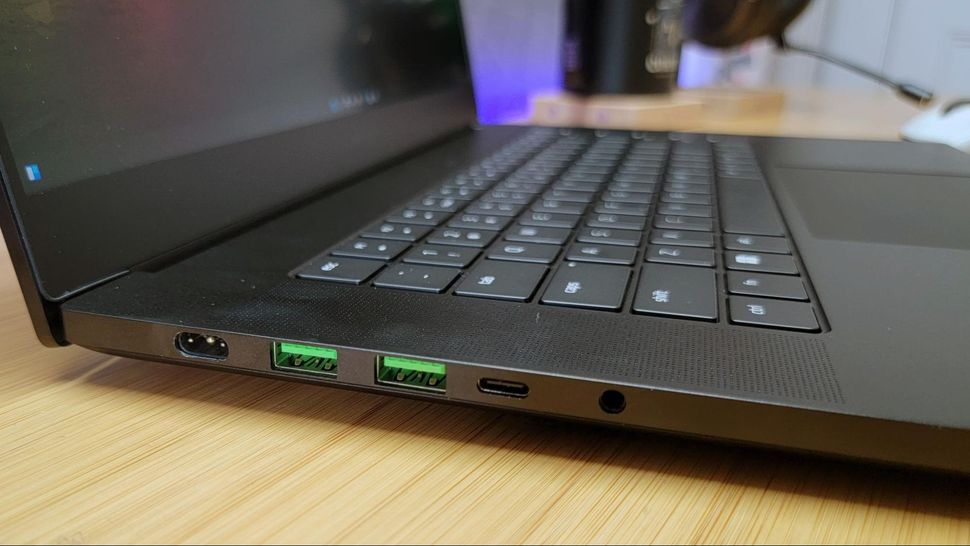 Port selection remains ample with the Blade 15. The left edge houses an audio jack, Thunderbolt 4 / USB-C and two USB-A 3.2 Gen 2 (10 Gbps) ports. Razer's proprietary three-prong power jack is also here.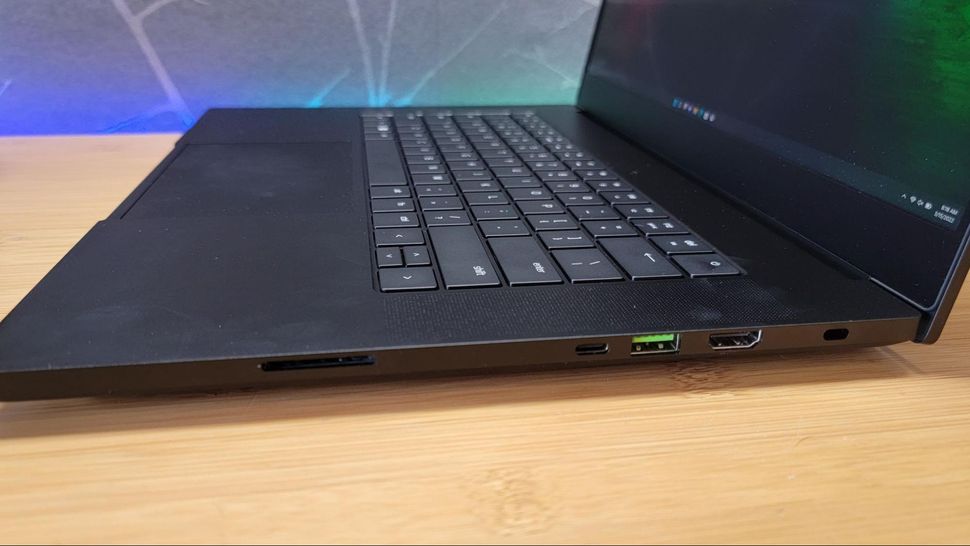 On the left edge lives an SD card slot, another USB-A and USB-C port, full-size HDMI and a lock slot. This is a great collection of ports for a slim gaming laptop (or any laptop, period), and I like that it's all on the sides of the laptop, rather than mostly on the back with Alienware's latest x14 and x17 portables. 
I do, though, love the fact that the Alienware x14 charges solely over USB-C. Razer's 230W power brick uses a proprietary oval-shaped three-pronged connector that looks and feels bulky when plugged in, and the braided cable is annoyingly stiff. But with x14 also tops out at an RTX 3060, so gaming performance will be more constrained there.
Razer Blade 15 Advanced Model Specifications
| | |
| --- | --- |
| CPU | Intel Core i7-12800H |
| Graphics | Nvidia GeForce RTX 3070 Ti (8GB GDDR6 VRAM) |
| Memory | 16GB DDR5-4800 |
| Storage | 1TB M.2 PCIe NVMe 4.0 SSD |
| Display | 15.6 inches, 2560 x 1440, 240 Hz |
| Networking | Killer Wireless Wi-Fi 6E AX1690  |
| Ports | 3x USB 3.2 Gen 2 Type-A, 2x Thunderbolt 4 over USB Type-C, HDMI 2.1, UHS-III SD card reader, 3.5 mm headphone jack, Kensington lock slot |
| Camera | 1080p, IR for Windows Hello |
| Battery | 80 Wh |
| Power Adapter | 230 W |
| Operating System | Windows 11 Home |
| Dimensions(WxDxH) | 13.98 x 9.25 x 0.67 inches / 355 x 235 x 16.99 mm |
| Weight | 4.4 pounds / 2.01 kg |
| Price (as configured) | $2,999.99 |
Gaming and Graphics on the Razer Blade 15 
With its Core i7-12800H CPU and RTX 3070 Ti, I expected the Blade 15 to run games very well, but not in the same realm as top-end systems like MSI's GE76 Raider, with an i9 and a 3080 Ti. So we put the latest Blade up against the Blade 15 Advanced from late 2021 (i7-11800H, RTX 3070), Asus' smaller Zephyrus G14 (Ryzen 9 6900HS, RX 6800S) and the bigger-but-cheaper Aorus 17 XE4 (Core i7-12700H, RTX 3070 Ti).
Image 1 of 5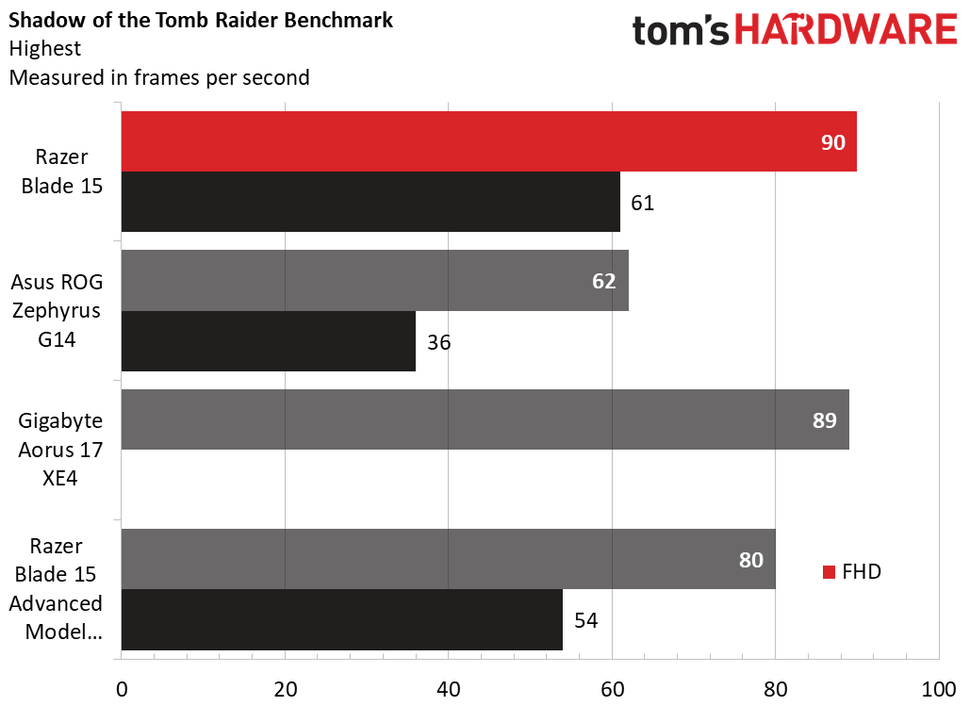 Image 2 of 5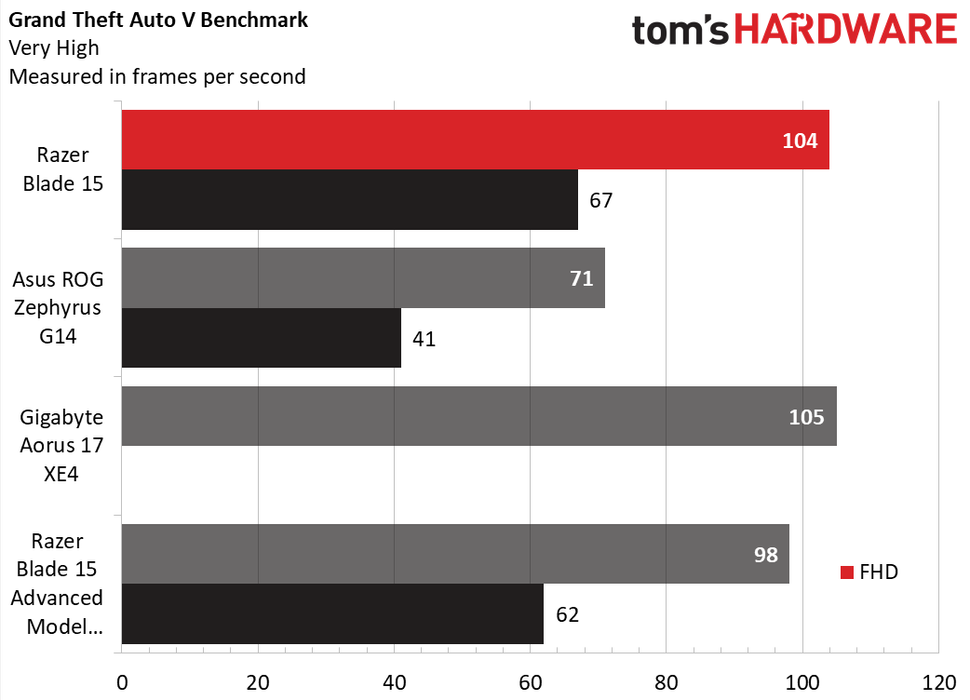 Image 3 of 5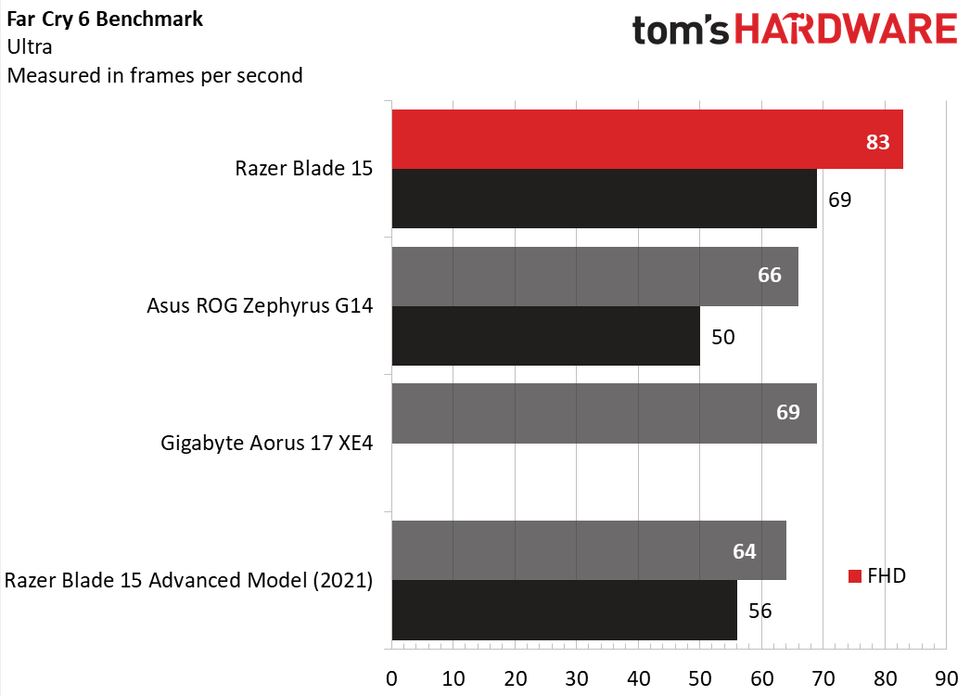 Image 4 of 5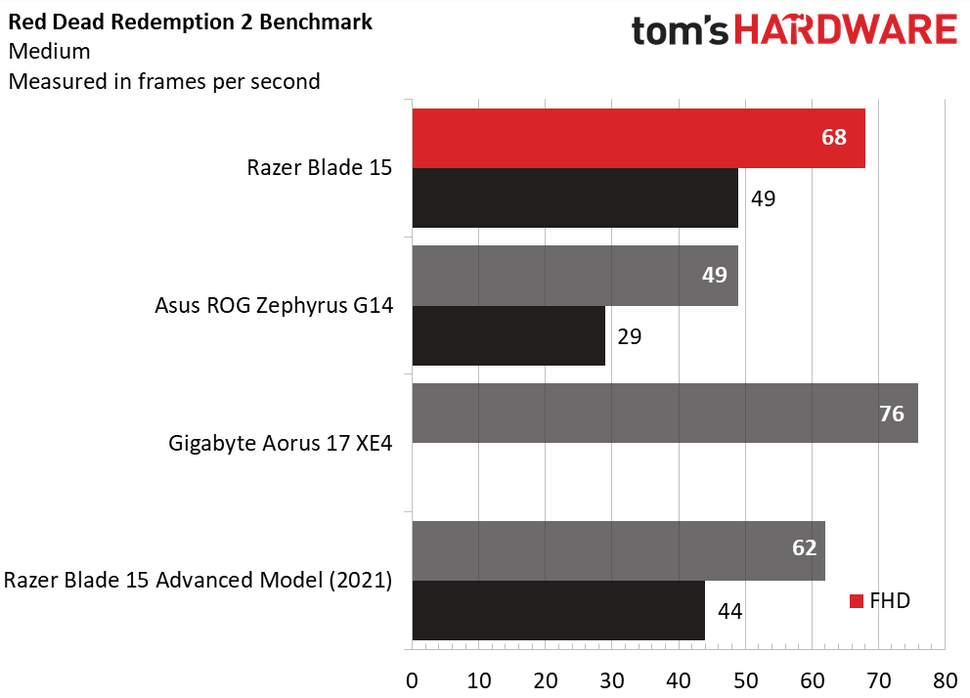 Image 5 of 5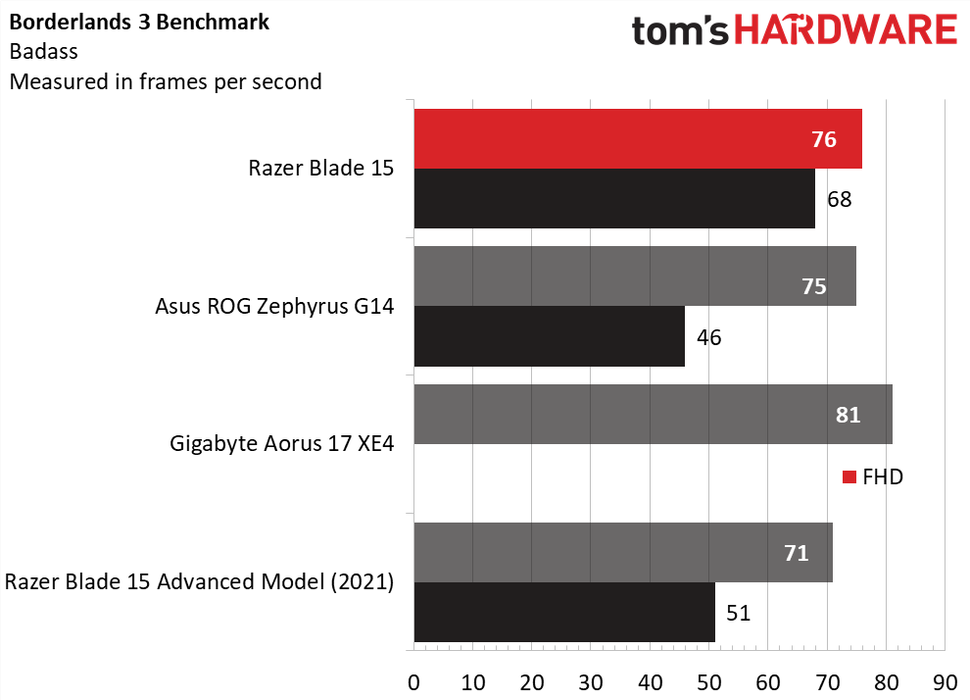 When we ran Grand Theft Auto V's benchmark at very high settings, the 2022 Blade 15 was edged out at 1080p by the Aorus by a single frame (effectively a tie), while it beat the previous Blade 15 Advanced by 6 fps at 1080p and 5 fps at 1440p. Again, the Zephyrus was far behind at 71 and 41 fps, depending on resolution settings.
Far Cry New Dawn's benchmark (ultra settings) is more demanding on the CPU, and so saw the new Intel 12th Gen powered Blade 15 looking its best yet, nearly 20 fps ahead of its predecessor at 1080p and 14 fps ahead of the bigger Gigabyte laptop. And the new Blade 15 was the only laptop here to go beyond 60 fps at resolutions above 1080p. 
The Red Dead Redemption 2 benchmark (medium settings) saw the new Blade 15 significantly lose out to the larger Aorus 17 XE4 for the first time, with the Razer managing 68 fps at 1080p, while the Aorus hit 76 fps. Continuing the trends elsewhere though, the previous Blade 15 was markedly slower, and the Zephyrus was again lonely in last place, slipping just below 30 fps at its native resolution.
Last up, in Borderlands 3 ("badass" settings), the 2022 Blade 15 led at 1440p, but lagged behind the Aorus at 1080p and just barely beat the Zephyrus at that resolution.
We also use the Metro Exodus benchmark to stress test gaming laptops to see how the components perform during use. We run the benchmark on the RTX preset, 15 times in a row, to simulate about a half-hour of gaming. The laptop ran the game's benchmark at an average of 64.73 fps and was consistent, starting off at 65.74 fps on the first run, dipping as low as 64.33 on the fourth run before recovering and sticking above that for the rest of the runs.
During that test, the CPU's Performance cores ran at an average of 2.88 GHz, while the Efficiency cores averaged 2.23 GHz. The CPU package hit an average temperature of 82.23 degrees Celsius. The GPU, meanwhile, had an average clock speed of 1,254 MHz and measured 74.99 degrees Celsius.
Productivity Performance on the Razer Blade 15
As we've seen with previous Blade 15 models, while gaming performance is generally very good, productivity performance tends to be more mixed – not bad, just not always quite as good as you might expect. But given that this is a gaming laptop, it's obviously smart for Razer to prioritize frame rates over, say, encoding speed.
Image 1 of 3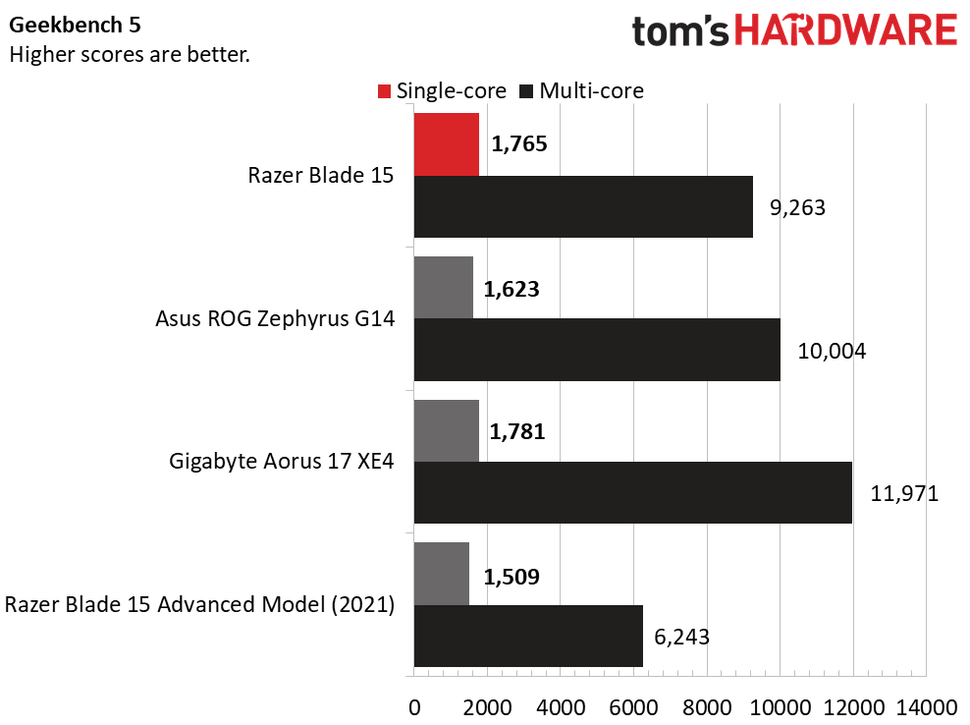 Image 2 of 3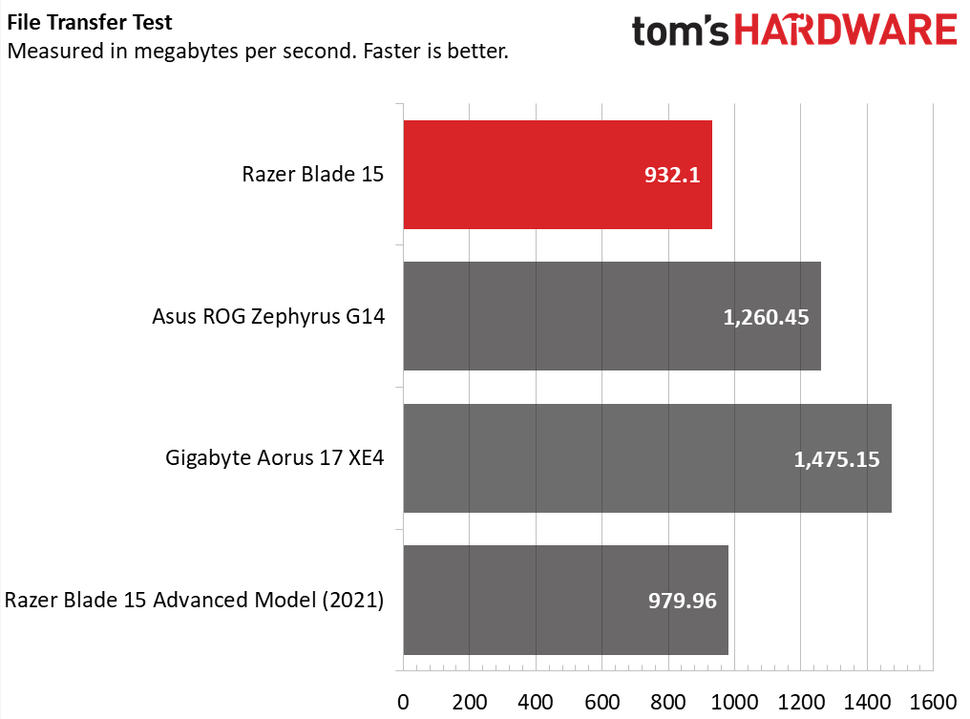 Image 3 of 3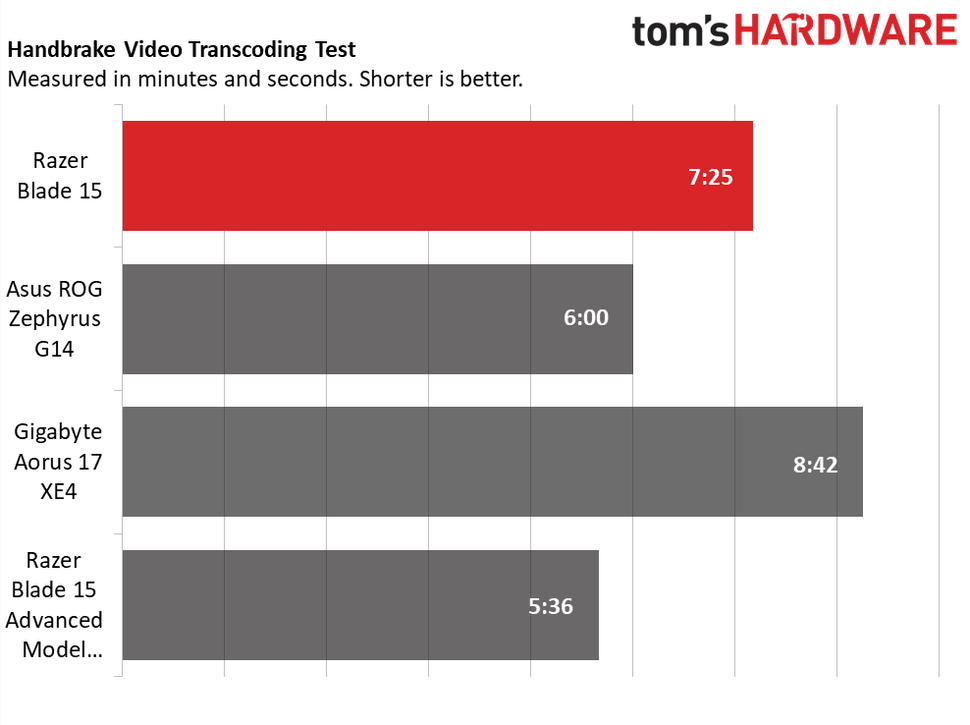 On the Geekbench 5 benchmark, which relies heavily on the CPU, the 2022 Blade 15 was bested by the larger Gigabyte Aorus 17 XE4, but not by much in the single-core test. The AMD-powered Zephyrus did better on the multi-core test. But the Blade 15's performance was still strong for a laptop of its size and thickness, besting most of the competition at both settings.
For our file transfer test, we have laptops copy roughly 25GB of test files. Here, the Blade 15 was far from slow at 932.1 MBps. Still, that result landed it in last place amongst its peers, nearly 50 MBps behind last year's Blade 15 Advanced, and more than 500 MBps behind the Gigabyte. 
In our Handbrake test, where we have computers transcode a 4K test video to 1080p, the 2022 Blade 15 surprisingly looked its worst. Its time of 7 minutes and 25 seconds managed to beat the larger Gigabyte laptop's time of 8:42 by more than a minute. But both the Zephyrus (6 minutes even) and the previous-gen Blade 15 (5:36) did better here. This result was somewhat surprising, but we re-ran the test a number of times and got similar results with each run.
Display on the Razer Blade 15
Razer sells most configurations of the Blade 15 with two different screen options. There's a 360 Hz, 1080p display and a 1440p, 240 Hz panel. And depending on what's in stock, there's usually no price difference. Serious esports addicts may want to stick to the higher-refresh 1080p panel, but for most people the 1440p screen – which is what Razer sent us – is probably the best balance of sharpness and speed. There's also a 4K 144 Hz screen option. But as of this writing, it was only offered on the top-end $3,999 configuration.
Anecdotally, the 1440p screen on the Razer Blade 15 looks very good, with vivid colors and decently deep blacks; it's not as good as OLED, but this is an "IPS-grade" screen according to Razer. In Age of Empires IV, I found myself missing the extra resolution of my main 4K display, where I could see more of the map (and more of my villagers and troops). But in Elden Ring the smaller 1440p display didn't seem lacking in detail compared to my 55-inch 4K OLED, since I was sitting much closer to the screen with the laptop.
As you can see in our test results below though, The Blade 15's display is not the brightest of gaming displays – by a longshot.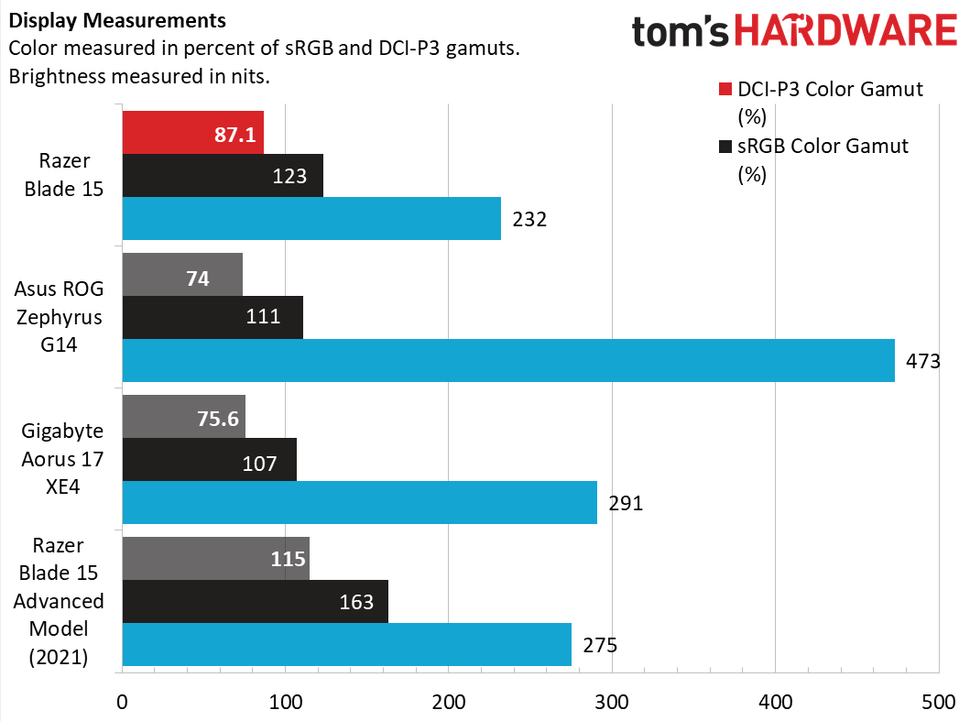 Razer says the keys are also slightly larger noThe Blade 15's panel delivered 123% of the Adobe sRGB gamut and 87.1% of the larger DCI-P3 space. Those numbers are worse than the previous Blade 15 Advanced, but better than the other laptops here.
But when it comes to brightness, the new Blade 15 averaged just 232 nits, making it the dimmest display of this measured bunch, again a bit behind the previous Blade 15 Advanced, and less than half the brightness of the Zephyrus G14.
Again, the screen on the Blade 15 doesn't look particularly dim, but we ran our tests multiple times and got nearly identical results. I didn't have any brightness issues when gaming or enjoying other content on the Blade 15, but if you often game in bright or sunlit rooms you may want to consider other gaming laptops with brighter displays.
Keyboard and Touchpad on the Razer Blade 15
Regardless, if your primary concern is gaming, it's unlikely you'll have any issues with the keyboard here. Alternating between Age of Empires IV and Elden Ring using Corsair's Katar Pro Wireless mouse as cursor control, I didn't have any complaints about the keyboard.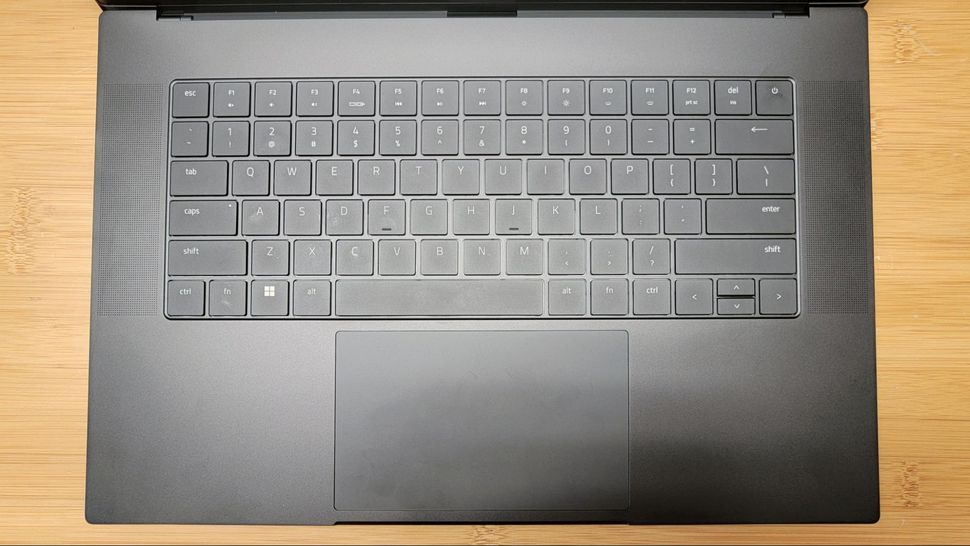 Razer says the keys are also slightly larger noRazer says the keys are also slightly larger now, and it does seem like there's a bit less of a gap between keys. But this is a subtle change, and the overall typing experience is closer to OK than excellent. The keys feel solid, but travel is shallow. I much prefer the mechanical switch option on Alienware's x17 R2, anything from Lenovo's Thinkpad line, or ideally one of the best gaming keyboards. The key situation here is still fine for a gaming laptop. I just wish it could be better. The per-key Chroma backlighting though is still a nice feature to have if you want to change up the look and feel of your laptop while you're gaming or working.
As far as I can tell, nothing has changed with the company's touchpad. You still get a roomy 5.1 x 3.1-inch mouse movement area, which makes Windows 11 gestures easier than on some laptops. Gamers are, of course, going to want a mouse – ideally one of the best gaming mice – but for those times when you don't have a dedicated mouse handy, the touchpad here offers little to complain about.
Audio on the Razer Blade 15
The upward-firing speakers on the Blade Pro, which sit on either side of the keyboard, get surprisingly loud. When I listened to Meteor's synthwave opus White Crows at maximum volume, the laptop was easily loud enough to fill my living room with sound. In fact, sitting right over the keyboard, the sound output was actually uncomfortably loud–which is not something I often say about gaming laptops.
That said, while sound remained crisp even when cranked all the way up, the lack of low-end to back up the high volume opening synth sounds on the track "Overload" for instance, made the overall sound harsh. I tried using the pre-installed THX Spacial Audio software to crank up the bass, but it didn't deliver the kind of audio I'd expect from a thicker gaming laptop with a speaker dedicated to the low end. The easiest solution is to  just keep the volume somewhere close to about 70%, which I still found plenty loud for music and gaming, but less harsh to my ears.
Upgradeability of the Razer Blade 15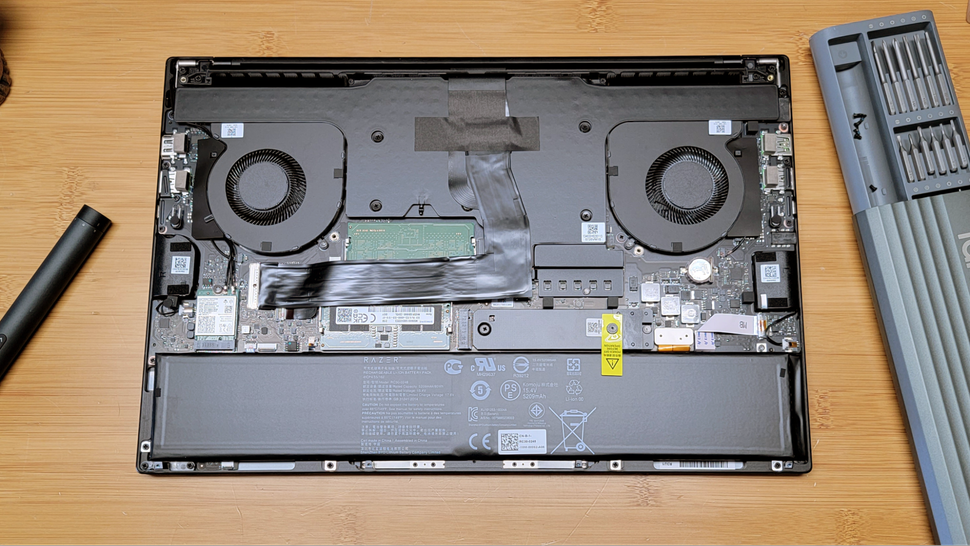 Getting inside the Razer Blade 15 is easy enough, provided you have a small Torx bit. Remove six small screws under the laptop and you should be able to pry off the bottom. Some sort of spudger or an old credit card may help, but I was able to get the bottom off using just my short fingernails. 
Inside, there is a fair amount you can do. Two SO-DIMM RAM sticks can be swapped out (just be careful of the large ribbon cable that runs between them), as can the M.2 Wi-Fi module. The main M.2 SSD is hiding under a metal heatsink that you can remove with two screws. But if you just want to add more storage, you don't have to remove the boot drive. There's a second M.2 slot mounted right above the main one. Adding two SSDs right on top of each other probably isn't a great idea thermally. But if you're just looking to add extra storage for games or media, having the second M.2 socket certainly is handy.
Battery Life on the Razer Blade 15
Along with incremental updates to the Blade's design comes an incremental battery life improvement.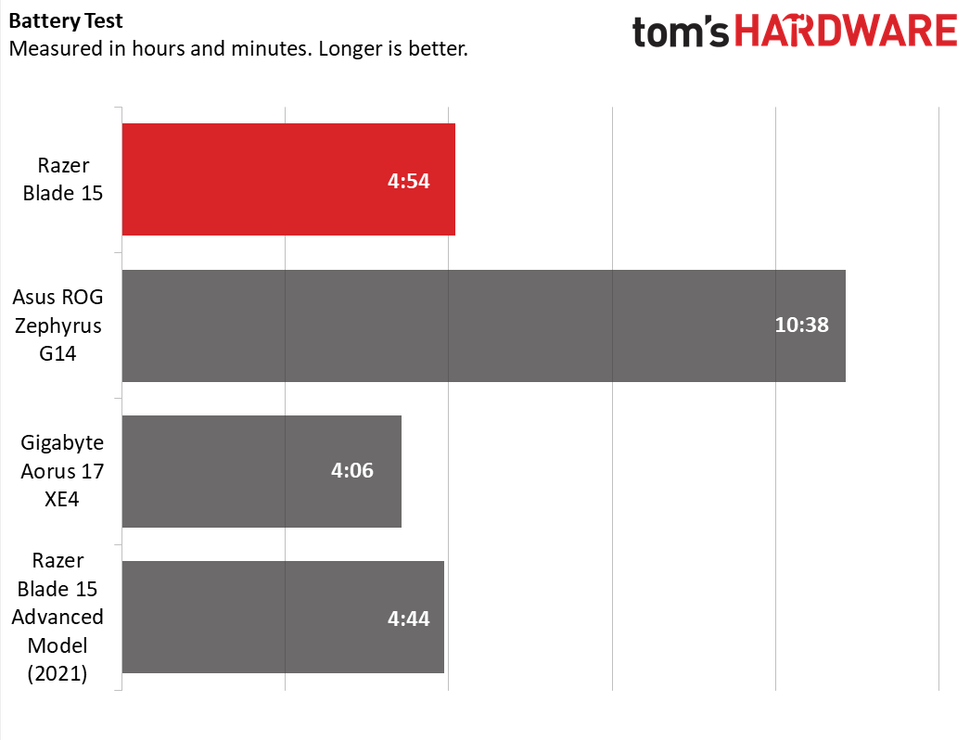 Razer's latest 15-inch laptop ran for 4 hours and 54 minutes on our battery test, which continuously browses the web, streams video and runs OpenGL tests while connected to Wi-Fi with the screen at 150 nits of brightness. That's 10 minutes longer than the previous model, and 48 minutes longer than Gigabyte's big Aorus 17 XE4. But it's the smaller, AMD-powered ROG Zephyrus G14 that blows the competition away with its unplugged longevity, more than doubling the Blade 15, lasting 10 hours and 38 minutes on our test.
In short, while you can watch a movie or do some work on the Blade 15 without the charger, you'll want to keep the 230-watt power adapter handy for gaming, or at least a USB Type-C charger for a full workday with the Blade 15.
Heat on the Razer Blade 15
While we ran our Metro Exodus benchmark on the Blade 15, we used a Flir camera to measure surface temperatures to see how hot the laptop gets while the system is under load.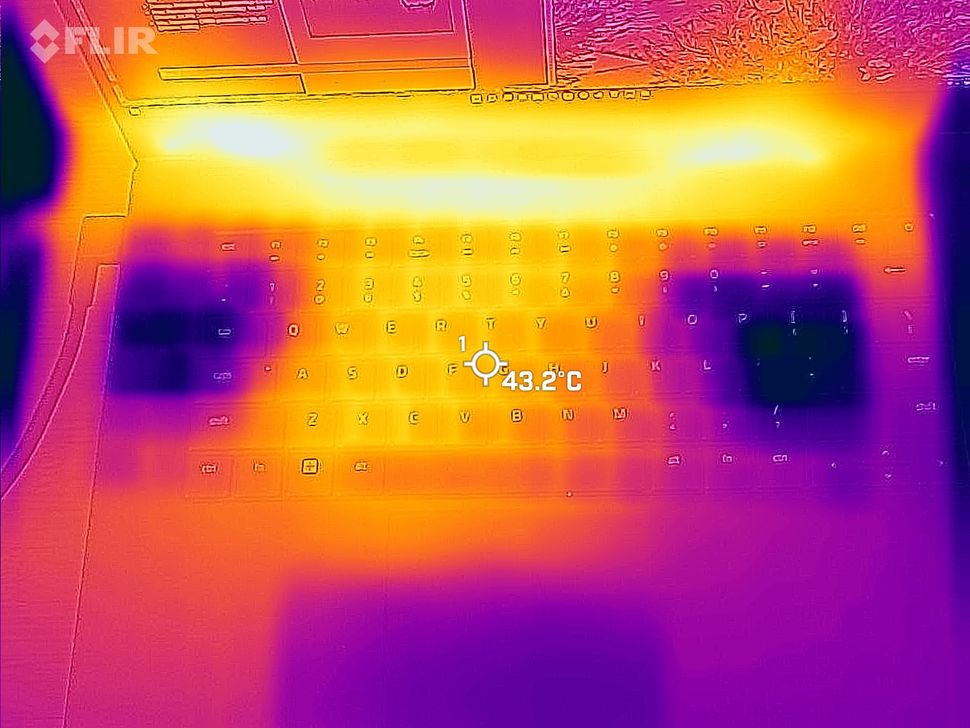 The center of the keyboard measured 109.8 degrees Fahrenheit (43.2 degrees Celsius), which is quite warm but not hot enough to make me want to stop gaming. The touchpad was comparatively cool at 85.5 degrees Fahrenheit (29.72 Celsius).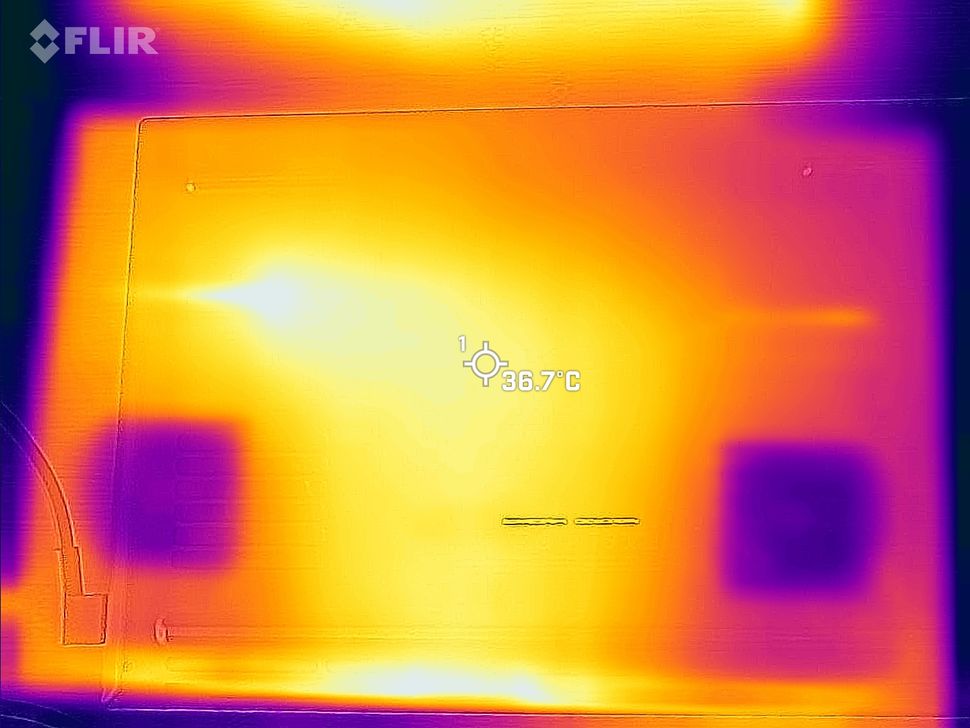 On the underside of the laptop, the hottest spot was off-center, near the front, and measured 98.06 degrees Fahrenheit (36.7 degrees Celsius). While these temperatures aren't particularly hot, you can see from the image above that a large part of the center of the laptop's base gets nearly as warm as the hottest spot here. This is likely why Razer decided to redesign the base of the laptop to remove more metal and help improve airflow and thermals.
Webcam on the Razer Blade 15
Webams on gaming laptops typically feel like afterthoughts (if the laptop has a webcam at all). That's because streamers will want to use one of the best webcams rather than anything built into a bezel. But Razer moved to 1080p webcams in the Blade 15 last year when many of us were working from home. And for anyone who uses their laptop for more than just gaming, this still feels like a long-overdue addition.
The Blade 15's webcam worked well and was fairly fast using Windows Hello's facial recognition to log in. Colors were accurate and details were more discernible than with most laptop webcams. As we noted in our review of last year's Blade 15 Advanced model, the webcam isn't the best at handling bright light from windows and overhead bulbs. And things get noticeably fuzzy when the light gets low. But the webcam here is still a cut above the camera quality of most laptop webcams.
Software and Warranty on the Razer Blade 15
Preinstalled software on the Blade 15 ispleasingly minimal. You get THX Spatial Audio, an equalizer and audio optimizer for sound tuning, plus the company's Synapse software for controlling lighting, customizing micros and more.
The latter, like Alienware's Command Center, is a capable and slick piece of software that gets the job done. It also feels far less annoying and clunky here when it comes pre-installed on a PC it was designed for, rather than when you're being nagged to download it after plugging in a peripheral.
Of course, you also get Windows 11 Home, which includes a bit of bloat, like Spotify, WhatsApp and more. Razer sells the Blade 15 with a 1-year warranty.
Razer Blade 15 Configurations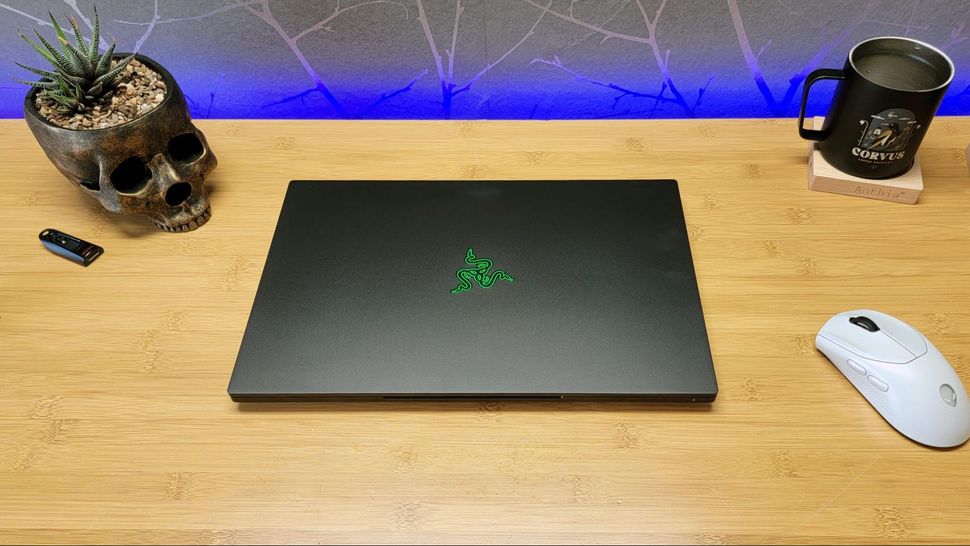 The 2022 Blade 15 starts at $2,499 with a Core i7-12800H, an RTX 3060, 16GB of RAM and a 1TB SSD and a 240 Hz QHD display. Stepping up to $2,999 keeps the CPU, RAM, Storage and display of the base model, but upgrades to a speedier RTX 3070 Ti – or for the same price you can drop to a 1080p screen that's 360 Hz.
A pair of $3,699 models jump up to a top-end RTX 3080 Ti and double the RAM to 32GB, while again giving you the option of either a 240 Hz 1440p display or a 360 Hz 1080p screen. Finally, the top $3,999 model gets the 3080 Ti and extra RAM, but also ups the CPU to a Core i9-12900H and swaps the screen for a 144 Hz 4K panel. All models ship with Windows 11 Home.
All things considered, our $2,999 review unit strikes the best balance between price and gaming prowess, since even the 3060 model is very expensive. We also prefer the 240 Hz display, but if you're a very serious esports enthusiast with far better reflexes than me, you may want the higher refresh 1080p panel option instead.
Bottom Line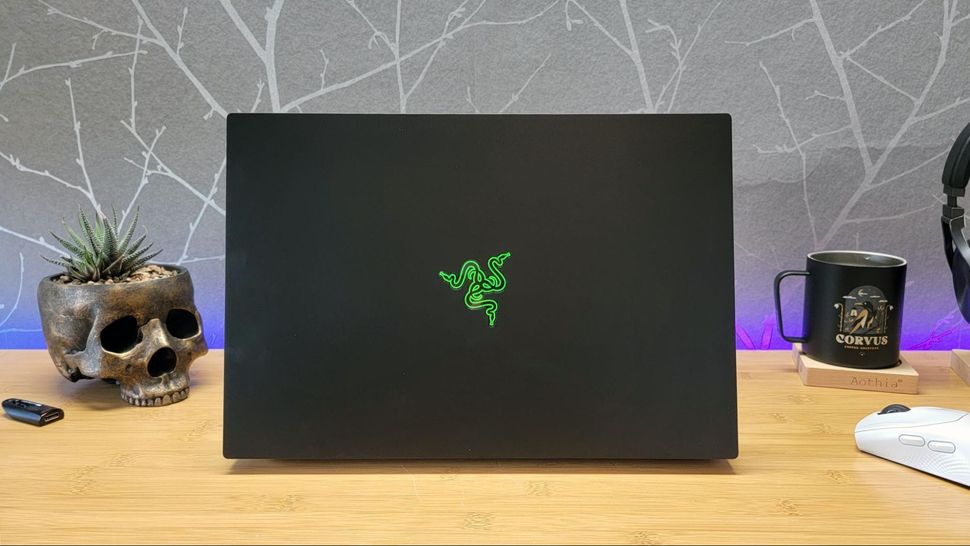 While the Razer Blade 15 doesn't have flashy (and frankly superfluous) features like the Animatrix display on the lid of Asus' Zephyrus G14, or the dual displays of the ROG Zephyrus Duo 15 SE, it still packs one of the nicest designs in the gaming laptop space, with ample ports right where you expect them on the edges of the laptop.
Gaming performance on the $2,999 model we tested was also quite good. Productivity performance was a bit more mixed, which may put off some creators who also like to game on their laptop. As usual, the Blade 15 is also quite expensive, especially if you opt for the entry model for $2,499 with an RTX 3060. The display on our review unit was also a bit dim compared to the competition, although it is colorful and looked good during our time with it. It may not be the best gaming value, but if you like its black metal frame and want a gaming laptop that also has a great 1080p webcam, the Blade 15 is well worth considering. Tone down the RGB on the keyboard and it would also make for a capable premium PC for the office. But if you want to avoid a few raised eyebrows, you may want to slap a sticker over the bright-green snake logo on the lid.