NPR Staff Picks : All Songs Considered : NPR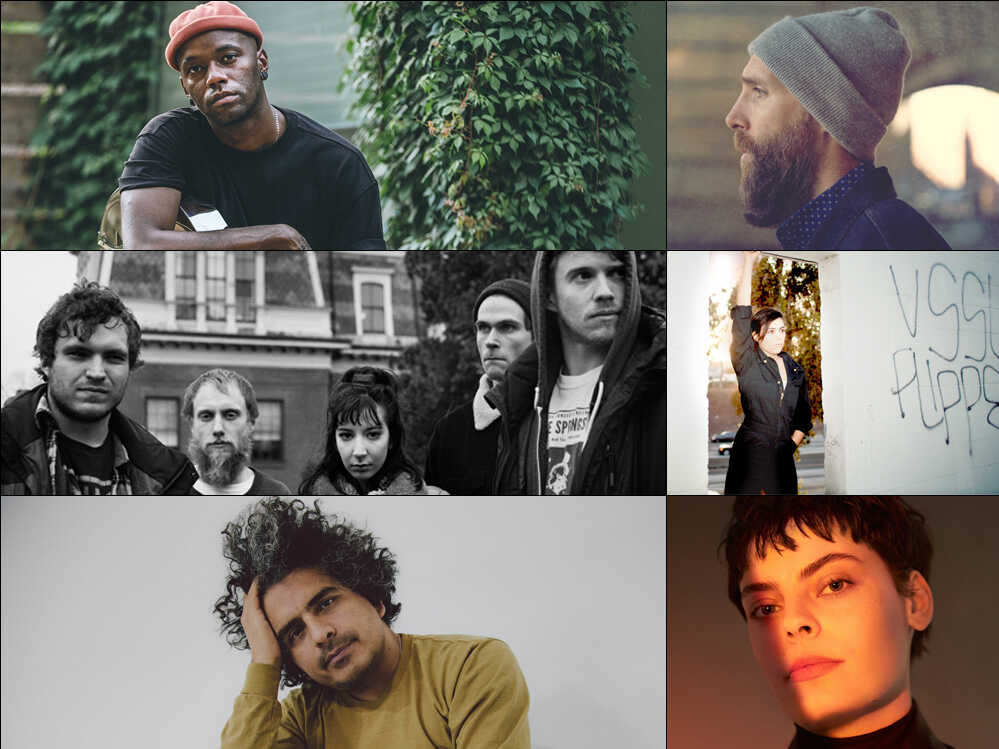 Every month, we ask the NPR Music staff: What's the one song you couldn't escape? What's the one album to which you'll return all year? In October, we fell far into the music of Helado Negro and Jordan Peters, screamed along to Illuminati Hotties and Cerce, and meditated on the voices of Buffalo Nichols and Emily D'Angelo.
Follow the #NowPlaying blog for the NPR Music staff's favorite new songs.
Buffalo Nichols: "Another Man" from Buffalo Nichols
We still need protest songs. Carl Nichols, once of the Milwaukee duo Nichols & Rose — and now reviving the country blues as Buffalo Nichols — resisted that fact for a while before speaking to the elders and realizing he, too, had to testify. Grounding himself in Vera Hall's immortal mid-twentieth century field holler "Another Man Done Gone," Nichols pulls that song's stark fatalism into a 21st century that still hasn't seen justice for Sandra Bland or Breonna Taylor. Nichols, part of a thrilling reclamation of the blues by young artists of color including Jackie Venson and Adia Victoria, has found a way to make a worn-to-the-clichéd nub style fresh through his intimate vocal delivery and ace resonator guitar playing. "It's hard to write a song while folks get murdered every day," he moans. Embracing the role of witness, he takes us with us as he finds a way. — Ann Powers
Jordan Peters, "Float (feat. Obed Calvaire)"
You've probably heard Jordan Peters without knowing: He's done stints with Ms. Lauryn Hill and The Weeknd, and was a longtime member of Montreal's Kalmunity Vibe Collective. But "Float" is his solo debut, and it feels like a sonic metaphor about facing your fears — the opening notes are butterflies in the stomach that give way to tentative first steps. The repetition of the guitar loop is your inner hype man, encouraging you onward, building momentum until suddenly you're in it! The song erupts with confidence as Peters' guitar and Obed Calvaire's explosive jazz drumming join forces to conquer the beast, smoothly guiding us into a downtempo section akin to the sweet relief experienced when a fear has been eradicated. Empowered, we float right on through to the song's quirky conclusion which reminds listeners that our fears are sometimes silly and we're more than capable of facing them. Jordan Peters' debut album, Dreams, drops Nov. 19 and it is a spicy adventure that perfectly encapsulates his musical diversity. — Nikki Birch
Emily D'Angelo: "Nausicaa" from enargeia
The human voice is the most personal of instruments. So when you pair a knockout voice, like that of mezzo-soprano Emily D'Angelo, with some ravishingly beautiful music by Sarah Kirkland Snider – one of today's most attentive vocal composers – you have a recipe for sublime listening. D'Angelo, a Canadian native, is acclaimed worldwide for singing Mozart and Rossini, but you won't find any of those standard repertoire composers on her new album. All the music is by women, ranging from 12th century antiphons to contemporary song cycles. "Nausicaa," from Snider's cycle Penelope, is inspired by Homer's Odyssey and depicts a woman welcoming her husband back home after his 20-year absence. Listen to how the music unfolds in voluptuous, long lines with incandescent orchestration. It's a lovely, and understated, backing for D'Angelo's creamy and muscular voice. — Tom Huizenga
Helado Negro: "Aguas Frías" from Far In
I interviewed Helado Negro a few weeks ago and what really struck me was the way he talked about music. When he constructs songs, he explained that it isn't a hyperconceptualized process, but rather, he sees music as "shapes and colors and textures, with things being bright and soft and delicate," This kind of thinking is the focal point of his new album, Far In, a fifteen-track record that deftly moves back and forth between ambient soundscape and charming alt-lullabies.
"Aguas Frías" is the fifth track, and a standout because of how beautifully it rides that line. It's akin to a spiritual journey, with Spanish whispers softly floating their way to you through the cosmos over wind chimes and Wurlitzers. To me, it's a distillation of what Helado Negro does best: encapsulates wisdom beyond the ages, while speaking to the inner, almost-childlike desire for purpose, in each and every one of us. — Reanna Cruz
Illuminati Hotties: "MMMOOOAAAAAYAYA" from Let Me Do One More
One album I couldn't stop listening to this October was Let Me Do One More by Illuminati Hotties, the project of Los Angeles producer and self-proclaimed "tender punk" Sarah Tudzin. Full of giddy and goofy rock songs that showcase Tudzin's wit and eclectic ear for texture, the album has the energy of a rollercoaster ride, one that dares you to scream along to every lyric. On her confrontational, wickedly fun song "MMMMOOOAAAAAYAYA," Tudzin turns the song's title into a rallying cry of a chorus, sneering at haters over jagged pop punk and daring listeners to "love me, fight me, choke me, bite me." — Hazel Cills
Cerce: "Fate" from Cowboy Music
This hits my pit-clearing sweet spot: Cerce makes hardcore that heaves like whitewater hitting the cliffs with doomy chugging and revved-up riffing. And then there's the voice of Becca Caldazo — you can tell the way she barks, howls and contorts that her scream informs the twists and turns of these songs, giving the whole situation a psychedelic sheen. The album is in and out in 22 minutes, like every good hardcore record should. The primo cut, "Fate," features a couple guests spots from The Offering's Nishad George on guitar shred and The Armed's Adam Vallely on vocals. — Lars Gotrich
https://www.npr.org/2021/10/28/1050156396/the-best-music-of-october-npr-staff-picks