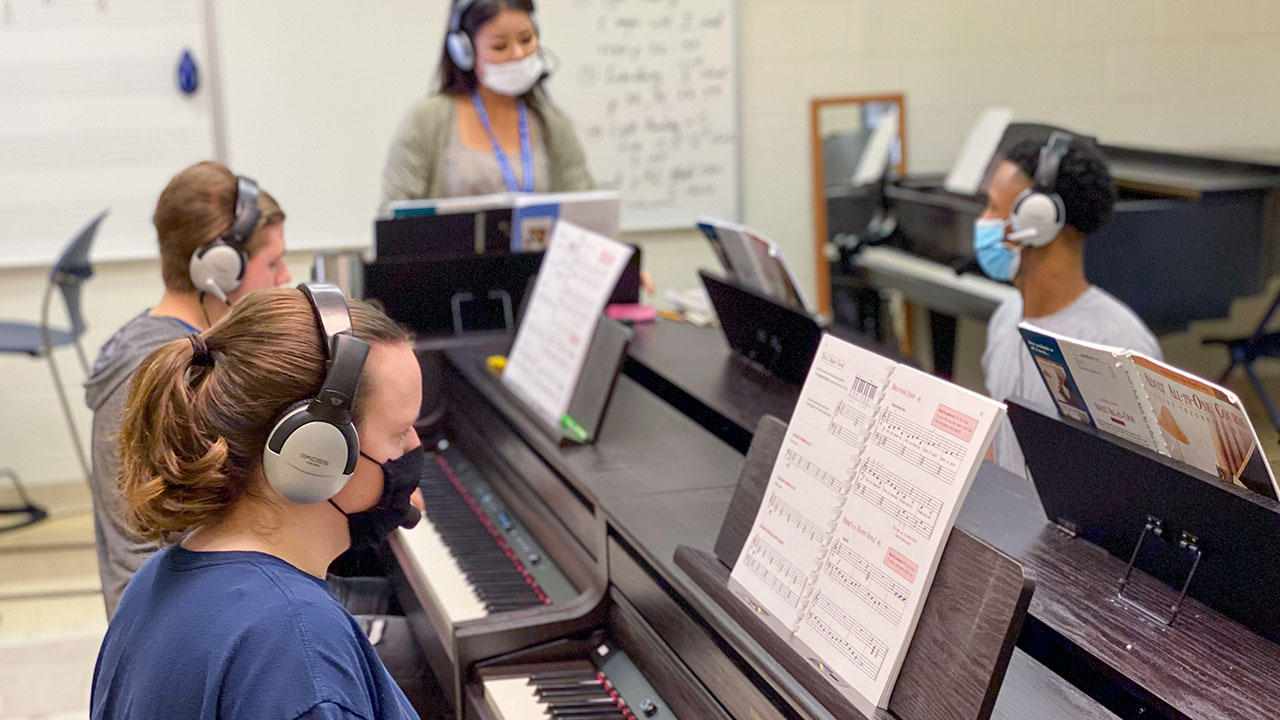 Music lab gets a tech upgrade
When you walk into the keyboard lab of the music building on the University of North Georgia's (UNG) Gainesville Campus, you see 13 upright pianos, a small baby grand piano, an instructor's area, and four computer stations against the wall. But the lab is much more.
Renamed the multimedia music technology lab, the room is furnished with top-of-the-line pianos as well as equipment for recording and editing audio and video. The new instruments and devices were part of a plan to upgrade and convert the lab into a smart classroom complete with a projector, speakers and computers for remote teaching.
"When the COVID-19 pandemic happened, we knew we needed to give our students the ability to learn and create music safely," Dr. Joanna Kim, professor and associate department head of music, said. "This new lab can be used for general music classes, keyboard training, musical compositions, and recording."
She said the previous keyboards were bought in 2006, making them very outdated based on technological advances. The new keyboards allow students to use headphones to hear themselves play and record their performances on any device with a USB outlet and cord.
"Students have more educational possibilities and an endless way to create," Kim said.
She said she can better manage the classroom with the centralized control panel. Before, Kim walked to each student's keyboard to listen to them play. Now, she can flip a switch and hear them through her headphones.
"It helps those students who feel intimidated to play out loud," Kim said. "And I can check on each student without walking around. It's very efficient."
The control panel offers a conference mode for students to rehearse and play together as a duet or an ensemble.
"They also can do group work," Kim said. "For example, one student can play while another completes a peer assessment. It is an interactive way of learning and motivation."
Dr. David Peoples, adjunct professor of music, said the new lab will motivate composition students to broaden their skills. Previously, composition students on the Gainesville Campus used the recording technology in the film lab of the Department of Communication, Media and Journalism.
"Now, they can create a professional-level composition using the new equipment in the music lab," Peoples said.
The new lab will help advance the music composition pathway in the Bachelor of Music degree, help UNG recruit new students and benefit those studying to be music teachers.
"And we can equip our music education students with the technology they will need to teach in area elementary and secondary schools," Peoples said.
https://ung.edu/news/articles/2021/09/music-lab-gets-a-tech-upgrade.php