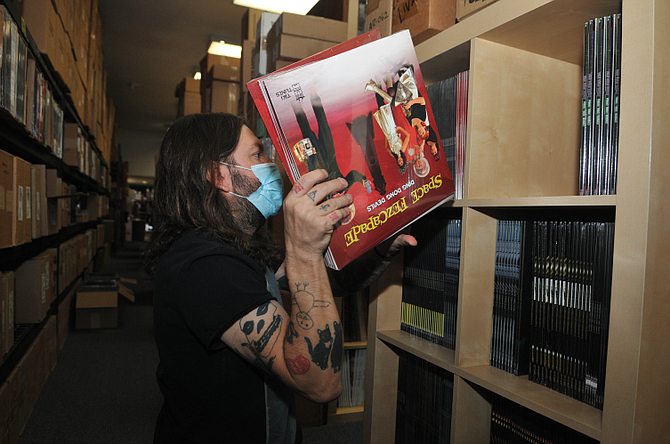 Largest West Coast Vinyl Distributor Hard-Pressed to Meet Demand
Once the relic of a bygone era, vinyl records have made a roaring comeback.
U.S. revenues from physical records hit $620 million in 2020 and are on track to exceed that by 94% this year with $467 million in sales in the first half of 2021, according to data from the Recording Industry Association of America.

Although paid streaming subscriptions still generate the industry's biggest revenues with $7 billion in 2020 and another $4.6 billion so far this year, vinyl has rebounded to comprise 6.4% of all music sales in the United States. That is vinyl's highest percentage since 1990 and a tremendous leap from the format's lowest point of less than 0.01% between 2004 and 2006.
Local music retailers and companies like Glendale-based Cobraside Distribution Inc. — the largest physical media distributor on the West Coast — are in a groove, so to speak.
 
Despite those recent gains and rosy outlook, though, vinyl's present is more troubled. Just before the pandemic began in February 2020, a fire destroyed the Banning-based manufacturing plant Apollo Masters Corp., at the time one of only two businesses responsible for the world's lacquer production, providing 70% to 85% of the world's master recording plates used to press records for consumers.
 
Currently, only Japan-based MDC Master Lacquer remains as the industry's lacquer producer, but a group of more than 50 companies in the vinyl supply chain came together in March 2020 to form the Vinyl Record Manufacturers Association of North America in an effort to meet demand. Unfortunately, the pandemic has interrupted progress on opening new facilities.

While the current output of all known pressing plants in the world is between 160 million and 170 million raw vinyl discs per year, a well-placed insider in the music industry said current demand is roughly double that number. And supply chain issues during the pandemic have further exacerbated delays over the last 18 months while freight and material costs have driven up prices on the finished product.
 
A new record that consumers might have bought for $20, just a few dollars more than the price of a compact disc 15 years ago, now goes for $30 to $40. Capitalizing on that trend are mass-market retailers like Barnes & Noble Booksellers Inc., Urban Outfitters Inc. and Target Corp., which have added the product to their shelves in recent years. But having more points of sale for vinyl now than there were pre-1980 when it was the dominant format has not offset these price increases. 

Long play
For smaller stores without the market presence or buying muscle to cut high-volume deals directly with the record labels, companies like Cobraside are the middlemen helping refill their bins.
 
Cobraside President Randy Boyd said his warehouse tries to keep a consistent stock of approximately 100,000 records and ships in and out almost 6,000 of them per month to independent retailers across the country.
 
"We try to carry everything that a well-stocked store would want to have," Boyd said.
Boyd, a 45-year veteran of the music industry, moved to Los Angeles with his family in 1999 to work at Global Fulfillment, an internet startup that built backend software for online shopping portals for Tower Records, Blockbuster, EMI Music and other companies. When the company blew through its funding after just two years, he was left with a master list of 6,000 record stores and data of the on-hand inventory of suppliers around the globe. Boyd, who has previously operated music distributors, saw an opportunity with the vinyl market, which at the time was "hanging on by the skin of its teeth."

"From 2001 until 2005 or '06, we cold-called off this list of 6,000 stores and said, 'We're a vinyl distributor in L.A. County,'" he said, "5,950 stores said, 'You must be crazy. Don't ever phone us back.' And then around 2006, the vinyl resurgence started to pick up."

As the biggest — and only — vinyl distributor on the West Coast, Cobraside has an active client base of 300-400 stores. It's one of six companies across the United States known as "one stops" that supply records to retailers from a worldwide slate of manufacturers without requiring them to maintain contracts with individual labels.
 
Boyd said those supply chain issues on the manufacturing side have affected the quantities of some records he's able to get, but they have also guaranteed that the company's annual $3 million to $4 million in sales are "very sure and stable."

"It's really frustrating to order 80 of something and be told (by the pressing plant) that your allocation is five when you're the only one-stop on the West Coast," he said. 

Selling out
Los Feliz-based Paradise City Records & Stuff is among the stores Cobraside supplies with new records. Owner Ryan Smith works with Boyd and a number of other distributors across the United States to add new product to the approximately 10,000 used records he acquired before opening in April 2019. Although he did not provide dollar figures, Smith said he sells an average of 500 records per month with a 60-40 split between used and new records.

While Smith operates one of the smaller music stores in Los Angeles, his biggest competition — in sales and square footage — is Amoeba Music Inc., which reopened in a new location April 1 after the lease on its previous Hollywood home was set to expire. Co-owner Jim Henderson said he moves approximately 50,000 records in and out of his doors monthly, 52% of which are used. The store's volume allows it to deal directly with labels instead of going through distributors like Cobraside, but Henderson said his store is experiencing many of the same shipping delays and ordering backlogs.
 
"Things selling out and not being able to get something back for five, six weeks — that's just been a recurring reality of pandemic retail for us, and it's hard to message that out to your customers," Henderson said.

As prices go up and delays push supplies of new pressings further back, the consensus is that the vinyl segment of the music industry will continue to be volatile, at least until the supply chain irons itself out. But demand does not appear to be waning.
 
"My fear is, on the one hand, this price inflation and the distractions of people possibly going back to their pre-pandemic life might detract from vinyl sales," Boyd said. "On the other hand, there's this huge unfilled, pent-up demand for records."

Smith said his optimism for the future of Paradise City, and the industry as a whole, wavers, but he's still glad he opened the store in the first place.
"Part of me thinks it's a bubble and that at some point, it's going to die again," he said. "But I'm kind of glad I'm in it while I'm in it."
For reprint and licensing requests for this article, CLICK HERE.

https://labusinessjournal.com/news/2021/oct/25/largest-west-coast-vinyl-distributor-hard-pressed-/