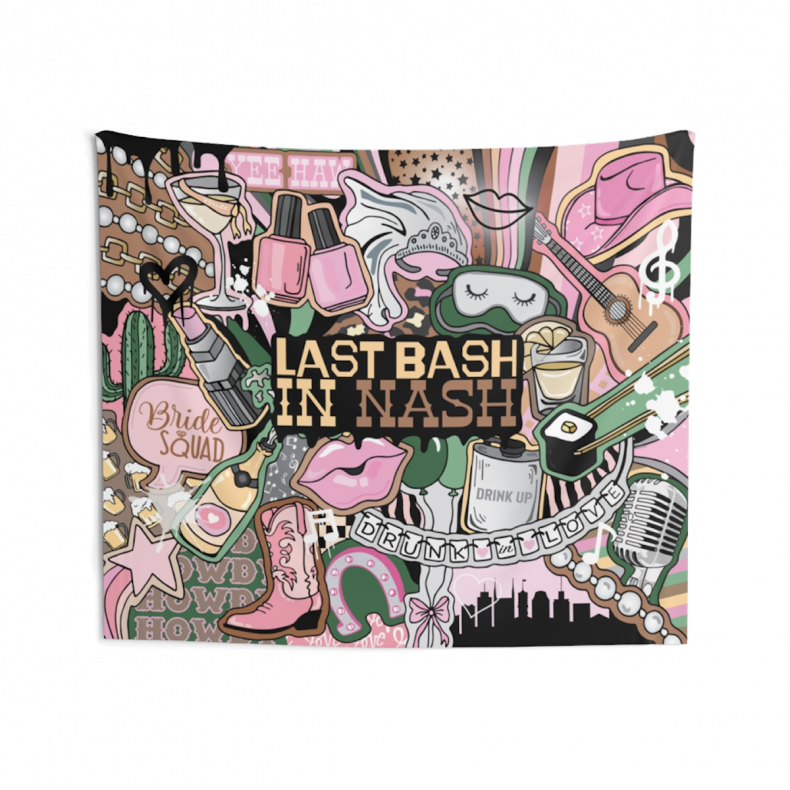 Get Rowdy! 11 Best Bachelorette Accessories for Brides-to-Be in Nashville
Let's go girls! That's right—cue the Shania Twain music and grab your freshest pair of cowgirl boots because we're headed to the honkytonk. Whether you're planning (as the maid of honor or even as the bride) or attending (as a bridesmaid) a bachelorette in Nashville—which we like to affectionately call a Nash-lorette—you're going to need a whole lot of fun accessories to make this trip the best girls' trip possible. Because what says "I'm getting hitched!" more than a bach in Music City?!
11 Best Bachelorette Accessories for Nashville
From nashty invitations to country can koozies, these are the 11 best bachelorette accessories for out-of-town brides-to-be headed to Nashville for their last rodeo. As always, the prices listed may fluctuate over time.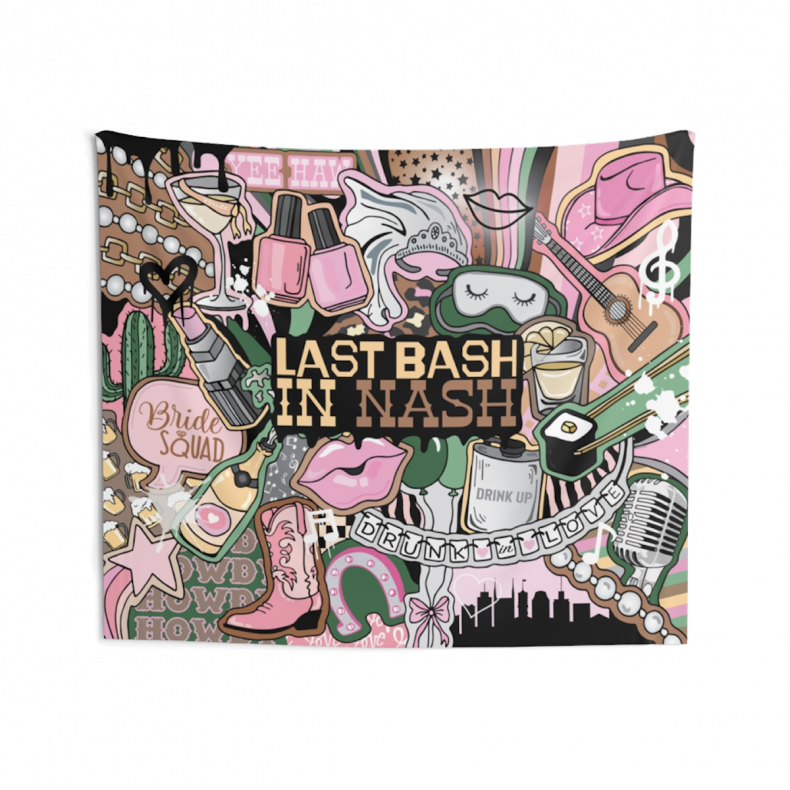 We all know that a bachelorette is just one awesome excuse to take as many pics and selfies as possible, so you will need a kickin' background. Enter the Nashville tapestry by KicksBySammy, which features vibrant pink, green and brown designs with wording like "howdy," "drunk in love," "yeehaw," and "bride squad." Even more so than we appreciate the Beyoncé reference, we love this fun and quirky photo booth background for all the Music City-relevant motifs it incorporates: a cowgirl hat, boots, champagne, a guitar, and so much more. It's a must-have for any Nash Bash, and we promise, once you post your photos to the 'Gram, everyone will ask you, "Where'd you get that backdrop?!"
Buy at KicksBySammy.com for $60.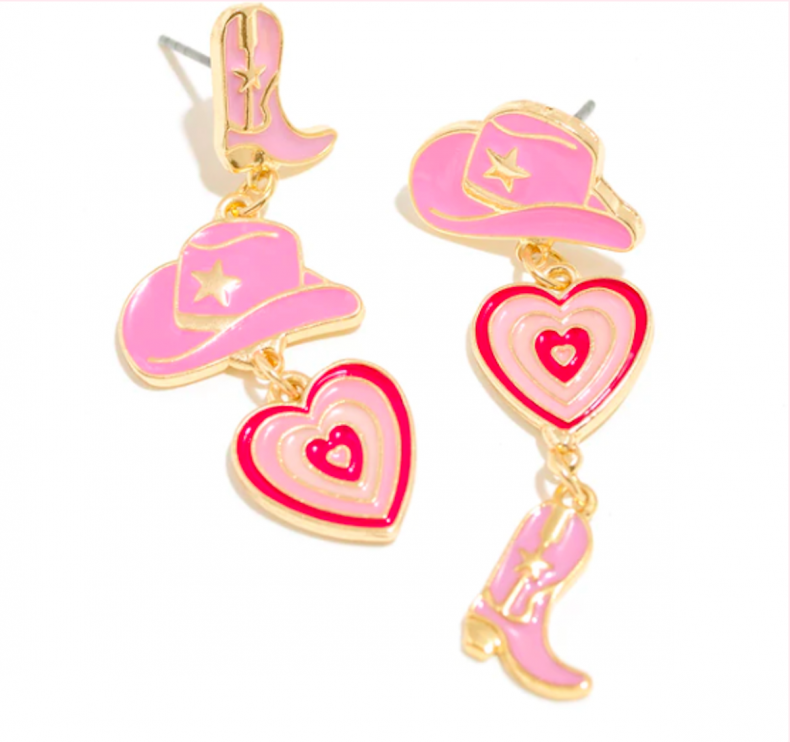 Calling all campy brides (or bridesmaids)! Nothing we love is whole-heartedly embracing a theme, and these bachelorette-friendly Cowgirl Cutie Earrings from Frasier Sterling do just that. From Frasier Sterling's limited-edition collaboration with Blackbough Swim, these chandelier-style earrings are bold enough to steal the show—even on a street as crowded as Broadway. The drop goes down 1.5 inches for maximum drama, and the earrings are made with high-quality 14K gold plated brass and enamel. Plus, you never have to worry about them falling off and getting lost—the earring posts are made of surgical steel for the strongest grip possible.
Buy at Frasier Sterling for $38.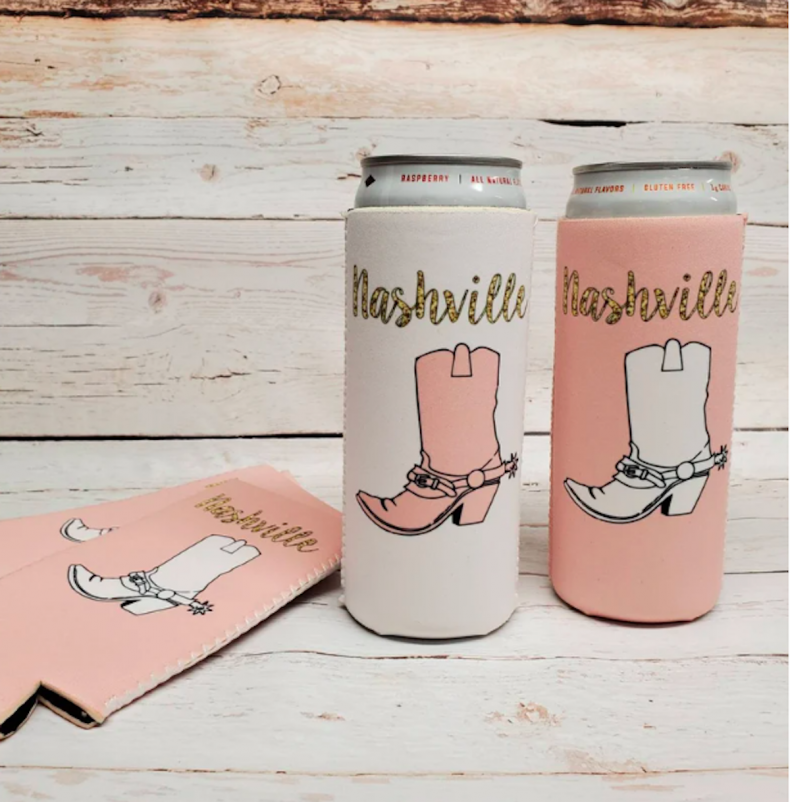 One of the most exciting parts about Nashville as a bachelorette destination is that it's totally OK to BYDWY—that's, bring your drink with you. Yep, Nashville is one of the few spots in the country that allows you to drink and walk around town (in certain permitted areas) without any worry of getting an open-container ticket. These handmade koozies from Etsy are the perfect accessory to your ice-cold bevy on the go. Not to mention, each can cooler is totally customizable, from the color and text to the style (foam, neoprene or slim can for seltzers). With a 4.9-star rating and more than 14,700 reviews on Etsy.com, one reviewer wrote, "These were the best! So cute! Loved for my bachelorette party in Nashville!"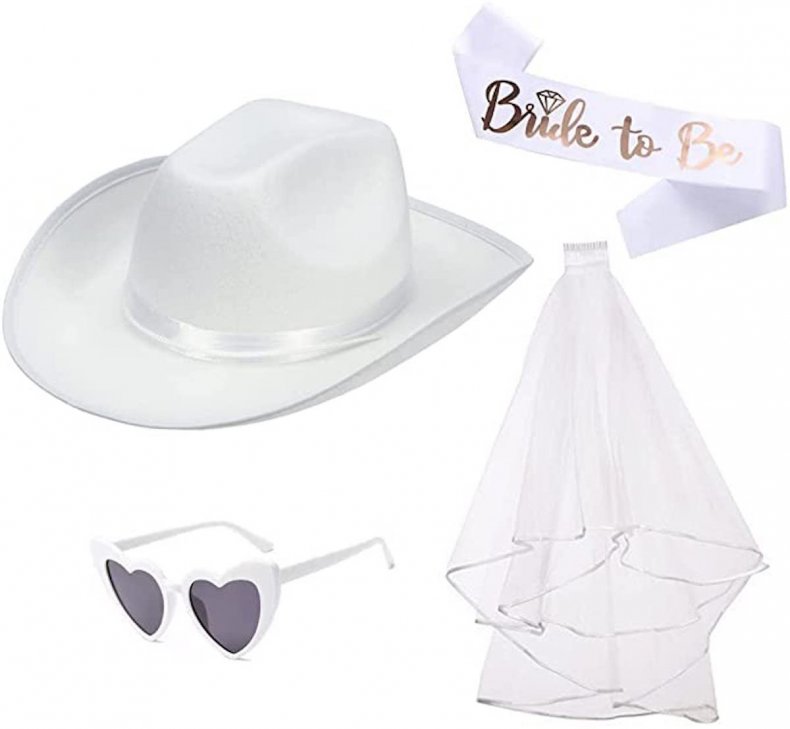 You're not a Nashville bride-to-be until you've done the city the honor of slappin' on a white cowgirl hat with a veil. (You'll see tons of these cowgirl-hatted-and-veiled brides all over Broadway—promise.) The Cowgirl Bachelorette Party Set comes with everything you need to make it clear to Music City that you're on your gettin' hitched: a white cowgirl hat and veil, a Bride to Be sash and white heart-framed sunglasses for those sunnier days.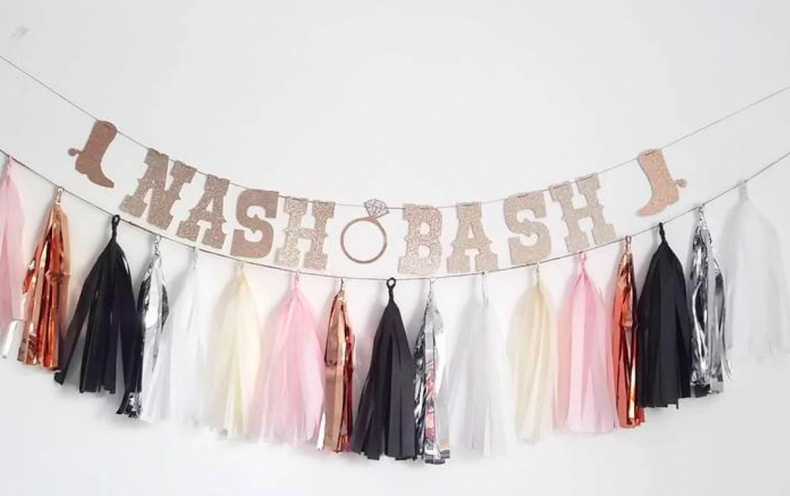 Available with or without the "Nash Bash" sign—as in, just the tassels—this Etsy original will add a subtle touch of cowgirl to your hotel room or communal Airbnb space during your trip. It's even personalizable, so you can include the bride's name or, really, have the sign say whatever you want. Pre-strung with five feet of twine, this fun and flashy garland is Insta-ready (and worthy) and makes a great addition to any pre-gaming pics you may take before hitting the town.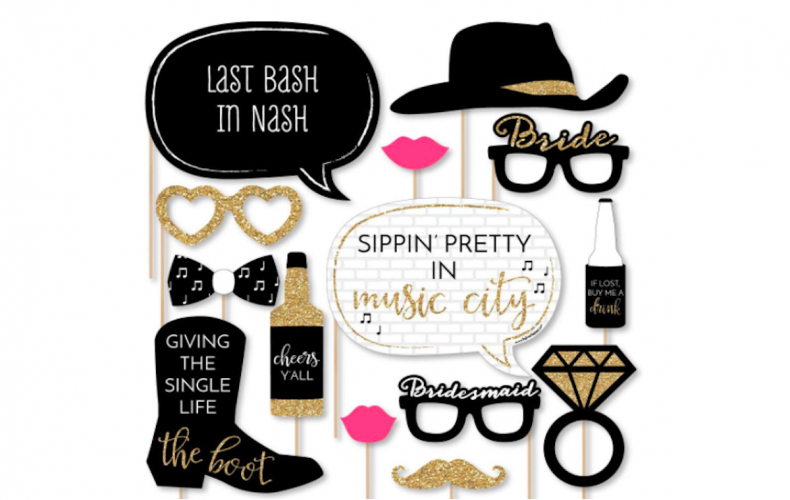 Speaking of pics, you're probably going to take a lot—like, a lot a lot—while rodeoin' it up, so you'll need lots of photo booth props. The Nashville Bachelorette Party Photo Booth Props Kit includes everything you need to make your snaps as hilariously fun (and cute!) as possible. With a black, pink, white and gold-glitter theme, the kit includes 20 different pieces made of high-quality cardstock, and you can quickly and easily assemble them onto the wooden dowels with stickers. One Amazon.com reviewer wrote, "Cutest photo props for a bach weekend in Nashville! Love them!"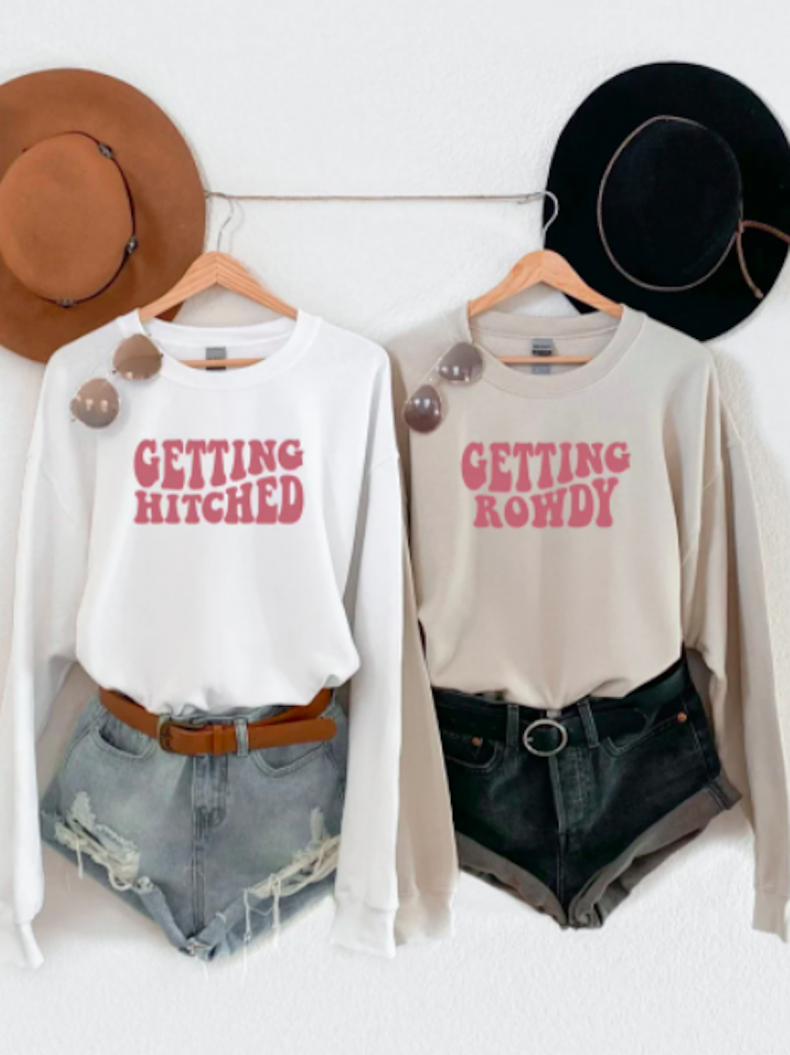 Matching tees are having a moment right now—especially when it comes to bachelorette trips—and we're loving the Getting Hitched and Getting Rowdy Bachelorette Party Favor Sweatshirts from Etsy. Listen, we know it's fun and kinda cute to personalize, personalize, personalize, but let's be honest—once the weekend comes to a close, no one usually reaches for their "Liv's Getting Married" tank top anymore. Skip the t-shirt with the customized date and name and go for something timeless, something with longevity. Bridesmaids can wear their "Getting Rowdy" sweatshirt again and again, and that psychedelic font? Soooo in right now.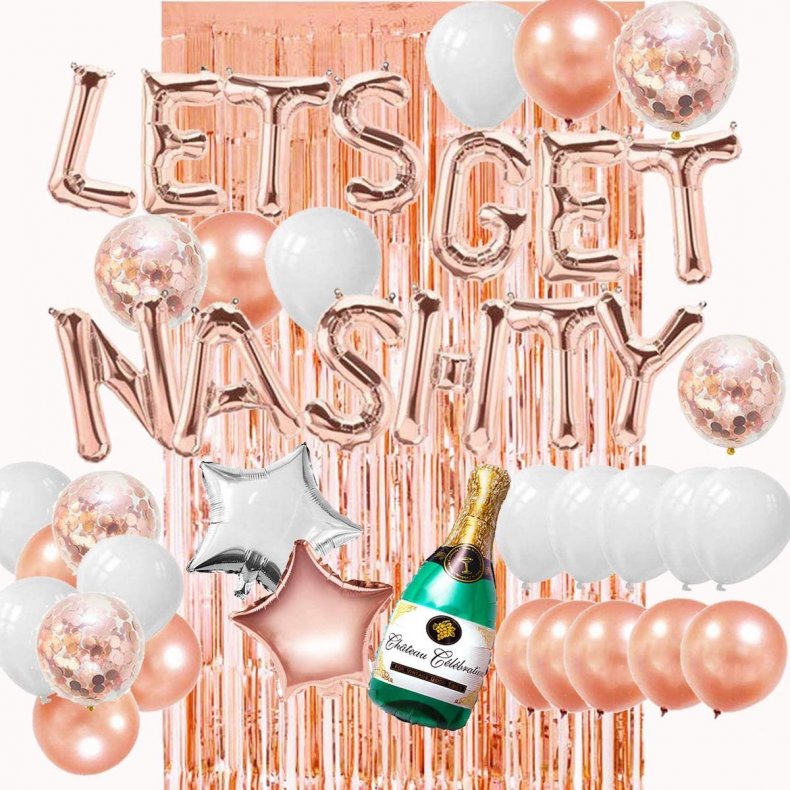 It's not a party without balloons! Let's Get Nashty Balloon Decorations turns up the heat on your bach party decorations as they look great in pictures and are fun to pose with. The set comes with one rose gold Tinsel Foil Fringe Curtain, Let's Get Nashty balloons, one roll of string for hanging the balloons, two star balloons, one champagne balloon, and 10 white, 10 rose gold and five confetti balloons. One Amazon.com reviewer wrote, "The balloons were so cute and a total hit!! We all loved them, and perfect for a backdrop!"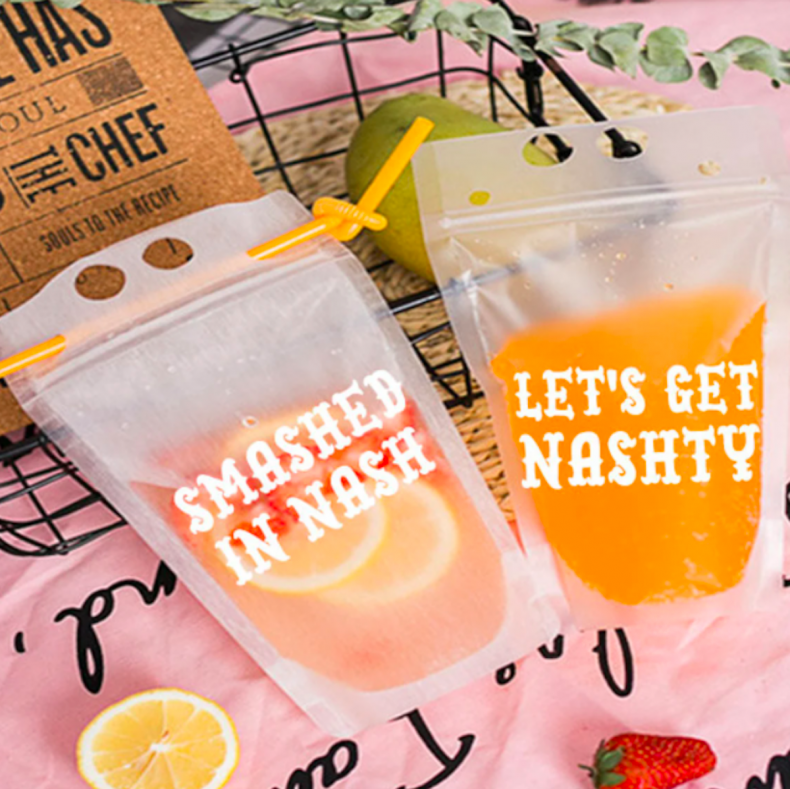 What's more fun than sippin' out of drink pouches? Take your beverages on the go with these Capri Sun-like booze bags as you explore everything Music City has to offer. You can pick from several different sayings—Last Bash, Nash Bash, Smashed in Nash, Let's Get Nashty, Last Bash in Nash and Nashlorette—as well as more than 20 color options. And that font? Soooo country! With a 4.9-star rating and nearly 700 reviews, one Etsy.com reviewer wrote, "Love this! Got it for my bachelorette party and I am obsessed! Got a shipment notification and it was here the next day!"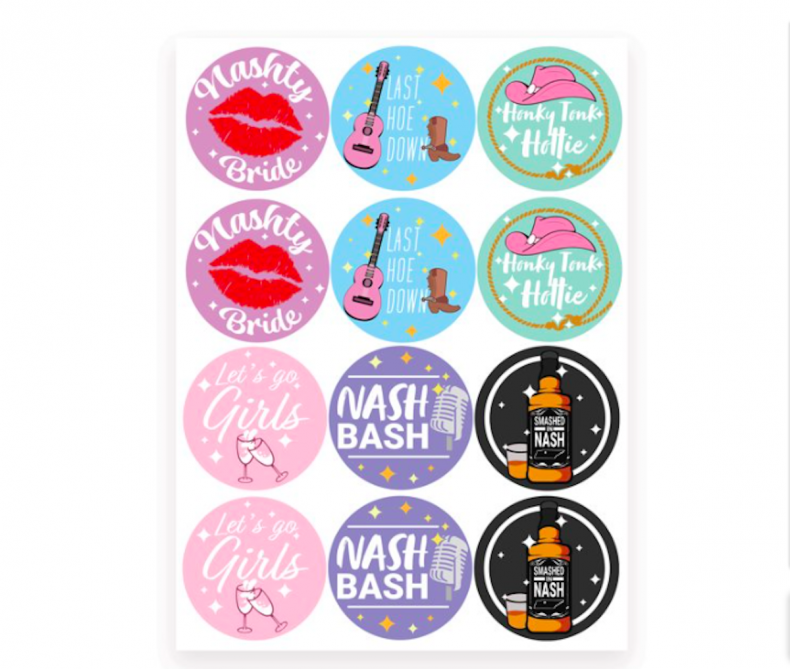 Something about a bachelorette (maybe it's the wine?) makes you want to put stickers all over your clothes and arms. Right? Anywho, we don't claim to understand the impulse; we just know it's a thing, so these Ellopi Nashville Bachelorette Party Decoration Stickers are the perfect addition to your Nashlorette decor. With fun sayings like "let's go girls," "Nash bash," "Nashty bride," and "honky tonk hottie," this bulk pack features six different designs to choose from so everyone in your hen party can rock a sticker (or two!).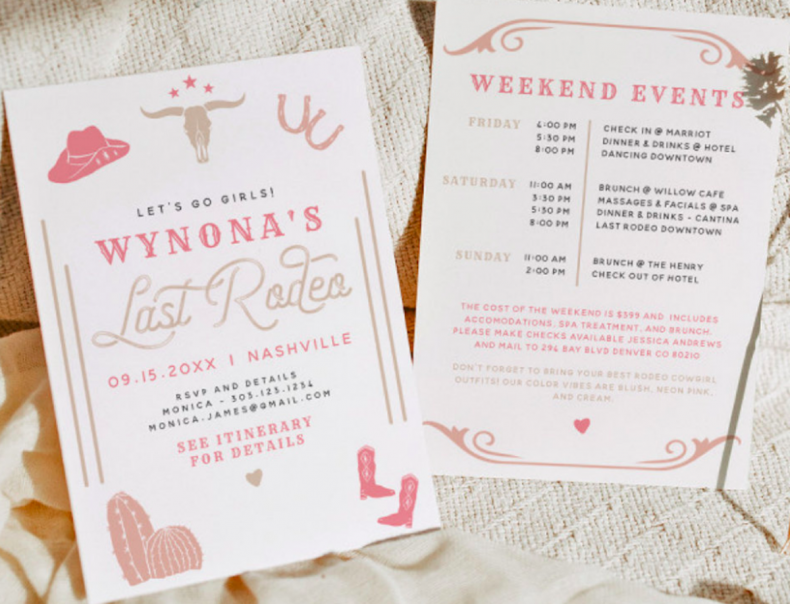 Last but not least—and most likely, the thing you want to buy first—you can't forget Nashville-themed invitations and itineraries. We all know all too well how much work it is to plan a bach, so make things easier on yourself by buying a duo of matching invites and itineraries. This way, everyone in the bridal party knows what to expect (and what to wear) each day you're there. Plus, the Blush Pink Last Rodeo Cowgirl Bachelorette Invitations don't sacrifice the theme for a single (get it?!) second. These invites set the tone for all the hen party tomfoolery about to go down. And we're here for it!
Newsweek may earn a commission from links on this page, but we only recommend products we back. We participate in various affiliate marketing programs, which means we may get paid commissions on editorially chosen products purchased through our links to retailer sites.