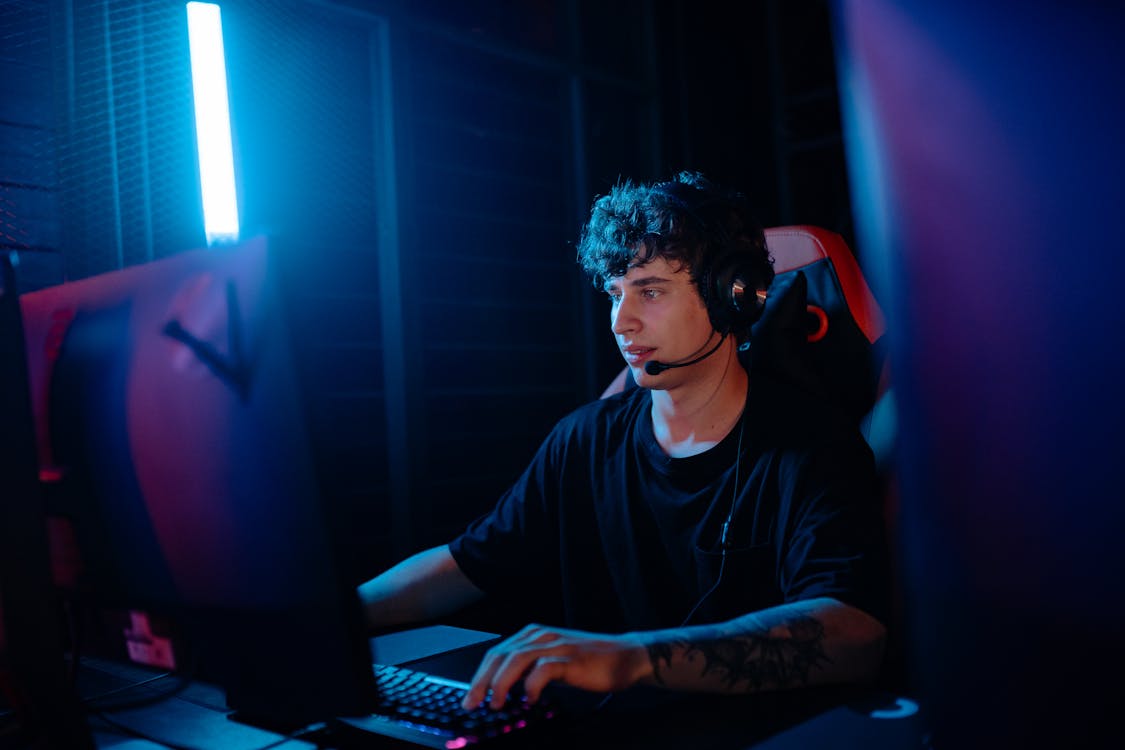 Gaming Headsets and Audio Technology: The Importance of Sound Quality in Gaming
Listening to the sounds of your favourite video game can almost be just as important for your game play as seeing the mesmerising visuals. However, audio quality can be quite a tricky matter. Without the correct equipment, an advancing army soldier could miss out on an order from a captain, or Mario may not hear the turtle shell as it's being shot from Luigi's go-kart before it's too late.
There are a lot of other reasons why audio matters a great deal when it comes down to gaming. What if the others in the room are making disrupting noises or don't want to hear you playing the game that you are? What if your fellow gamers are speaking with you on the phone but it sounds more like shouting? Gaming headsets offer the perfect solution whether for yourself or as a gift.
What Is a Gaming Headset?
Gaming headsets are an all-in-one solution that allows you to dive into games while chatting with your friends and teammates. They're over-the-ear headphones that are equipped with a clear microphone. You can normally distinguish these headsets as they have a bulky build and come with RGB lighting.
One key characteristic of gaming headsets is that they provide true surround sound, which allows you to recognise where sounds are coming from in a particular game. Gaming headsets do quite a decent job of cancelling outside noise however they don't provide quite the same level of sound quality or noise cancellation as opposed to noise-cancelling headphones.
Regular headsets usually only have two speakers – one in each ear cup – that provide basic audio. You won't get exactly the same degree of positional awareness from these headphones as you would with gaming headsets. If you plan on enjoying games where sound clarity is vital, you will need to know where people are as well as where sounds are coming from, then you'll benefit far more from a gaming headset.
However, if you just want headphones to play sound, then a regular headset will be just the ticket. For far better audio quality, you should invest in music headphones rather. You should only make an investment in a gaming headset that has true surround sound if you care about the audio clarity that it provides for gaming.
Considering 7.1 Virtual Surround Sound and 7.1 Surround Sound
7.1 surround sound is an audio system which utilises seven channels in addition to one low-frequency effects (LFE) channel that is usually devoted to bass to create a far more immersive audio experience. These seven channels are normally placed in a way that surrounds the listener. There is one central channel, four side channels (left front, right front, left rear as well as right rear) in addition to two rear channels. This gives the appearance of sound coming from several different directions, making the audio experience a lot more lifelike, especially when playing games at sites like Lotus Asia.
In terms of gaming headsets, 7.1 virtual surround sound is by far the most-seen application of 7.1 surround sound technology. Virtual surround sound utilises advanced audio processing techniques to mimic the experience of a true 7.1 surround sound system using only two speakers – one for each of your ears. This tech has become very popular in gaming headsets owing to its effectiveness and relatively low cost as compared to a full 7.1 surround sound set-up.
A gaming headset with 7.1 surround sound can greatly improve gaming experience in a number of different ways:
Improved Directional Audio: 7.1 surround sound offers more accurate positional audio, assisting you with pinpointing the location of in-game sounds such as footsteps, gunfire as well as explosions. This can give a competitive advantage in tech games where sound cues are key.
Immersive Gaming Experience: In terms of 7.1 surround sound, you'll really feel as if you're very much a part of the game's environment, as sounds almost seem to come from all around you. This boosted immersion can enhance your holistic gaming enjoyment.
Enhanced Communication: In team-based games, very clear communication is key. A gaming headset that has 7.1 surround sound makes sure that you can hear your teammates in a clear fashion, while background noise is effectively filtered out.
How to Improve Your Gaming Headset Mic
If there's any one feature that's pivotal in the appeal of a gaming headset, it's the mic. The ease of having all your audio requirements taken care of by just one device is what makes these worth getting in the first place. That concentration on simplicity carries over into how much work you usually need to do to get usable chat audio — merely getting the mic quite near your mouth is often all that you have to do.
Nonetheless, there are all kinds of little ways you can positively impact the quality of your mic audio. Here are some things that you can try.
Find The Correct Position for Your Mic
Adjust the position of the mic. Listen to exactly how your mic makes you sound. If you can access any kind of monitoring function on your computer, this is a fantastic time to utilise it.
Don't Be Afraid to Play Around
Gaming headset microphones are designed so that you don't need to fiddle with them a lot. They're frequently not terribly sensitive. Even in the very best conditions they really won't sound like studio-quality microphones. However, this is not a reason to just live with it if you're sounding like a windy phone call from the 1990s. Don't be afraid of mixing and matching various settings, whether its volume through Windows and noise cancellation through Discord, or some other combination.
Gaming headphones are a lot more expensive on average owing to their added features. When you get into high-end headphones with both types, the prices are similar. Wireless headphones will always cost more as opposed to those which add additional cables to your set-up.
You will lose some features with regular headphones. For instance, not buying a separate microphone is a feature of gaming headphones which will save you a lot of money.
The connection type can boost or lower the price. Comparing a USB gaming headset– as opposed to a 3.5 mm audio cable – will remove any confusion that you have.