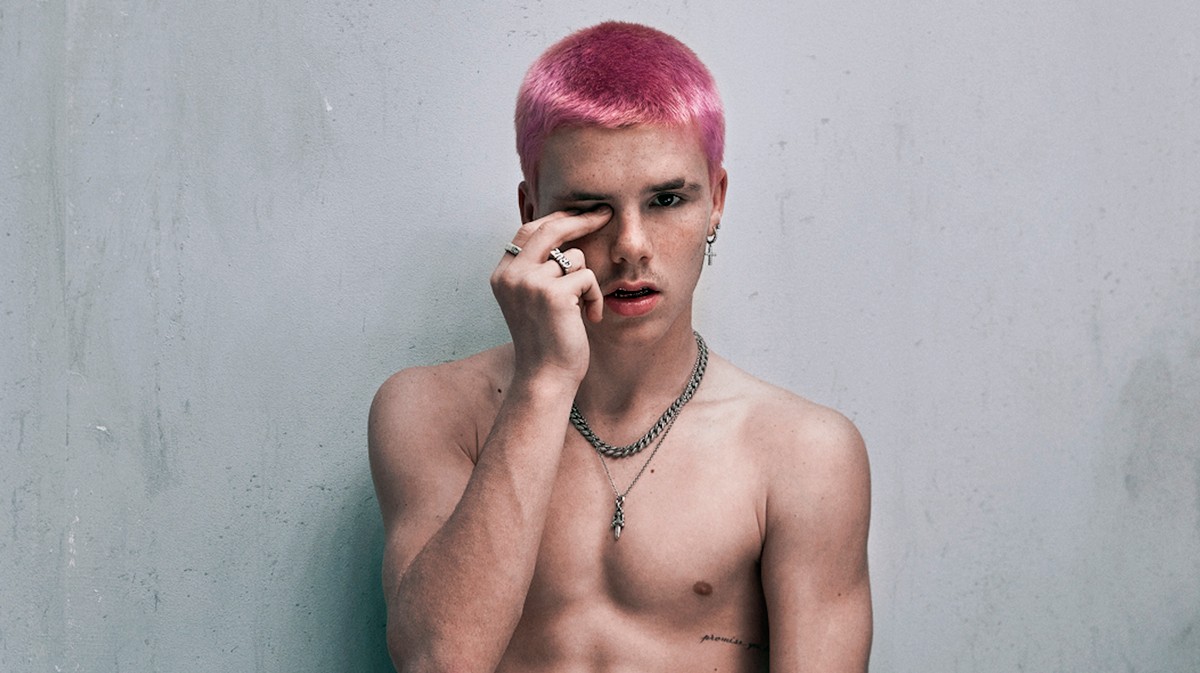 Cruz Beckham on coming of age and starting a career in music
This story originally appeared in i-D's The Out Of Body Issue, no. 367, Spring 2022. Order your copy here.
The walls of buildings in Wynwood, Miami are scrawled with the graffiti of great artists: Kenny Scharf, Shepard Fairey, Lady Aiko. "All of that artwork has a meaning," Cruz Beckham thinks. Often, he finds himself there taking pictures, skating with friends, cultivating inspiration for the music he, one day, wants to release into the world. It's the sort of perspective – the sort of activities – familiar to teenagers the world over.
But Cruz is living life a little differently to most: he is the child of two of the world's most famous people, and despite the complications that brings comes a world of opportunity. While plenty of teenagers play out their dreams in their bedrooms, in recent years, the recording studios of Miami, Los Angeles, and London have become something of a second home for Cruz; a space where he is beginning to navigate his own journey as a young creative. Like most teenagers, Cruz feels older than his sixteen years (seventeen by the time the magazine hits newsstands), and he's starting to find his feet, taking trepidatious steps towards adult life as an artist. It feels natural for someone who's watched the world implode wherever his parents are present – on magazine covers, at fashion week, on the pitch – from the moment he was born. You know the story; it was written in the stars that he'd one day follow in one of their footsteps.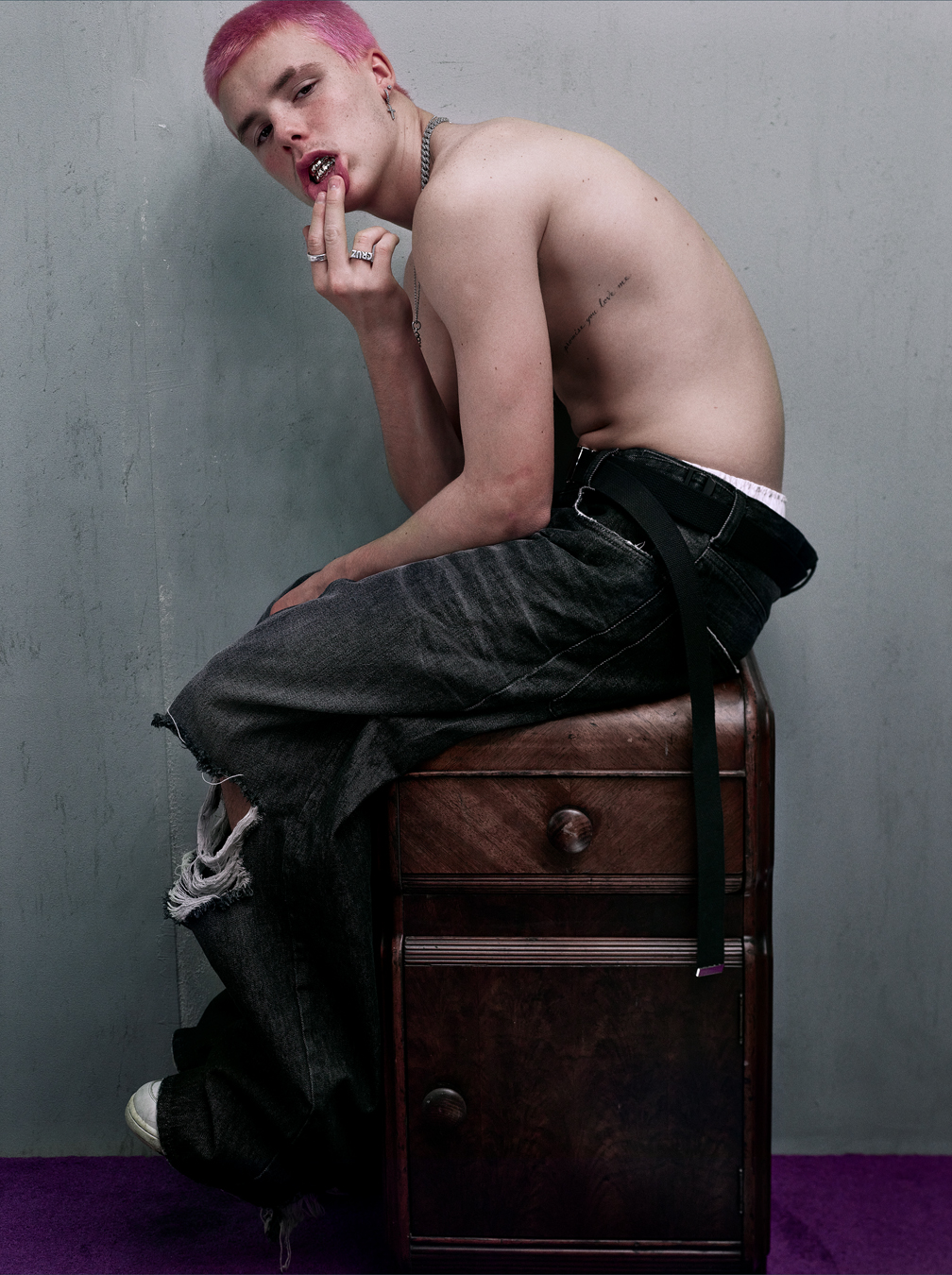 Cruz wears trousers BALENCIAGA. Boxers (worn throughout) SUNSPEL. Belt (worn throughout) WILLY CHAVARRIA. Grill (worn throughout) courtesy of POPULAR JEWELRY. Jewellery (worn throughout) model's own. Shoes NIKE X SUPREME.
It's January, and a sub-zero Saturday evening. Cruz answers our call from Oxfordshire in England – a far cry from the balmier climes of Miami, where he spends much of his time. Against an unrevealing stone backdrop, he appears looking every bit a generational e-boy, huddled in a Givenchy hoodie from the brand's collaboration with Chito, a Seattle-born, Mexico-based street artist. His hood stays up for the duration of our conversation, operating as a sort of shield. This is an unusual experience, after all; he might have spent his life enshrouded by fame, but this is one of the very few conversations he's had with someone in a public context.
"I don't think you ever stop learning, but I'm taking my time seeing what happens."
A few weeks earlier in New York City, a similarly abnormal experience occurred: Cruz sat in a studio in front of the lens of Steven Klein, posing for a shot that paid homage to a picture of his dad, taken two decades earlier, before he was even born. It graces the cover of this magazine now: a coming-of-age moment. "It was one of my first ever shoots – a proper shoot!" he says. Endearingly, he repeats things out of nervousness. "It was fun." Does he think he's pinned down his own signature smize yet? It's been in the works for a while. "I think so, yeah! Every holiday we go on, my mum takes hundreds of pictures!" A light, knowing laugh comes from off-camera. "It's really annoying," he jibes, "but I think that's taught me quite a lot!"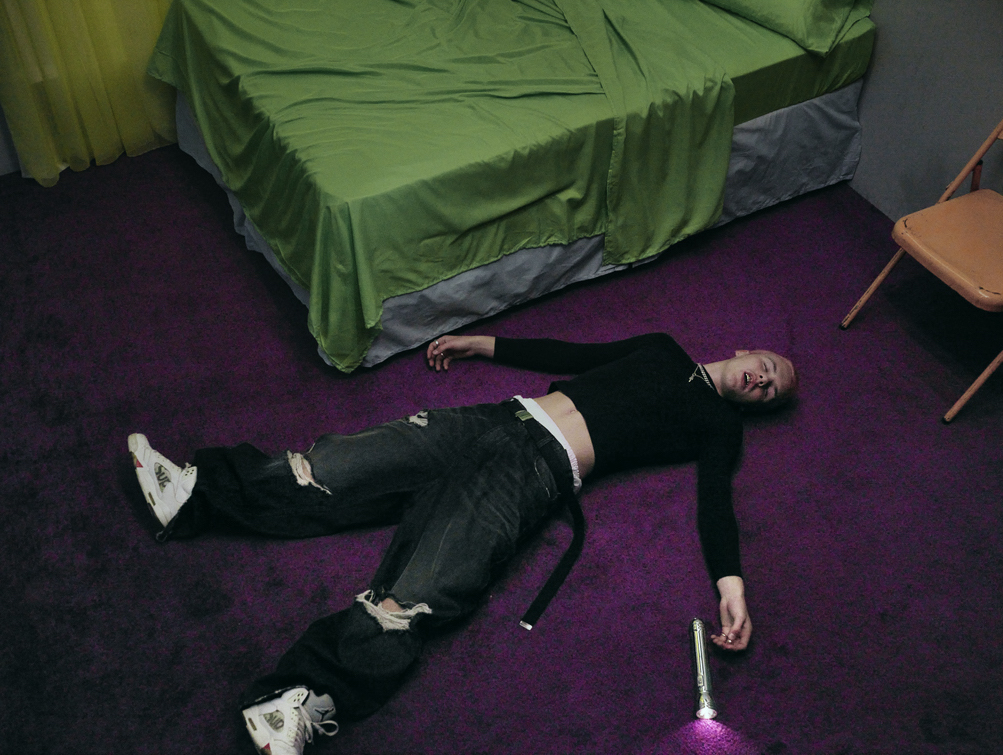 Top and trousers BALENCIAGA. Trainers NIKE X SUPREME
It was in 2008, at only three years of age, when Cruz realised he wanted to find his own space on the stage. At New York's Madison Square Garden, where his mum's band the Spice Girls had stopped on their world tour, Cruz came out from behind the curtain into the sightlines of 20,000 people. "I was doing head spins and stuff, which is great to look back at now," he says. There are clips of it on YouTube still. "We've been upstaged," Victoria said at the time. His brother Brooklyn notes that eye-catching energy too: "His spirit is like no other," he says. "He lights up an entire room."
As a kid, eclectic sounds – from the Stone Roses ("I went to one of their reunion concerts in Manchester") and Oasis to Mariah Carey and R&B – battled it out on the speakers at home, the two sides exposing him to as many genres as possible. But it was only when his parents heard him singing Love on Top by Beyoncé in the car and hitting the high notes, that they and he realised he might be able to make it his career. "I was still really little! My voice hadn't really developed, so I could just sing that high!" He's tried again since, but his octaves have dropped with age.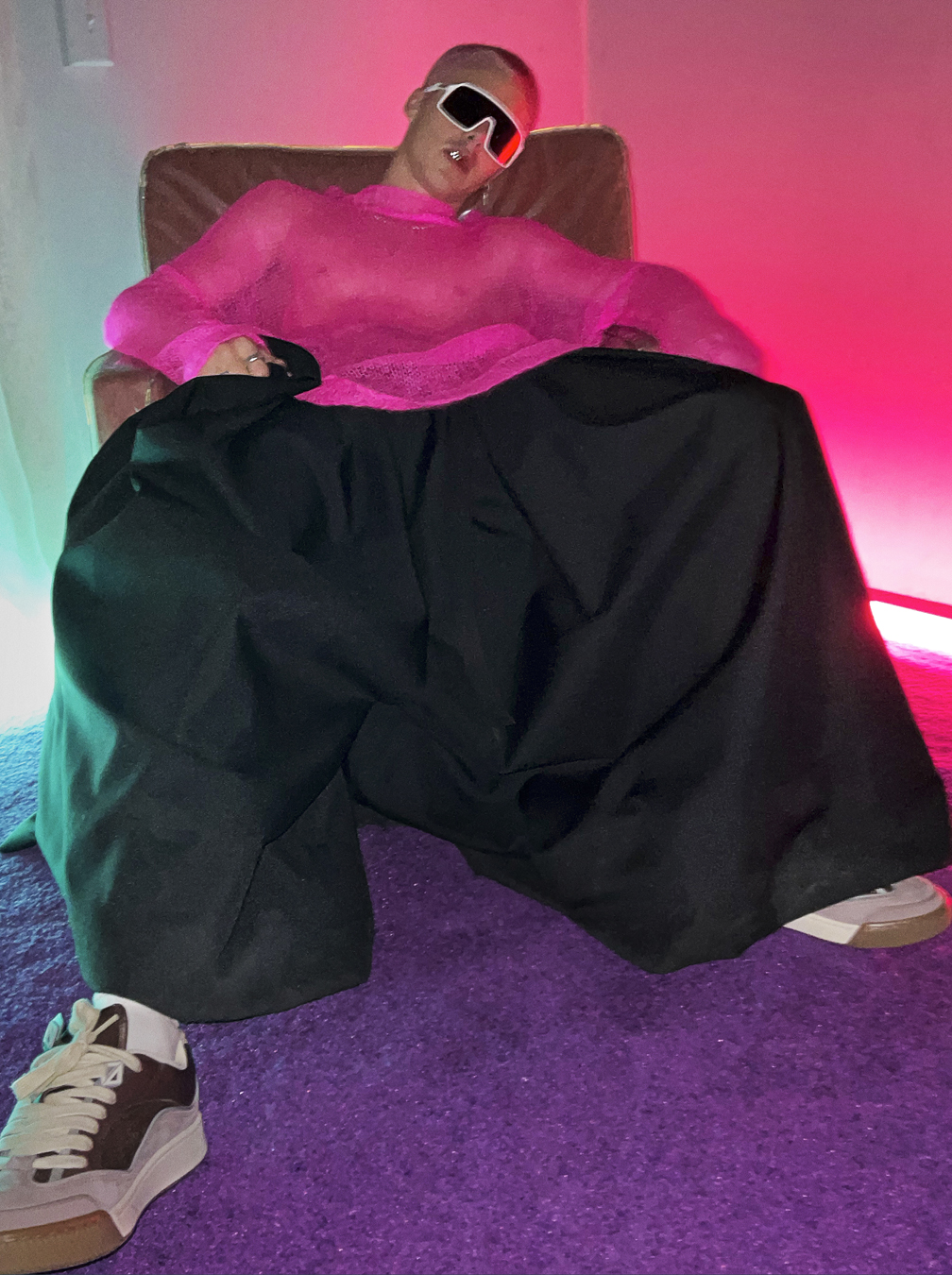 Jumper LOEWE. Trousers WILLY CHAVARRIA. Sunglasses OAKLEY. Socks (worn throughout) FALKE. Trainers DIOR.
What followed was years of making sense of things, creatively and personally. "I thought I would want to do football and I did that for a bit," he recalls, even going so far as winning a contract with Arsenal. But still, he came back to music, which felt like his first love. "At that point, I just decided: this is exactly what I want to do."
"Every holiday we go on, my mum takes hundreds of pictures. It's really annoying… but I think that's taught me quite a lot!"
At the age of eleven, Cruz ventured into his first studio session – although not with a similarly fresh-faced or underground talent, but with one of the most prolific producers in American pop: Rodney 'Darkchild' Jerkins, the man behind Beyoncé, Lady Gaga and Justin Bieber's biggest hits. "My mum brought me into the studio with him and I recorded my first ever song," he says, reminiscing. It was a Christmas track that dropped shortly after, causing plenty of tabloid talk, but that kind of narrative feels like part of his past. He remembers the studio experience with more vim than the song, as if those first steps had different importance. Rodney had kids Cruz's age, and they'd hang out together between takes. "It was just great to be around all of them for the first time."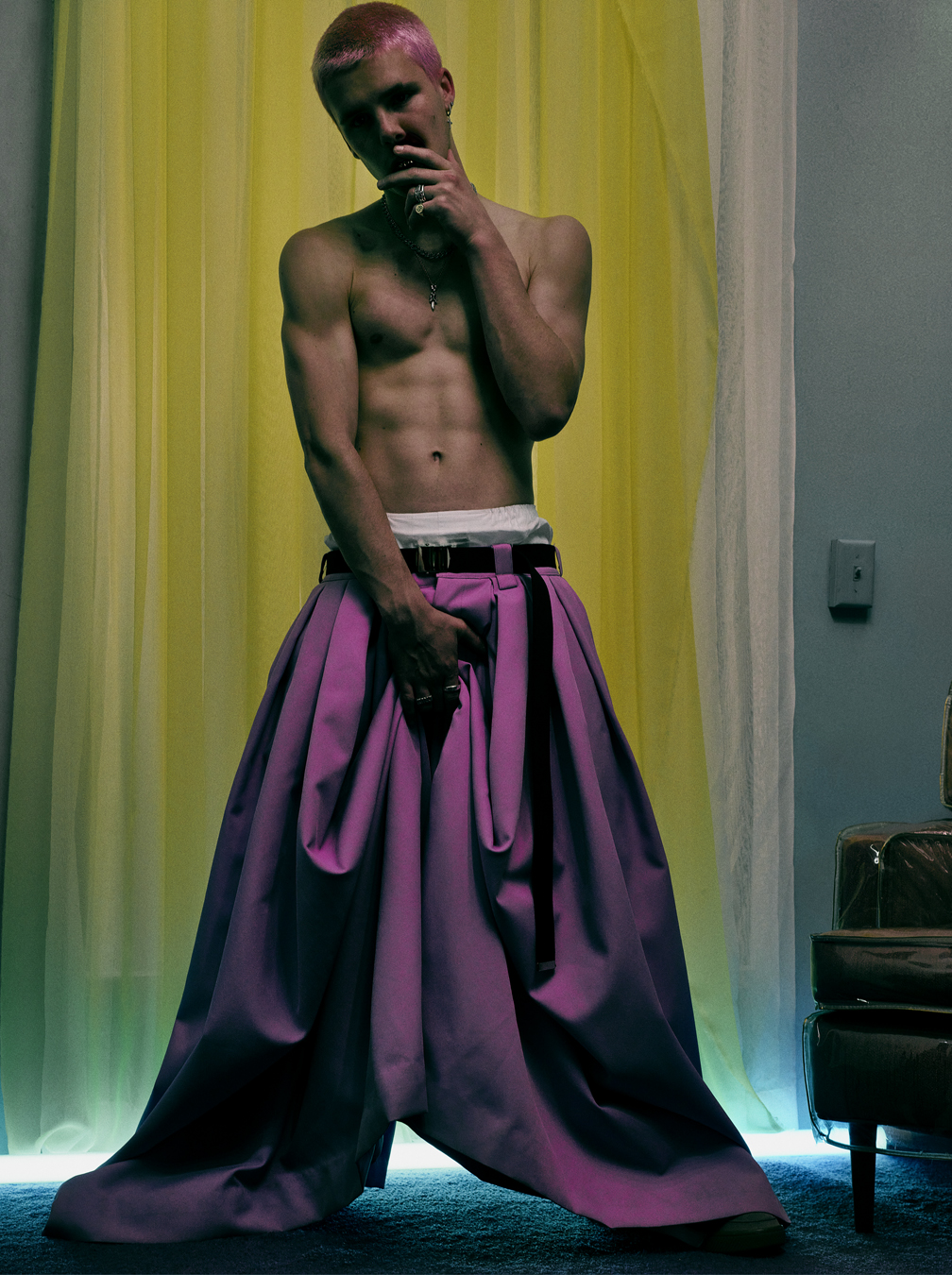 Trousers WILLY CHAVARRIA.
Nearly fourteen years after his stage-stealing debut, Cruz is at the point when plenty of people his age are starting to figure out what they might want to do with their lives – and it's easy to envision his school friends venting their indecisiveness to careers advisors. But he wears his determination with less cockiness than you might expect. More obvious is his keen desire to learn and a hesitancy to sing his own praises. "Cruz is the most gentle, sensitive soul," his brother Romeo tells me. "But he hides it well with his cheeky, fun side."
He's learning how to play instruments, often self-taught: guitar, piano, drums; "I even learnt how to play the mandolin for a song that I wrote". He stresses, on nearly a dozen occasions, that he's learning; figuring this out before he dives in. "I don't think you ever stop learning, but I'm taking my time seeing what happens." Right now, the focus is on "just making the music I love."
Vest vintage HELMUT LANG SS98 courtesy of Artifact NY. Trousers RAF SIMONS SS21 courtesy of Artifact NY. Sunglasses RUDY PROJECT.
Alongside other up and coming producers in London and LA, he's been spending time in Miami with Poo Bear – one of the geniuses behind tracks from Usher's Confessions era and the bangers from Justin Bieber's Purpose. "We've just been in the studio a few times and made some songs together," he says, saying they've been working on material that chronicles, "personal experiences, real experiences." He lists off the likes of The Weeknd, J. Cole and Kid Cudi as his current sonic obsessions.
Soon he'll finish school, where music (obviously) and photography, inspired by his brother Brooklyn's love of the medium, are his favourite subjects. He got back home with his family yesterday; tomorrow, he'll be back in the studio. An endless to-and-fro until he's free to do as he pleases, and live life a little more. Then we'll all finally witness what Cruz Beckham has coming in the future.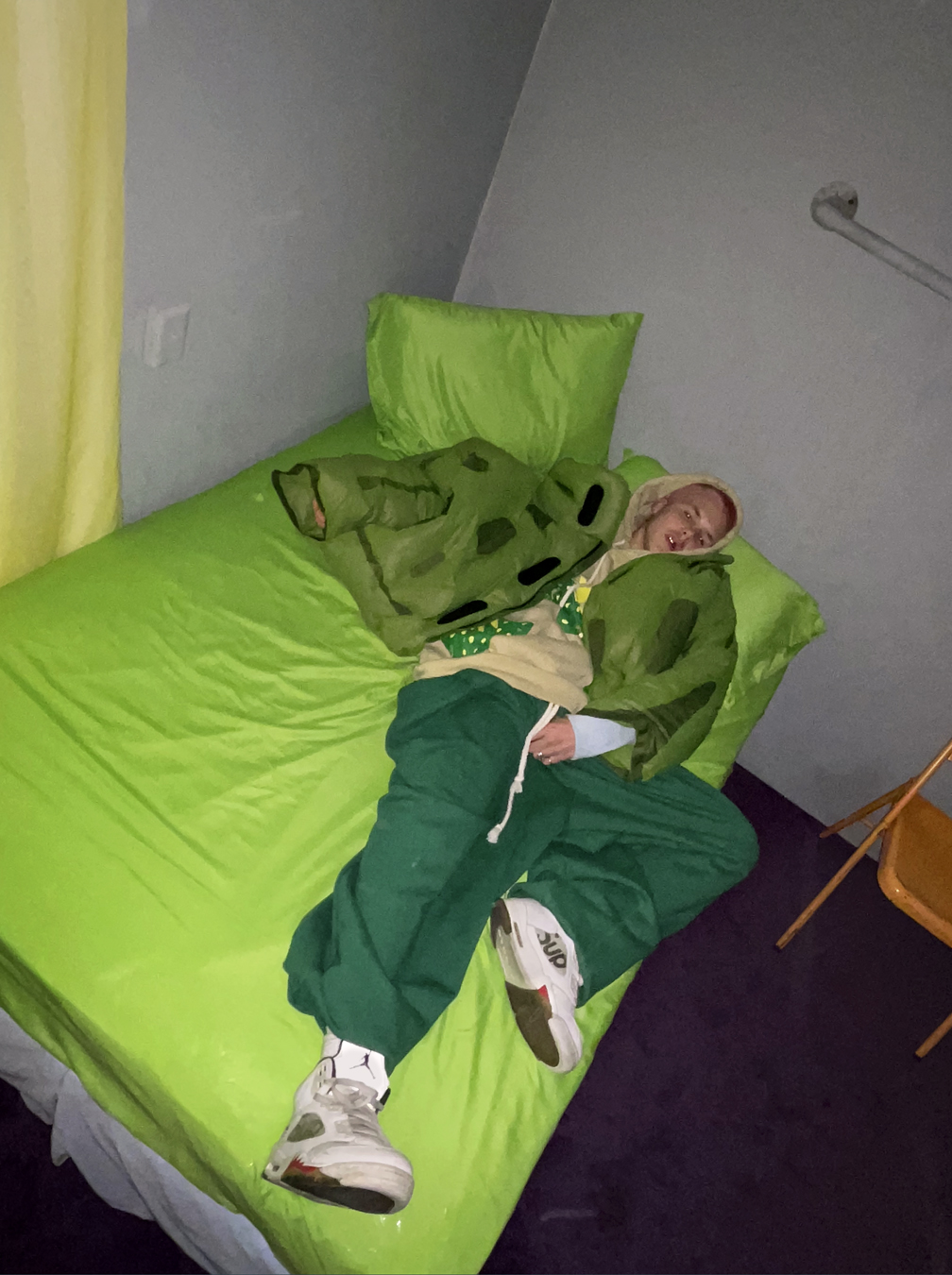 Hoodie and sweatpants JW ANDERSON. Coat MONCLER X DINGYUN ZHANG. Trainers NIKE X SUPREME.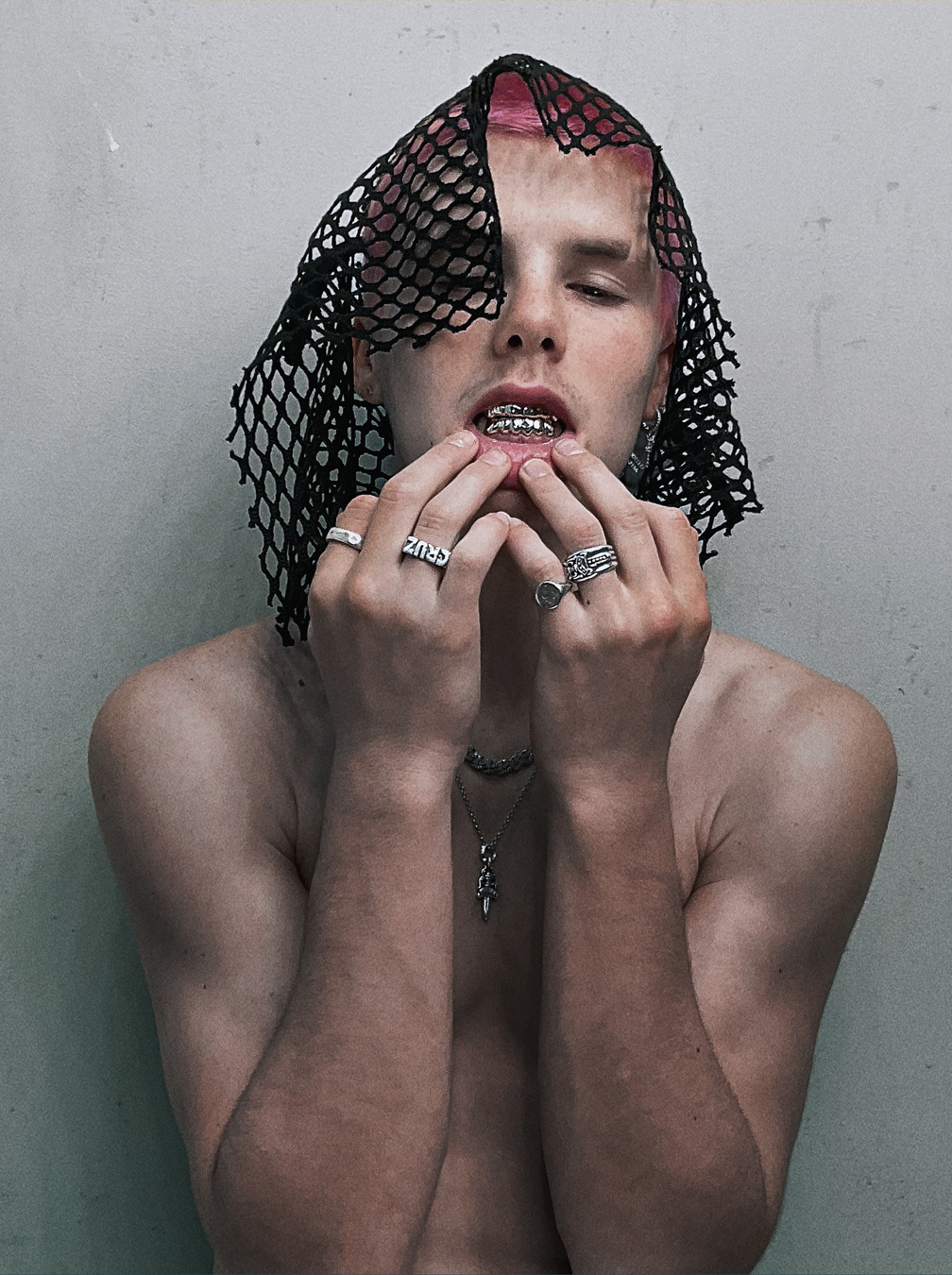 Bib RAF SIMONS.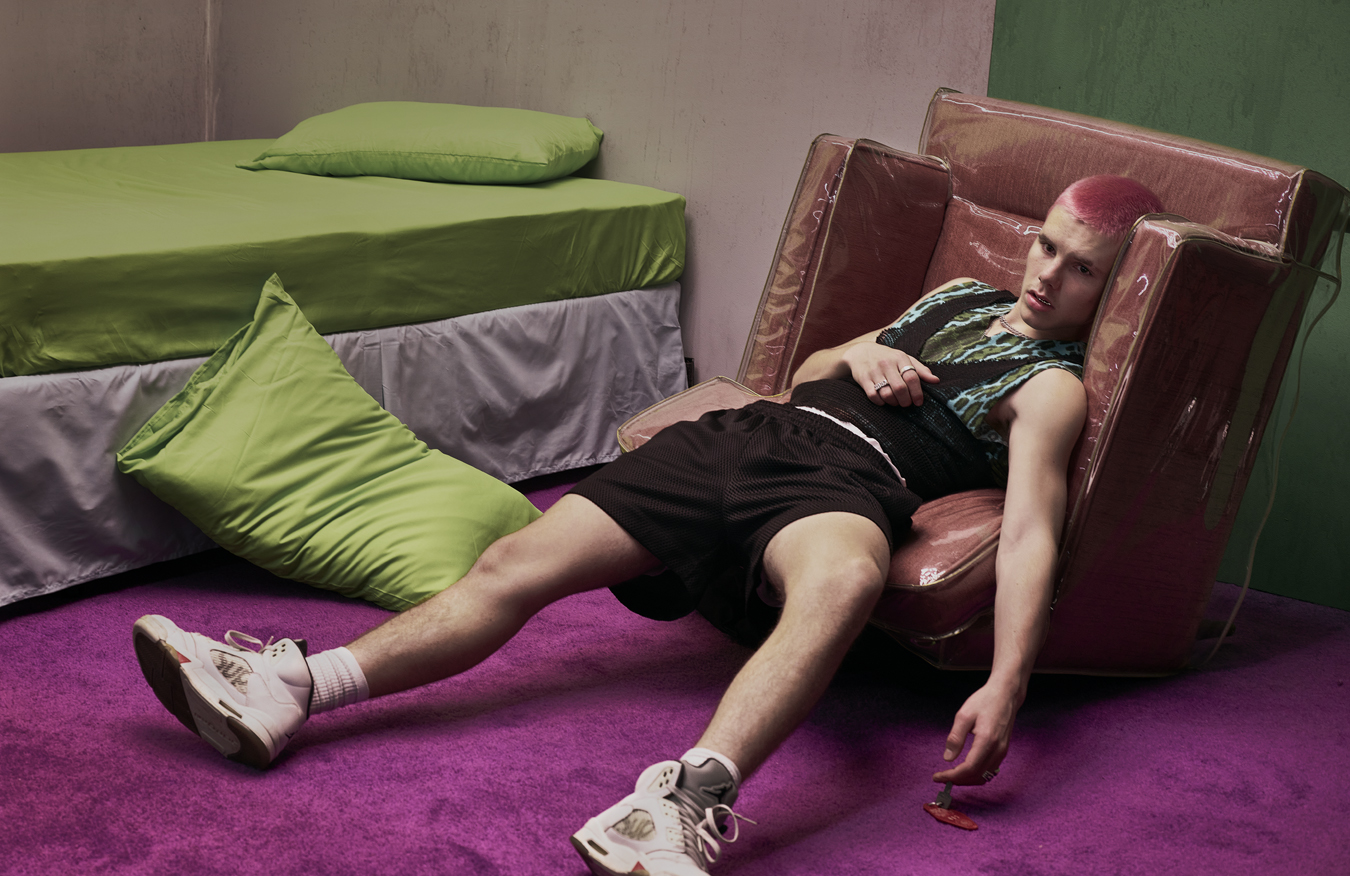 Top vintage RAF SIMONS SS99 courtesy of Artifact NY. Shorts DRIES VAN NOTEN. Trainers NIKE X SUPREME.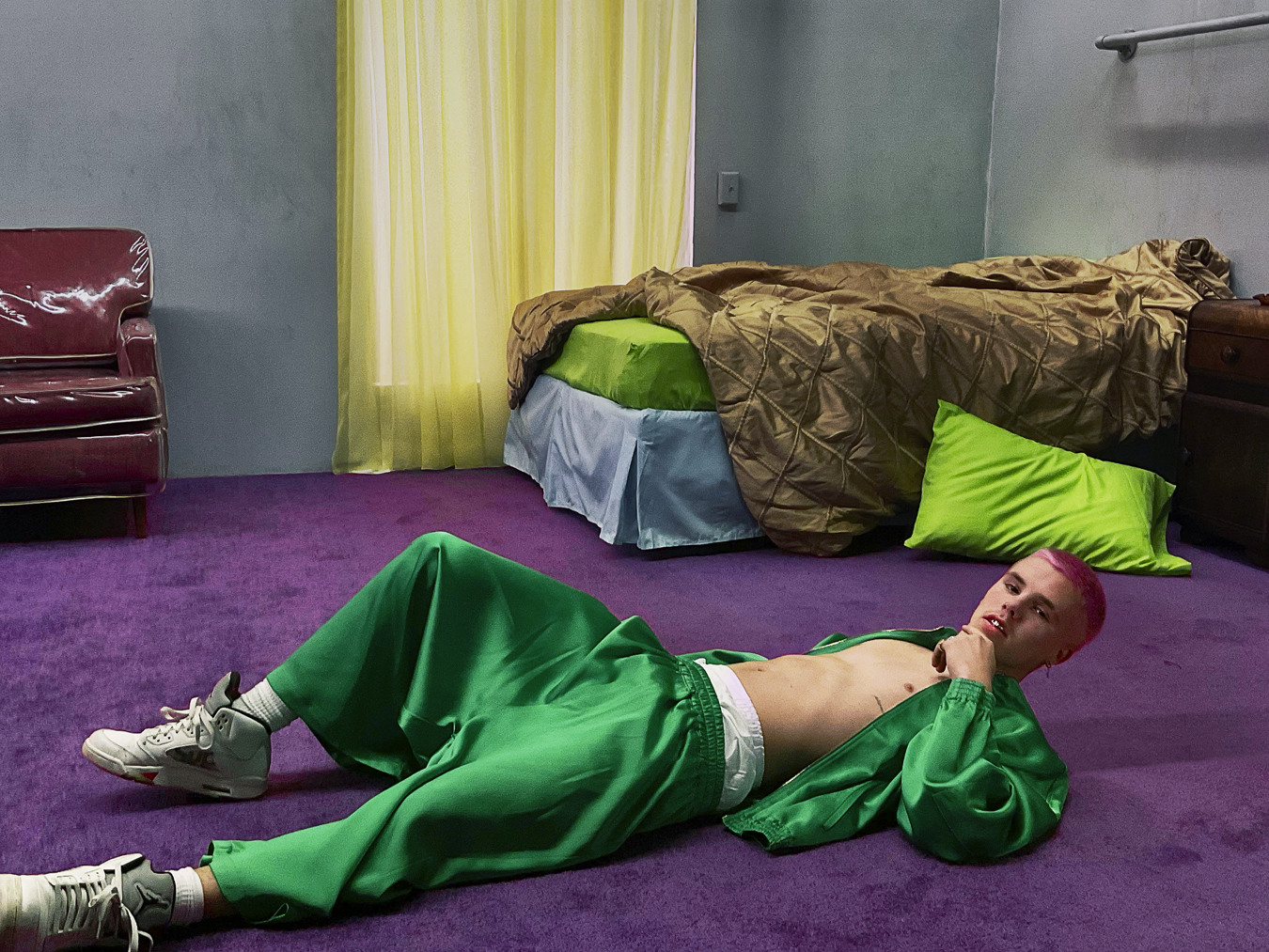 Jacket and trousers WILLY CHAVARRIA. Trainers NIKE X SUPREME.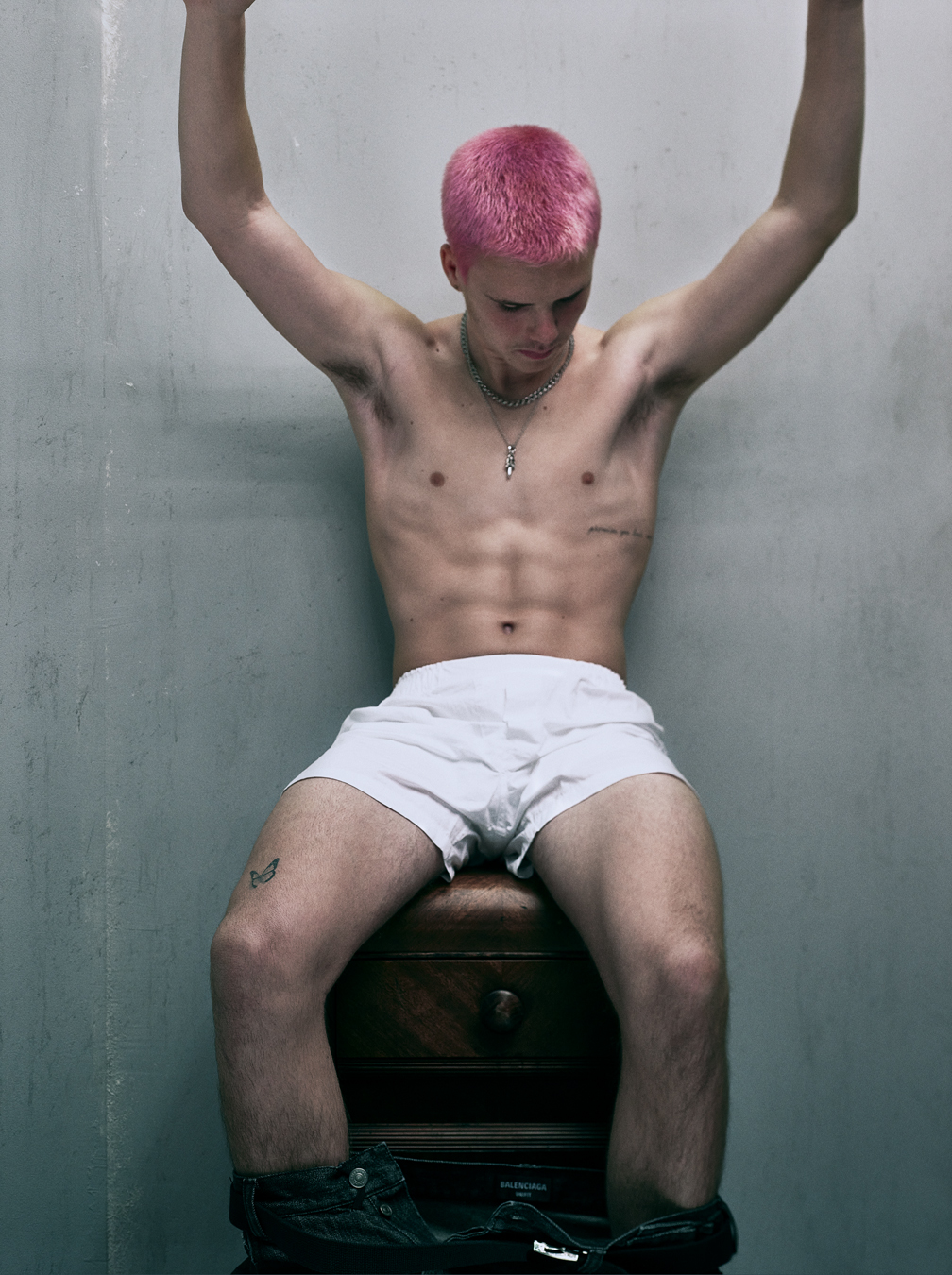 Trousers BALENCIAGA.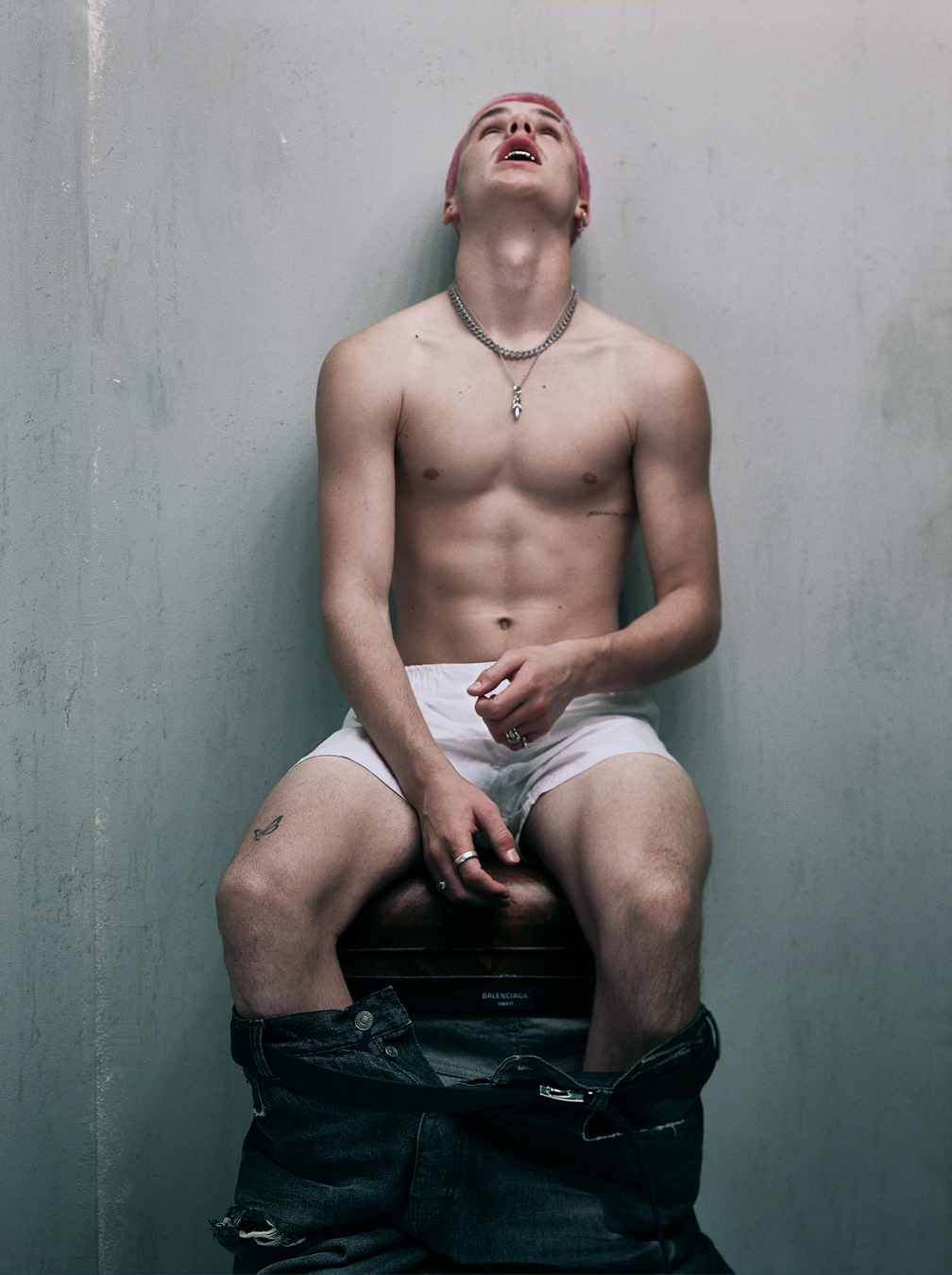 Trousers BALENCIAGA.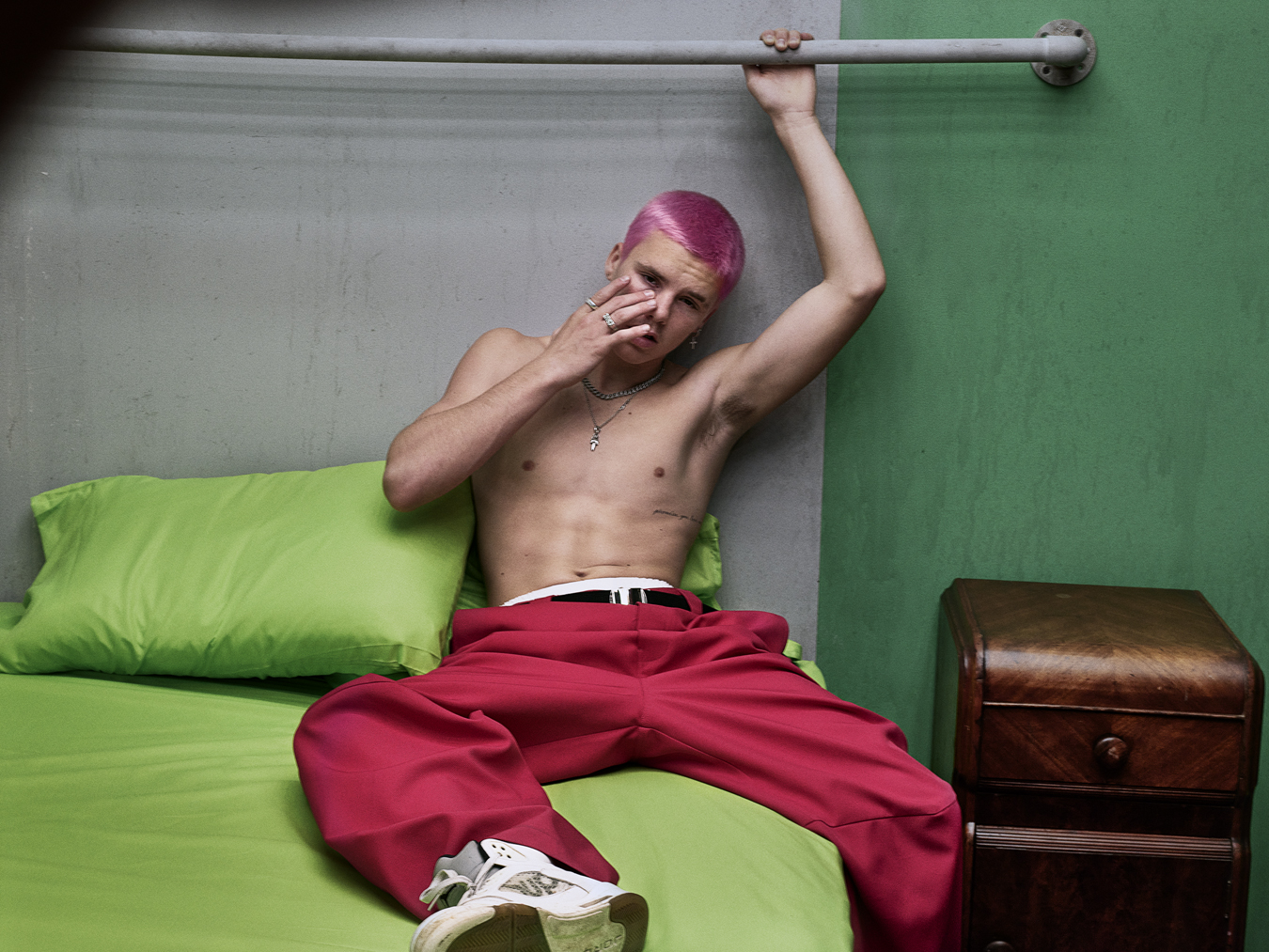 Trousers WILLY CHAVARRIA. Trainers NIKE X SUPREME.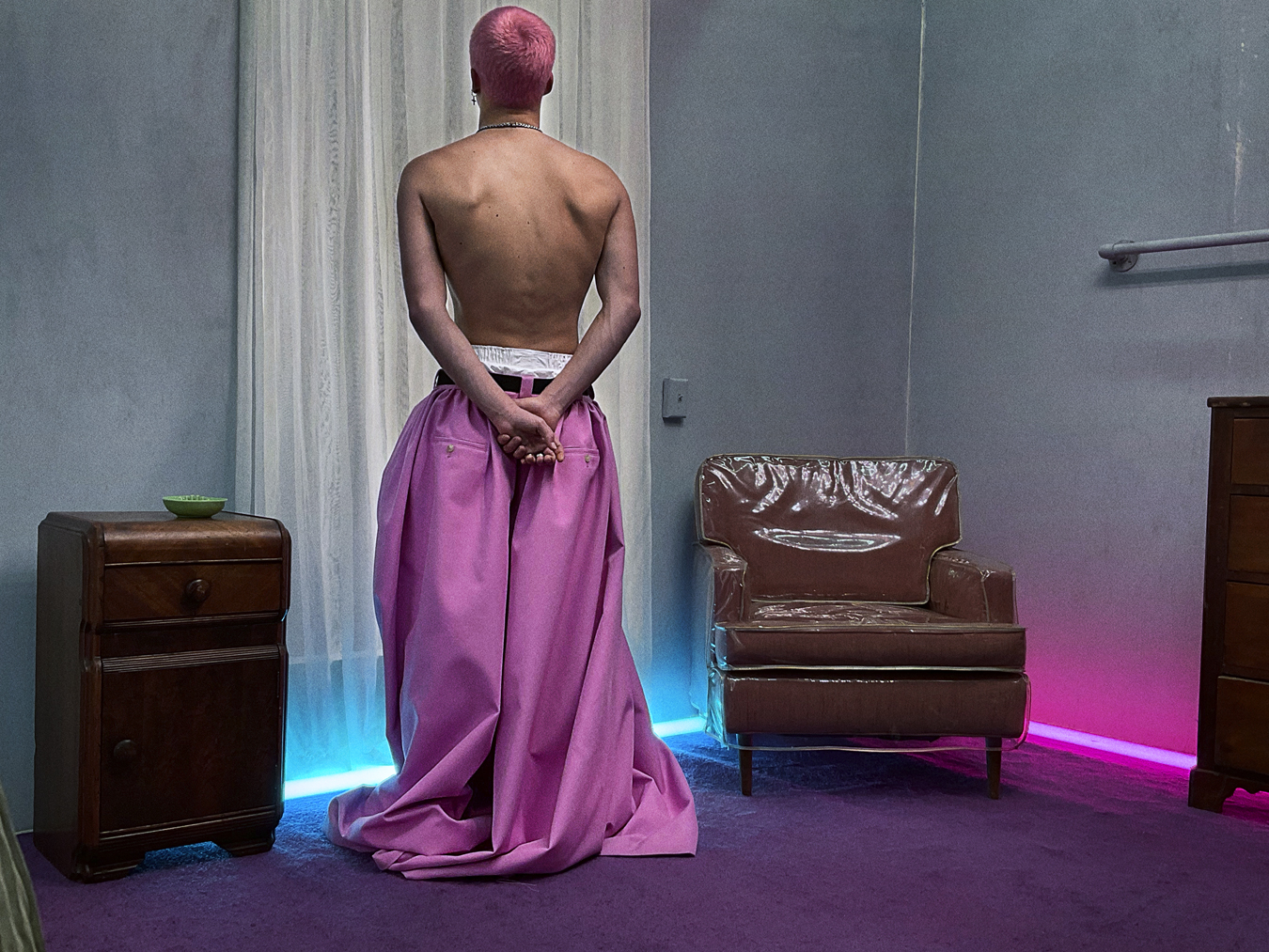 Trousers WILLY CHAVARRIA.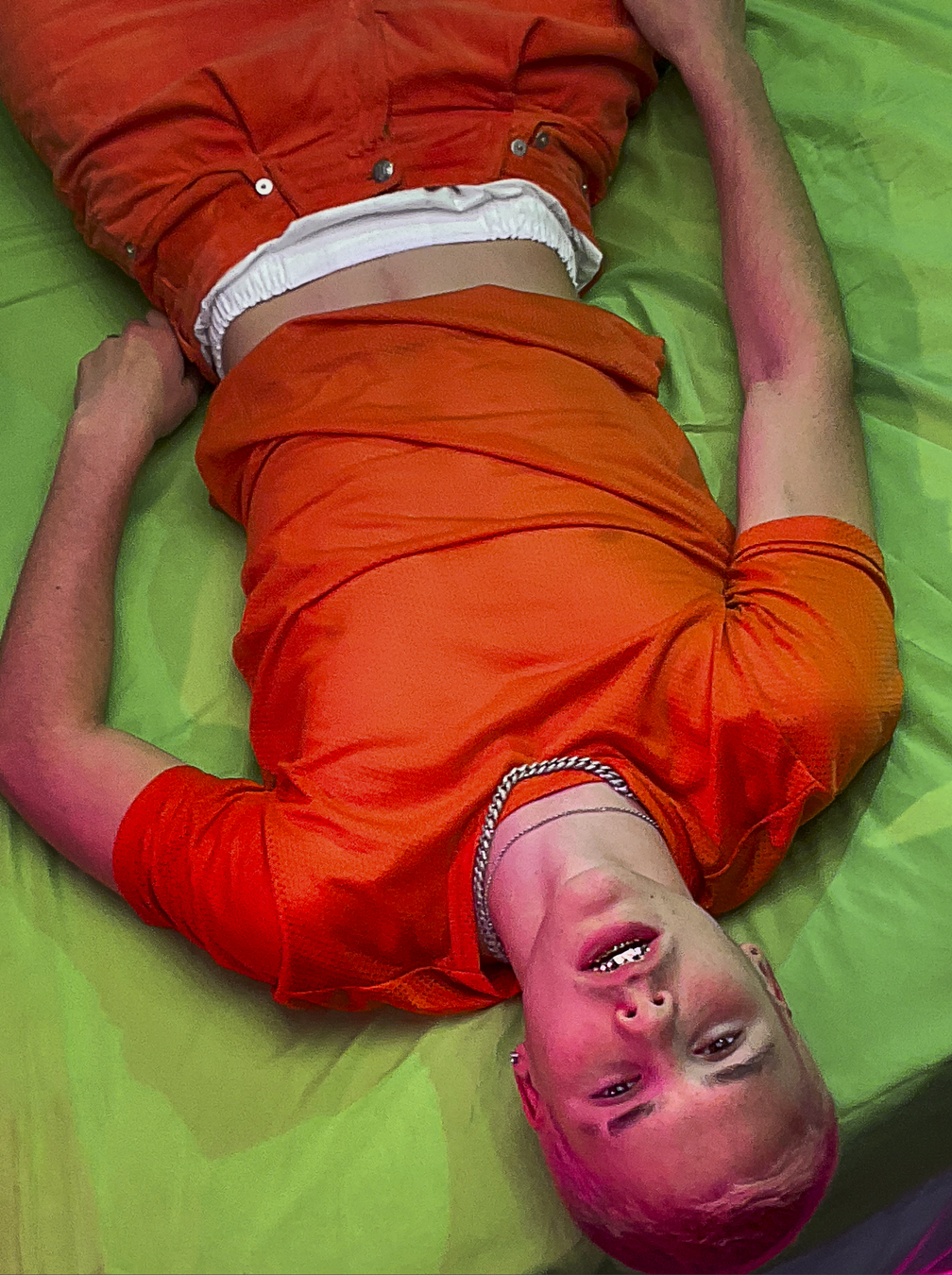 Shirt vintage HELMUT LANG courtesy of Artifact NY. Shorts R13.
Jeans BALENCIAGA, boxers SUNSPEL, jewellery model's own.
Follow i-D on Instagram and TikTok for more on Cruz.
Credits
---
Photography Steven Klein
Fashion Alastair McKimm
Hair Holli Smith at Art Partner using Oribe.
Hair colourist Lena Ott.
Set design Jack Flanagan at The Wall Group.
Photography assistance Timothy Shin and Sam Dole.
Styling assistance Madison Matusich and Jermaine Daley.
Production Travis Kiewel.
Production assistance Toogii Khurmast.
Studio manager Chris Cassetti.
Casting director Samuel Ellis Scheinman for DMCASTING.