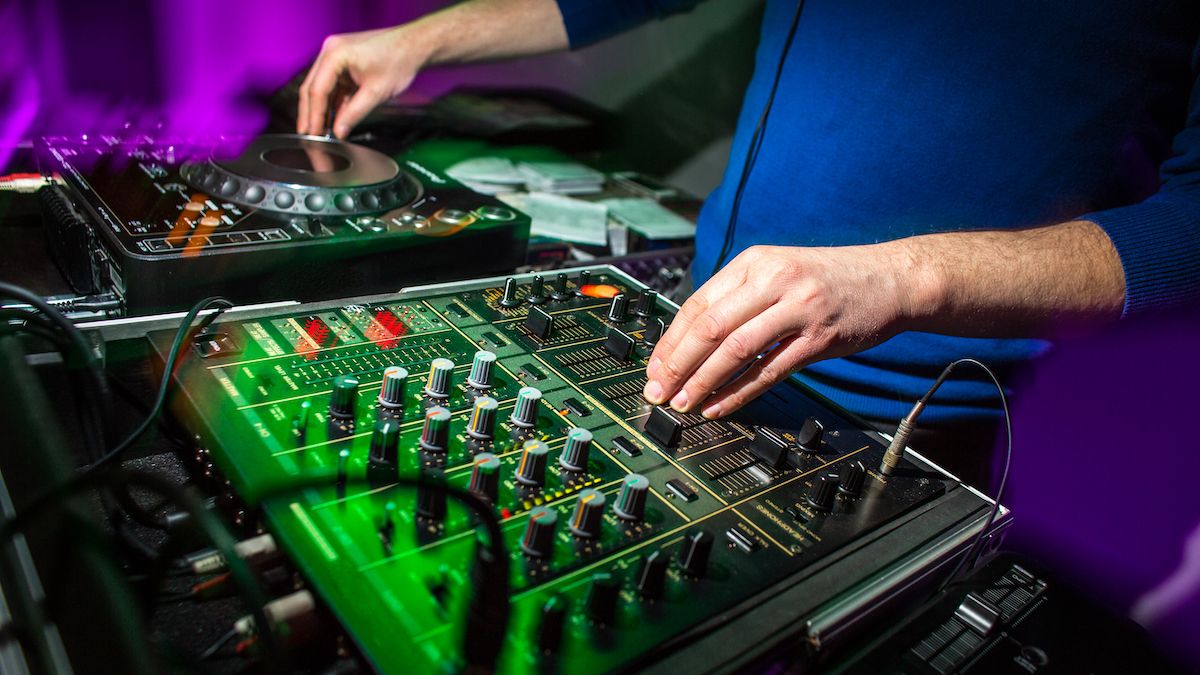 9 essential DJ accessories for the studio to the booth
The role of the DJ these days is many and varied, from old school 12-inch spinners who play everything out on vinyl to those turning up at a venue simply with a pen drive full of digital tunes.
Fortunately, there are plenty of DJ extras to make life on the road that bit easier for any working DJ, whatever your methods, and we have them all covered in this guide to the best DJ accessories.
We have the best optional extras for every DJ situation, from doing everything on a laptop to taking everything you need for a complete performance on the road with you, even including some pretty great speakers to play your tunes out. So whether you're simply doing a turn at your local club with your collection of files, or putting on your own event and need a complete mobile set-up, read on for the ultimate set of DJ accessories you need to pack up right now. 
1. Headphones
Every DJ needs a great set of headphones, right? DJ headphones are designed specifically for monitoring, providing high levels of attenuation over external noise and the ability to cope with extreme volumes with ease. When choosing a good pair of 'phones, you should also look out for a precise sound for mixing and good isolation so you can focus on the music. Ideally you also want a rotatable capsule for single-ear listening, so you can have one ear on the tunes and one on the crowd.
Fortunately there are many great DJ headphones to suit all pockets with some old favourites that have become almost an industry standard, plus some newcomers that could pave the way for the future. Among our classic choices from our best DJ headphones guide are Sennheiser's HD25. These are as close as you'll find to a universally well-loved set of DJ cans as they have a great balance of comfort and performance. Their newer sibling, the HD25 Light is, as you'd expect, an even more portable variant with a compact design and 20g saving in weight.
At the top end of the headphone price range we'd recommend the Pioneer DJ HDJ-X10. Boasting a full frequency response of 5Hz – 40kHz, they will deliver everything you need to hear and their closed-back technology will help isolate everything you don't. The design is great too – not over heavy or constricting for longer sessions – with 'world first' nano-coated ear pads and a head band both providing extra comfort. And they are certainly designed for use on the road, being both rugged and foldable so they can be easily stored away in the supplied case. 
If these Pioneers are out of your price range, then how about something a little cheaper from the same DJ expert? The Pioneer DJ HDJ Cue1 is a set that we rate as best for the money. These have a stylish and pro-feeling design, which can also be customised with optional replacement coloured ear pads and cables. However it's the sonic spec that surprises – not quite as good as the more expensive Pioneers, but still very decent.
2. Headphones case
Not all headphones come with decent carry cases, and some only ship with flimsy material bags which don't offer much protection. Of course you want to keep your valuable DJ 'phones safe while out and about, so if you are in need of headphone protection, there are some solid third party options for all headphones. 
The G-CLUB-Headphone from case expert Gator will offer your 'phones – and more – some great protection. Most headphones should squeeze into this case with ease (but do check before buying if your headphones are large). And there's plenty of room for other bits and pieces like cables, a phone, a charger and more. 
A cheaper option is the Magma Hard Case. It scores well in the user reviews stakes and suits a good range of standard-sized headphones, offering good protection along the way. Again, you'll need to make sure that the headphones you are buying for will fit – but many DJ sets can fold so this might not be an issue.
3. Multi-purpose DJ bag
Nowadays a DJ bag is not just for records, as today's DJ could have a vast amount of gear to carry around, including DJ controllers, decks, laptop and of course, those other essentials like your mobile phone, headphones and cables. As such, the best all-in-on DJ bags have to be flexible, protective and comfortable to carry around.
MONO makes some great bags specifically for DJs and its EFX FlyBy backpack is a 2-in-1 modular bag for the DJ with a wide range of gear that they need to take out and about. There's a detachable laptop segment so if you are an occasional laptop DJ, it's a handy option to have. But actually you can get all manner of other gear in this backpack including DJ controllers, keyboards, microphone and cables. It's a do-it-all bag with attitude – heck, you could even use it for your holidays.
For the DJ who has everything, this next multipurpose bag holds everything! The LoDrid DJ Bag is quite simply designed for the DJ who has a lot of stuff! We love a good utility bag with lots of compartments and this is probably the most well stocked. It will house everything from cables to DJ lights. Indeed, the detachable dividers mean DJs could even make space for controllers and more sizeable gear, and other smaller compartments will take everything from mobile phones to memory sticks and storage drives.
4. Record bag
For the transportation of specific DJ must-haves like vinyl, there are many, many more focussed options than our general purpose bags above. With these you are more limited to carrying vinyl – or other 12-inch sized goods – but they are more obviously aimed at DJs, so if you don't have lots of other gear to carry around, they have a much more lifestyle aesthetic and appeal. 
On that score you could opt for cooler branded vinyl bags like the Underground Resistance UR Record Bag which neatly houses up to 50 12-inch records with relative ease. You are probably paying more for the logo than the practicalities though, so we'd also recommend checking out something like UDG's Slingbag. It too offers storage for up to 50 of your favourite 12-inches but has the advantages of a couple of extra compartments with that bit more room for cables, phones, even the odd MIDI controller. And there's enough padding to keep everything safe and in order, without the whole thing becoming too unwieldy. A good all rounder, then, albeit with DJ practicality at its heart.  
Another vinyl-only option is the Trunab Vinyl bag which will store 60 12-inch records securely, not to mention having extra storage for 7-inches and headphones. It's water (splash) and dust resistant and a shoulder strap is included and will be required if you want to stock it up to maximum capacity. A very decent way of getting your old school skills and records out on the road and a fantastic cheaper option.
5. Speakers
If you're the kind of DJ who wants to carry everything you need for a gig or party – just in case the situation arises and your skills are required for an impromptu live set – then getting yourself some actual speakers to play your music through might not have been something you've considered. Generally you might feel that this option veers towards a complete PA solution, but fortunately there are a couple of great mobile speaker options now available that make mobile DJing even more of a reality. 
With a pro name behind the design, the KRK GoAux4's sound is good enough for studio mixing so will certainly deliver everything you need for a small-ish DJ event or hotel room practice. They can even be tuned to your environment with a self adjusting frequency range taking into account the room acoustics of the space you play them in. Clever stuff! There's also enough volume here from a surprisingly compact and well-designed speaker package that is equally at home in the studio as it is on the road.
IK Multimedia iLoud Micro monitors are also small-scale monitors with a huge sound. These small active studio speakers are so well designed that they will give you great playback options on the road. Each speaker has a 3" woofer and ¾" tweeter, with connectivity taken via stereo RCA and a single 1/8" TRS stereo input, plus Bluetooth on board for streaming audio from a mobile device or laptop. Like the KRKs, you get an extremely good mobile speaker package for DJing on the fly and the sound quality you get from such a compact set-up will surprise both you and your audience.
6. Storage
Having an external hard drive or pen storage option is now vital for digital DJs who use laptops, phones or other digital DJ controllers or apps. Just having a backup of your set is useful, and while you're at it you might as well carry a complete backup of your hard drive. In fact, storage options like this are great for all of us – DJs or not – as we have such a big part of our lives stored digitally. 
Fortunately, however big your digital life, there are storage capacities that will cover it and prices are probably lower than you might expect. The SanDisk Extreme 2TB portable drive is a great storage option with custom sizes and a rugged design. It is water and dust resistant, has custom storage size options – we've opted for the 2TB version, which is more than enough for most people (and is heavily discounted on Amazon at the time of writing) although you can up it to a massive 4TB. With decent read and write speeds, compact dimensions and five-year guarantee, this could be the backup space you need for your sets and music libraries. And for even more protection, there's a Yinke hard case available for just £13.99. 
The LaCie Rugged Mini 4TB is a good value, high storage portable drive, and one of the best in terms of price versus capacity. Again you can go for different size options, and it has a rugged build and is both shock and drop resistant – a well-built and inexpensive option for backing up gigs, music libraries and a lot more. A few computer hard drive's worth in fact.
Finally the SanDisk Extreme PRO is one of the best compact pen drives for storage and ideal for when larger SSD drives are just too big. It has a durable aluminium case and super-fast transfer speed. You can take it anywhere, and while the top capacity 1TB drive here will do for most tasks, it doesn't quite hit the larger 5TB capacity the larger drives manage. It's also available in smaller sizes if your budget doesn't stretch to this, with the 256GB version selling for just a shade over £60.
7. Laptop stand
The chances are you will get a decent work surface to place your decks on at any venue worth its club and live music credentials. But when it comes to using a laptop, don't expect any favours; you'll most likely have to supply your own stand to help keep your computer safe and visible. A decent stand will not only give you some helpful work height but also keep your precious laptop out of the firing line of many drink spillages. OK, we can't guarantee your lappie won't get damaged – you're taking it into a club, after all – but a stand for it can only help. 
The Numark DJ Laptop Stand Pro is a solid and reliable laptop stand that's easy to assemble. With support for up to 5kg in weight, Numark's stand raises the bar for just about every laptop model out there (unless you're using a seriously old and large machine). It's easy to put together, but breaks down neatly into four pieces for the supplied zippered protective carry case. There are plenty of rubber pads for non-slip support and this is a solid option at a good price.
On a more budget-friendly level, the Adjustable DJ Laptop Stand by Gear4music is a very sturdy and adjustable laptop stand. OK, you're not getting a DJ named brand on the side but this laptop stand is practical and comes with an angled and adjustable top shelf with lips at the front to stop your laptop moving forward. The only extras you get are a couple of clamps to secure it, but at less than £25 this is one of the best DJ bargains around and a fantastic budget option to raise the laptop stakes when performing.
8. Earplugs
In any live music situation it's important to keep your DJ tools safe and your finest DJ tools are your ears! A decent set of ear defenders, then, is a crucial accessory for any busy DJ, so make sure you grab any free options that the venue might supply. 
If they don't, a great option is a set of Earasers, which came top in our list of the best earplugs for musicians. Another cheaper option is a set of Alpine Party Plugs which will also protect your valuable hearing. They are highly-rated plugs with a few extras thrown in, like a case, and their asking price seems a small amount to pay to keep your DJ career going for years.
9. Microphone
At some point you might want to speak, sing, ad-lib, rap or in some other way communicate with your audience, and instead of shouting, the much more pro item you will need for this is obviously a microphone. These are many and varied but there's one easy solution and that's the most successful vocal microphone of all time…
The Shure SM57 and 58 microphones are probably the biggest-selling recording microphones in history, with the '57 being first choice recording amps and instruments, and the '58 for vocals. If you have any vocal ambitions during your DJ set, then, this latter mic is a great choice, either for ad libbing your vocals, a touch of singing or just generally introducing a tune or two. It's a rugged mic you can take anywhere and there are some good deals to be had if you look around on mic packages featuring the SM58 and one or two other freebies like a shockmount. 
Another cheaper alternative is the AKG D5, a super cardioid microphone with a built-in filter to help stop sibilance. With that polar pattern helping to cut down background noise, this mic focuses on the vocal. At a higher price point, the Sennheiser e945 is well regarded as another great, focussed dynamic vocal microphone. Like the AKG it has a supercardioid pattern that homes in on what you need to hear but also delivers fantastic detail that justifies the price.